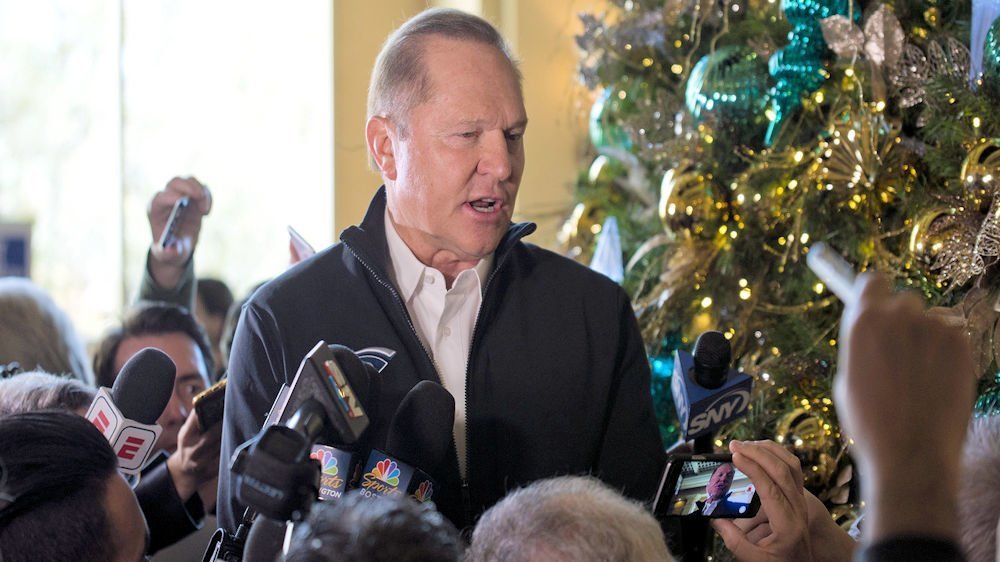 | | |
| --- | --- |
| Latest news and notes: Boras talks Harper and Bryant, Cubs remain idle, and more | |
---
| | | |
| --- | --- | --- |
| Wednesday, December 12, 2018, 6:01 PM | | |
Who'd have thought the Reds would be the busy-bodies at the winter meetings? Seems like Cincinnati is talking to every team about every player, and they are prepared to deal.
Still not a ton going on today, though a few big notes. You have to figure things are slow in Vegas when MLB Network takes time out to interview Carrot Top: painful.
Cubs' news and notes
2019 Cubs' Opening Day: 106 days.
Help wanted: As the Cubs look to fill the now vacant bench coach spot, Jesse Rogers has heard rumblings of the names Raul Ibanez and David Ross. Ibanez, a former major league player (1B/LF), spent a total of 19 seasons in the game, most recently playing for the Angels and KC in 2014. As for David Ross… well, we know who he is.
Maybe January? Rumors are now circulating (via the Tribune's Mark Gonzalez) that a source told Gonzalez the Cubs may now wait until January to sign any relievers, and that even then, the team may have to clear payroll space to be able to afford even mid-tier relief pitching. Personally, I find this almost impossible to believe. Without even discussing the possibility of trades, the Cubs still need to fill Chavez's vacancy, along with the void left by Justin Wilson. Granted, January is only a couple of weeks away, but can the Cubs really afford to wait that long?
Boras/Harper/Cubs: According to ESPN's Jesse Rogers, "Boras didn't say a whole lot, but if you want to read between the lines, it still (for those holding out hope) doesn't seem like the Cubs are in. [Boras] talked about teams "building" a brand and team around him. Also, the ratings increase he brings, and he all but ruled out a short-term deal." Just my opinion, but with that criteria, it sounds like he should be in Seattle, but the Phillies would still be my guess.Latest news and notes: Boras talks Harper and Bryant, Cubs remain idle, and more
Boras did say that any rumors about the Cubs trading Bryant were false, and when asked about the Cubs' finances, he politely refused comment, stating he wouldn't talk about individual team's finances.
Catcher meetings: According to Bruce Levine form 670 The Score, both the Cubs and Sox are having meetings this week with agents representing catchers.
Latest from the winter meetings and the Hot Stove
Charlie Morton: Tampa will sign Charlie Morton. The right-hander was holding out for a three-year deal but ended settling for two-years, $30M, with an option worth up to an additional $15M for the 2021 season, if Morton stays healthy.
Brewers: The Brewers are among the teams that have met with 2B Ian Kinsler at the winter meetings. Milwaukee has also avoided arbitration with right-hander Jimmy Nelson by agreeing to a one-year, $3.7M deal.
Indians: Cleveland now also being linked to Carlos Santana.
Mariners: Per Ken Rosenthal, Seattle is receiving several trade inquiries on Carlos Santana and may deal him within the next few days.
Mets: NY is still pursuing a deal that will land them JT Realmuto, but a lack of progress in the last 24 hours has them looking at backup options like Martin Maldonado.
Reds: Cincinnati has now emerged as the latest team showing interest in Realmuto. Reds' catcher Tucker Barnhart and OF prospect Taylor Trammell have been mentioned as possible trade pieces. The Reds are also said to be staying active in discussions about Marcus Stroman and Sonny Gray, feeling that one of them would be more easily attained than Corey Kluber. Then there's the talks between the Reds and Dodgers. Homer Bailey has been mentioned as a trade piece for the Reds, and Yasiel Puig, Alex Wood and Matt Kemp have been suggested by the Dodgers.
Tigers: The Tigers have signed free-agent shortstop, Jordy Mercer to a one-year, $5.25M deal, with another $250k available in incentives. Detroit has also spoken with several teams regarding the possibility of a Nick Castellanos trade, but nothing is close yet. Braves are reported to be the most interested at this time.
Yankees: NY has reached an agreement to re-sign JA Happ. No details on salary, but this is expected to be a three-year deal. According to GM Brian Cashman, Aaron Judge and Giancarlo Stanton are literally the only two players on the team that other teams have not yet inquired about.