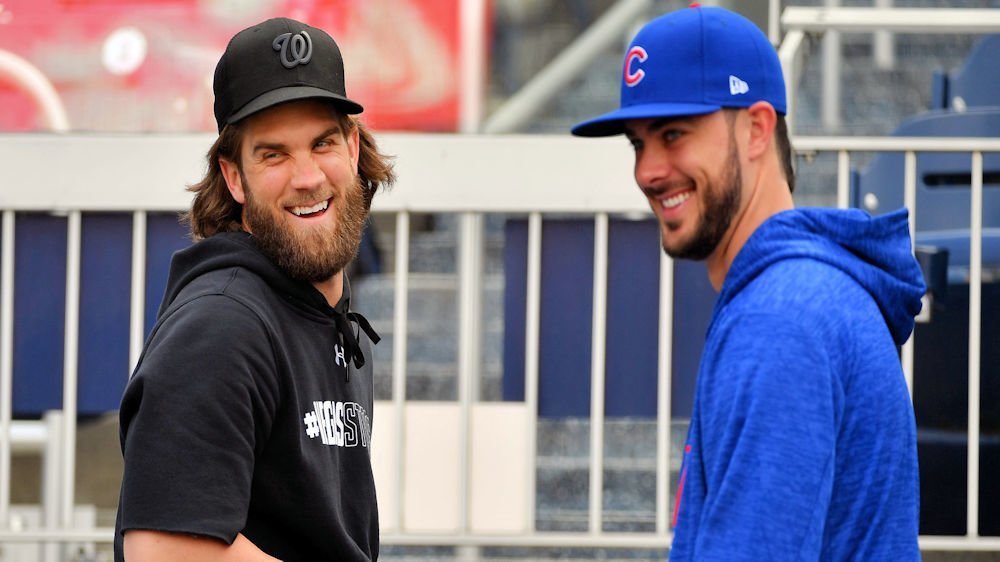 | | |
| --- | --- |
| Latest news and rumors: Cubs sign lefty, Cubs ask Harper to wait, more | |
---
| | | |
| --- | --- | --- |
| Sunday, December 23, 2018, 6:01 PM | | |
Cubs' news and notes
Cubs' 2019 Opening Day: 95 Days.
Cubs sign more pitching: The Cubs have signed veteran lefty Mike Zagurski to a minor-league deal. It includes an invite to big-league camp. Not a great move, in my opinion- Zagurski has a career ERA of 7.78 over six-seasons (76.1 innings).
Cubs/Harper: According to Gordon Wittenmyer of the Chicago Sun-Times, "Sources say Epstein urged [Harper and Boras] to wait before accepting an offer from another team until the Cubs had a chance to try to move some payroll off the books and check again with ownership."
While I still don't think that Harper will wind up a Cub, if this statement is even remotely true, it may show an acknowledgment by Epstein and the Cubs that they are willing to do some dealing to afford other players. This may be small news on the Harper front, but huge on other fronts.
Bote grand-slam: The Cubs have announced David Bote's grand-slam as the ultimate Cubs GIF of 2018.
.@DavidBote13's ultimate grand slam is voted the ultimate #Cubs GIF of 2018!

Thanks for voting! pic.twitter.com/fQmH9nEjr8

— Chicago Cubs (@Cubs) December 23, 2018
Happy Birthday: Birthday wishes go out to Pearl Jam's, Eddie Vetter. A lifelong Cubs' fan who turns 54 today.
Latest news and rumors from around the league
Dallas Keuchel: The market for Keuchel continues to heat up, with the Rangers, Brewers, and Angels now all showing interest in the left-hander.
Craig Kimbrel: According to Jon Heyman of Fancred, Kimbrel has lowered his asking price from $100M to $86M but is still seeking that fifth year on a contract.Latest news and rumors: Cubs sign lefty, Cubs ask Harper to wait, more
Blue Jays: Just 24 hours after Marcus Stroman tweeted about getting ready to compete in the "most exciting division in baseball," (referring to the AL East), the Blue Jays have announced that they are discussing a trade with the Padres involving none other than Marcus Stroman. AL East to the NL West, nothing like a change between night and day…
Dodgers: In addition to being tied to Bryce Harper and Corey Kluber, Los Angeles is also speaking to Detroit about OF Nick Castellanos.
Mariners: Seattle has signed former White Sox right-hander, Tyler Danish, to a minor league deal. Also, on Jerry Dipoto's radar is MLB new-comer, LHP Yusei Kikuchi. Dipoto has set a two-year timetable for the Mariners to once again be competitive in the AL West.
In other Mariners' news, former employee, Dr. Lorena Martin has filed a wrongful termination suit against the team in King County, WA. As you'll recall, Martin alleged that the Mariners were engaging in a pattern of racial and gender discrimination from the top of ownership, all the way down to clubhouse management. No trial date has been set.
Nationals: Washington showing interest in free-agent catcher, Brian Dozier and free-agent LHP, Wade Miley.
Padres: Rumors are saying that Yankees' third-baseman, Miguel Andujar tops the list for San Diego's preferred choice of replacement third-baseman.
Phillies: The Phillies are showing interest in free-agent, right-handed reliever, David Robertson.
Rangers: Texas eyeing White Sox infielder, and two-time 20 HR hitter, Matt Davidson.