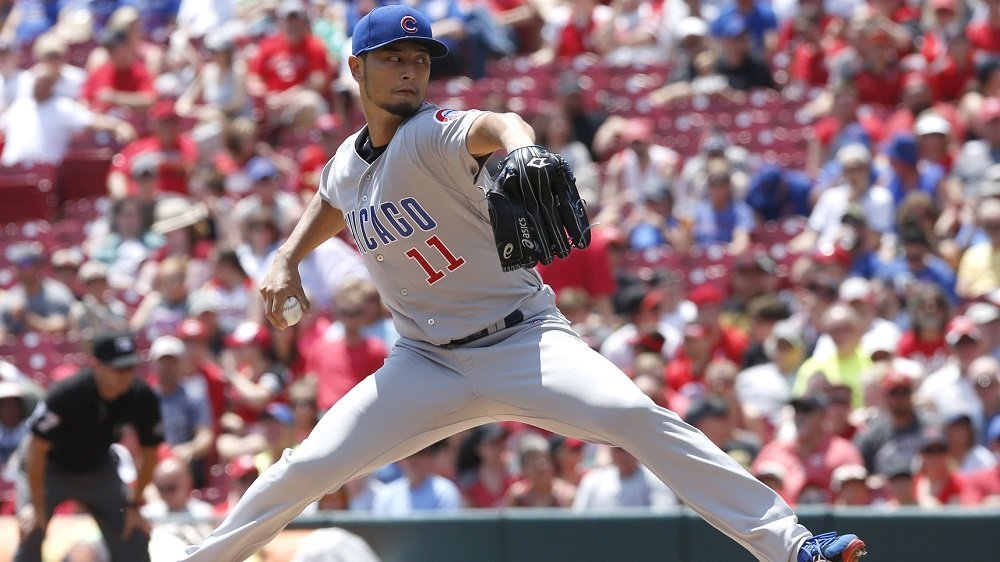 | | |
| --- | --- |
| Cubs News: Latest news and rumors: Darvish rehab update, Bryant/Molina feud continues and more | |
---
| | | |
| --- | --- | --- |
| Tuesday, January 22, 2019, 6:01 PM | | |
Cubs' news and notes:
Cubs' Opening Day: 65 days. (March 28 vs Rangers)
Pitchers/Catchers Report: 22 Days.
First Spring Training game: 33 Days. (Saturday, February 23, Brewers vs. Cubs at Sloan Park)
Yu Darvish: Darvish threw his first bullpen session of the year and appeared to do remarkably well. He seems loose and doesn't show signs of pain.
First bullpen of the year, getting ready for spring training! ???? @faridyu @Cubs #TMISportsMedicine pic.twitter.com/tsHo1kGow4

— TMI Sports Medicine (@TMISportsMed) January 21, 2019
Fans saying "no" to Sosa: MLB Trade Rumors posted a Mock HOF Ballot today and asked fans to vote on it. With over 10,000 votes cast so far (as of 1:30 PM Central), Sammy Sosa trails all nominees and has only received 2.13% of the vote (227 total). You can vote HERE if you'd like to weigh-in.
Birthday Wishes: Happy birthday to Cubs' play-by-play announcer, Len Kasper, who turned 48 on Monday.
Click here if video does not load
Happy Birthday to the voice of the @Cubs, @LenKasper!

We're celebrating with some of our favorite calls from 2018. Which is yours? pic.twitter.com/UHCnh3fkhZ

— Cubs Talk (@NBCSCubs) January 21, 2019
New hire alert: The Chicago Cubs today named Adam Beard as Director of High Performance.
MLB TV: I did some checking today, as I wasn't sure how I was going to get my access to baseball games while at home this season. While the official pricing has not yet been released, MLB TV stated that their expected cost for 2019 will be somewhere around $118.00 (one-time payment). Quite the savings, as last year we had Extra Innings through Dish Network and that ran about $180.00 (Dish will, however, break that down into 4 payments).
MLB TV is also offering the off-season package for a one-time fee of $24.99, which includes archived games from 2017 and 2018, plus select spring training games starting next month.
Latest news and rumors from around the league
Yadier Molina: Although he retaliated verbally right after Kris Bryant's remarks about St. Louis, Molina says the "feud" will carry over into the season. "Oh, it will. It will carry (into the season)," Molina said. "I can't wait to get on the field. "St. Louis is home. If anybody says anything bad about my home, I'm going to be there for us. I said to the guys, 'We are like a family. We have to stick together. We have to defend ourselves, and we have to defend our ground.' Whoever says something about us, we are going to be there to defend us."
Brewers: Milwaukee has changed the name of their stadium from Miller Park to American Family Insurance (I'll still be calling it Wrigley North). Always with a laugh, former Brewers pitcher, Tim Dillard weighed in as well:
Jeez guys... I'm gone for like 2 seconds.https://t.co/yL8Qs4velT

— Tim Dillard (@DimTillard) January 22, 2019
D-Backs: Arizona has designated LHP Jared Miller for assignment.
Padres: SD has signed free-agent, veteran righty, Carlos Torres to a one-year deal.
Rangers: Texas has signed Asdrubal Cabrera to a one-year, $3.5M deal. The Rangers intend on using Cabrera at third base.
Reds: This has been a productive off-season for Cincinnati, and The Big Red Machine got even bigger again, as they acquired right-handed starter Sonny Gray from the Yankees. As part of the deal, second-base prospect, Shed Long, is headed to NY.