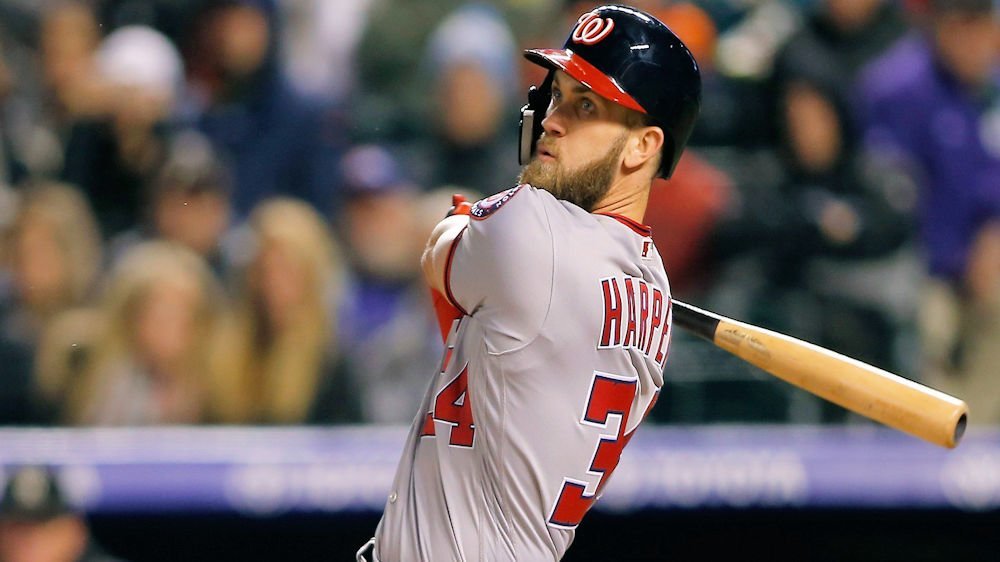 | | |
| --- | --- |
| Cubs News: Latest news and rumors: Harper's meetings, Machado's price tag, and more | |
---
| | | |
| --- | --- | --- |
| Monday, December 10, 2018, 10:28 AM | | |
It's THAT time! The winter meetings are underway, and the wheeling and dealing should begin. An early edition of The Hot Corner this morning, and as always, there'll be another at 6:00 PM Eastern. Stay tuned to CubsHQ, and we'll keep you up to date.
Cubs' news and notes
Cubs' 2019 Opening Day: 108 days.
Lee Smith: Congratulations to former Cubs' reliever Lee Smith who was voted into the Hall of Fame. Smith got sixteen of sixteen possible votes. Joining Smith as an inductee last night was former White Sox outfielder, Harold Baines, who received twelve out of sixteen votes.
On this date: On this date in 2014, the Cubs agreed to terms with Jon Lester. Since that time, Lester has pitched to a 61-31 record (.663) and a 3.33 ERA in 128 starts. Lester also has four complete games as a Cub.
Javy Baez: There was no story with the attached picture, but as they say, "a picture is worth a thousand words." Baby Mago rockin' the shades with his dad is indeed a nice distraction from the hustle and bustle of the off-season.
December 9, 2018
Latest news and rumors from around the league
Bryce Harper: Ever wonder what goes on in the meetings surrounding Harper? In an article by USA Today's Bob Nightengale, he describes sessions lasting from five to ten hours in a motel room, with Harper, his wife (Kayla), Scott Boras and front office members from the interested team present. The teams give a presentation, followed by rounds of questioning- everything from baseball-related matters to how the team will accommodate the family.
Boras presents the team with a 118-page notebook, outlining Harper's strong-points and career, which also tells them how Harper can increase the team's value. Boras states, "Every GM in baseball wants him because he fills a need, but the owners are pursuing Bryce Harper because they know he can also make them a billion dollars over a period of years."Cubs News: Latest news and rumors: Harper's meetings, Machado's price tag, and more
Astros: Houston has been in touch with the White Sox over first-baseman, Jose Abreu, though it is still unclear if the Sox are willing to sell. Houston also reported being "out" on the newcomer, Yusei Kikuchi, despite the void left by Dallas Keuchel.
Blue Jays: Toronto said to be targeting Oakland right-handers Mike Fiers and Kendall Graveman.
Dodgers: Los Angeles is said to have "serious interest" in free-agent reliever David Robertson. The former Yankees righty pitched to an 8-3 record in 2018, while posting a 3.23 ERA and recording five saves.
While the Dodgers aren't planning to hire a new president of baseball operations this winter to replace recently departed Farhan Zaidi, they have appointed a new VP and assistant GM. Jeff Kingston has been hired for the position, leaving his job with the Mariners where he held the same position.
Giants: The rumblings go back-and-forth as to whether or not the Giants will trade Madison Bumgarner this off-season, but it looks as though they will. The Phillies, Braves, and Brewers have all made inquiries, and now the Yankees are reported to be trying to work a trade.
Mets: NY has joined the masses in pursuit of relievers David Robertson and Adam Ottavino, looking for a setup man for the newly acquired closer, Edwin Diaz.
Nationals: Washington said to be talking to D.J. LeMahieu's camp, though the extent of the talks is still unknown. The Nats have other options for second base, but speculation says that's where LeMahieu would be plugged in.
Padres: SD is rumored to be making a push for former Astro, Marwin Gonzalez. The team is light a shortstop with the departure of Freddy Galvis and is looking for a fill-in until Padres prospect, Fernando Tatis, Jr. is ready for action, presumably in 2020. San Diego is also rumored as having interest in Marlins' catcher, J.T. Realmuto.
Rangers: Regarding "untouchables," Texas president, Jon Daniels says they are "not looking to move these guys, but we are open on a lot of things." As it stands, the Rangers most valuable trade piece may be 24-year-old, right-handed reliever, Jose Leclerc, who is under team control until the end of 2022.
Red Sox: Look for Boston to be gunning for relievers Adam Ottavino and David Robertson. With the uncertainty that the club will retain Craig Kimbrel or Joe Kelly, Boston is attempting to shore up its walls for 2019.
Rockies: Colorado has signed former Ranger RHP Chi Chi Gonzalez to a minor league deal. Colorado is also rumored to be talking to the Mariners about a deal involving first-baseman, Carlos Santana.
Yankees: Rumors are swirling that Yanks may not be willing to offer Manny Machado more than $300M which may not work for landing him as his projected price tag is $390M (per MLB Trade Rumors).