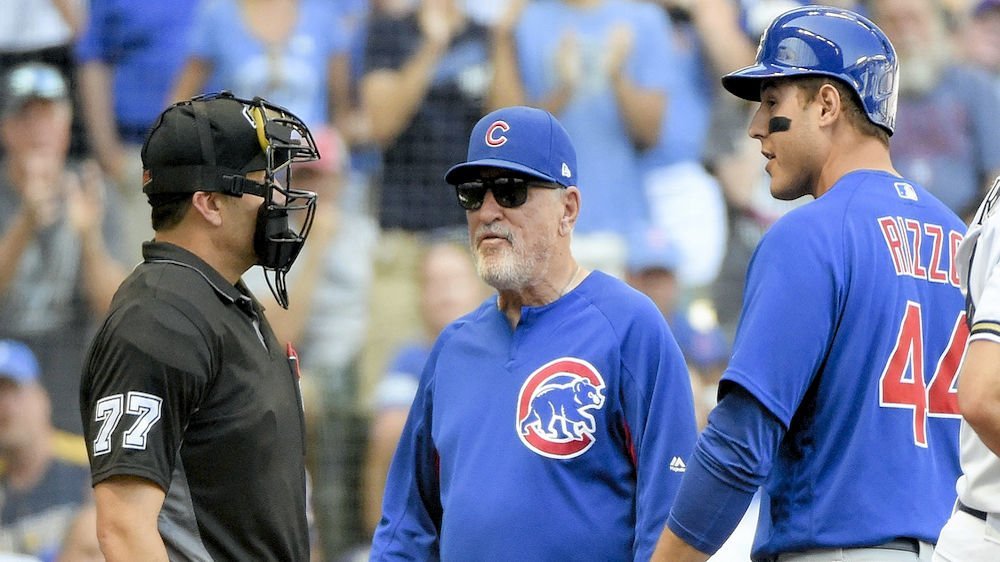 | | |
| --- | --- |
| Cubs News: Latest news and rumors: Maddon, Syndergaard, Kimbrel and more | |
---
| | | |
| --- | --- | --- |
| Monday, November 26, 2018, 6:01 PM | | |
2019 Cubs' Opening Day: 122 days.
Maddon: In a recent interview with the Tampa Bay Times, Joe Maddon says that he intends to make some changes in 2019 by spending more time handling the on-field coaching. When asked about his lame-duck status, Maddon replied, "Lame duck or free agent, are they synonymous terms? Players go into that year annually. Good players go into a season without a contract for the next year. Why would I feel any different as a manager than a good player does, a (Manny) Machado or a (Bryce) Harper, whatever. You could say 'lame duck" or you could use 'free agent.' I think they are both the same term."
Cubs/Syndergaard: A recent article by Sports Illustrated is suggesting that the Cubs may have interest in Mets' ace, Noah Syndergaard. While the rotation certainly looks full with Jon Lester, Cole Hamels, Kyle Hendricks, Jose Quintana, and Yu Darvish, don't be so sure. I've speculated the Cubs might prepare for a worst-case scenario regarding Darvish and a source close to the team tells me that he thinks Quintana could be involved in trade talks, despite having his option picked up.
Craig Kimbrel: While there has been some speculation that the Cubs may have interest in Kimbrel, NBCS Chicago's Tony Andracki seems to think Theo Epstein will pass on the closer. Given the uncertainty surrounding Brandon Morrow, having an established closer might not be a bad move for the Cubs, but Andracki feels the Cubs are more likely to pursue other late-inning relievers such as Zach Britton or Andrew Miller. Cubs News: Latest news and rumors: Maddon, Syndergaard, Kimbrel and more
Kenley Jansen: Well wishes to the Dodgers' closer who is scheduled to undergo heart surgery today to correct problems caused by atrial fibrillation.
Brian Johnson: Classy move by the Red Sox pitcher, who elected to pay off his father's mortgage with part of his World Series share. Johnson also reportedly bought himself a jet ski.
Eric Hinske: Hinske is expected o join the D-Backs as an assistant hitting coach, so cross him off your list of hopefuls to replace recently departed Andy Haines. Hinske was with the Cubs in that role for the 2016 World Series.
Non-tender deadline looms: Friday (11/30) is the deadline. For those who may not understand, MLB.com explains it is as follows: "When a club "non-tenders" a player, it declines to give that player a contract for the upcoming season, thereby immediately making him a free agent. Players on the 40-man roster with fewer than six years of Major League service time must be tendered contracts each offseason by a set deadline -- typically a date in early December -- or non-tendered and released to the free-agent pool."
Cubs: I wish I could tell you that the Cubs came out of hibernation today, but all remains quiet in Chicago.
Astros: Houston is looking to build themselves an outfield. Rumors now have the Astros chasing A.J. Pollack, Andrew McCutchen AND Michael Brantley.
Braves: Atlanta has signed a one-year deal worth $2M with former Astros' catcher Brian McCann and has designated LHP Ricardo Sanchez for assignment. Pending a physical, Atlanta has also signed former AL MVP, Josh Donaldson to a one-year, $23M deal.
Mariners: Seattle is now rumored to be shopping veteran infielder, Robinson Cano. The thirty-six-year-old, second-baseman had a solid 2018, slashing .303/.374/.471 with ten home runs and 50 RBI.
Mets: Earlier today, the Mets claimed OF/1B Jordan Patterson off waivers from Colorado.
Padres: San Diego outrights INF Allen Cordoba to Triple-A El Paso and releases RHP Colin Rea.
Phillies: The Christmas list grows, and the window shopping continues in Philadelphia, as the Phillies are now "actively" interested in adding veteran left-hander Andrew Miller to their roster. Per Jayson Stark of The Athletic, the Phillies also approached Arizona about Paul Goldschmidt, in a deal that would've included Zach Eflin and "several young players," but the deal allegedly fell apart when the Phillies attempted to add Carlos Santana to the mix.
Royals: KC has claimed RHP Conner Greene off waivers from the Cardinals, and in turn, has designated RHP Burch Smith for assignment.
Twins: Minnesota has announced that they have claimed first-baseman C.J. Cron off waivers from the Rays.
White Sox: The South-Siders claimed LHP Ian Clarkin off waivers from the Cubs today. Interesting move when you consider that the Cubs just claimed Clarkin off waivers from the White Sox a week ago.
Yankees: The Yanks have claimed RHP Parker Bridwell off waivers from the Angels and have designated utility-infielder Ronald Torreyes for assignment.
The Hot Stove is starting to burn- stay tuned to CubsHQ for the latest.