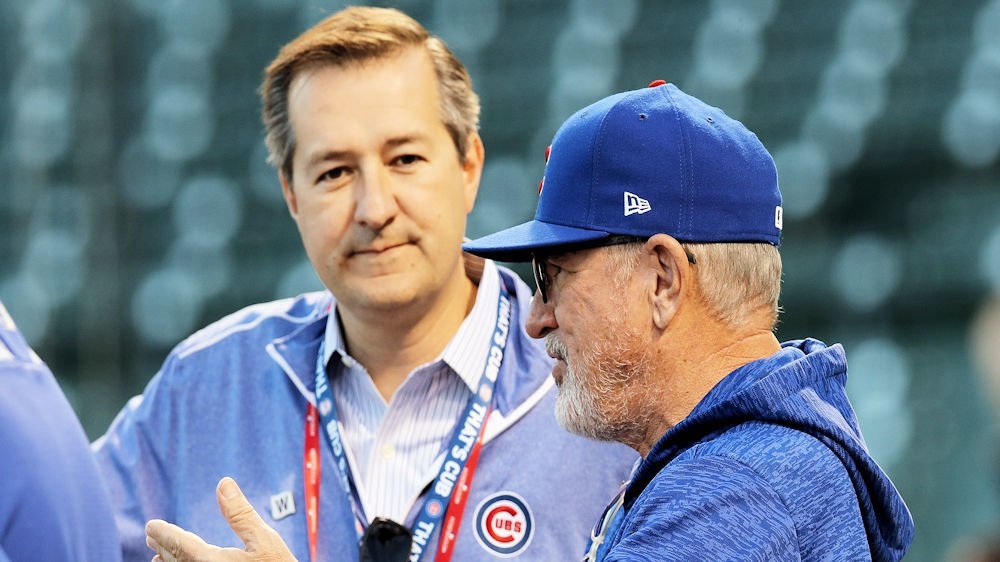 | | |
| --- | --- |
| Cubs News: Latest news and rumors: Ricketts' budget comments, Ottavino signs, PED suspension and more | |
---
| | | |
| --- | --- | --- |
| Thursday, January 17, 2019, 6:01 PM | | |
Another abbreviated edition of Hot Corner tonight as the Hot Stove stayed relatively cool for another day, except for Adam Ottavino signing with a new team.
Perhaps the biggest news of the day for Cubs' fans was Tom Ricketts making the rounds on sports-talk radio ahead of Cubs Con this weekend. While Ricketts didn't share any surprising news, he touched on what has bothered most fans this season: a lack of signings.
Cubs' news and notes:
Latest news and rumors: Cubs' Opening Day: 70 days. (March 28 vs. Rangers)
Pitchers/Catchers Report: 27 Days.
First Spring Training game: 38 Days. (Saturday, February 23, Brewers vs. Cubs at Sloan Park)
Tom Ricketts: During an interview on the Mully and Haugh show this morning (670 The Score), Cubs' owner, Tom Ricketts defended the Cubs' lack of additional spending this winter by saying that the team has the third highest payroll in baseball, and dispelled notions of frugalness as "misguided." Ricketts stated that they'll never catch the Yanks regarding payroll, "because they are the Yankees," and that the only reason they are behind the Dodgers regarding salaries is due to the Dodgers' TV deal.
Ricketts also said that "you can't spend the same money twice," and that a lot of the spending for the next few years is earmarked for players already under contract and those due for arbitration in coming years. If there was any light at the end of the tunnel, Ricketts said that "Theo may still have a move or two left in him." In the opinion of many fans, however, the light at the end of the tunnel is an oncoming train.
The Ricketts cancelled their panel at Cubs Con, stating that fans found it boring and that they'd rather interact with players and coaches. "I think the fans would rather watch the mascot play bingo than to listen to the owners," He said while laughing. Ricketts also said it might return next year if fans support it.
With regards to Addison Russell, Ricketts replied that while it would be easier to let Russell go, "[the] better answer for everyone involved, is to not just wash our hands of it."
Cubs' charities: The Cubs teamed up with Good Sports to donate more than $110,000 worth of sporting equipment to 110 Chicago schools in need.
Delivering equipment and smiles! ??

Ian Happ, Alec Mills, Taylor Davis and Clark the Cub dropped off some of the new equipment at Patrick Henry Elementary School. #CubsCharities pic.twitter.com/ImcY2rdj2M

— Chicago Cubs (@Cubs) January 17, 2019
Latest news and rumors from around the league
Mets: Tim Tebow officially invited to Mets' Major League camp this spring, per team announcement today.
Orioles: Baltimore has outrighted catcher Andrew Susac to Triple-A Norfolk.
Rangers: Texas lefty, Eric Skoglund has been suspended for 80 games after testing positive for "Selective Androgen Receptor Modulators S-22 (Ostarine) and LGD-4033 (Ligandrol)," the league announced Wednesday.
Yankees: NY scores again, this time by signing free-agent reliever, Adam Ottavino. The deal is reported to be in the three-year, $27M range. The Yankees have now turned their focus to trading Sonny Gray.