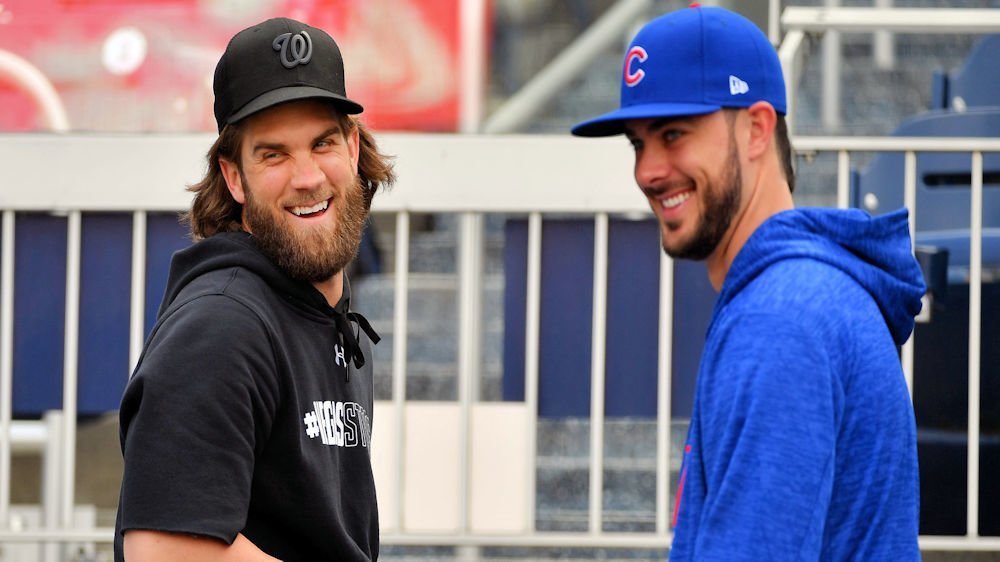 | | |
| --- | --- |
| Latest news and rumors: The "Harper Stove," new Cubs' coach accidentall announced, more | |
---
| | | |
| --- | --- | --- |
| Friday, December 28, 2018, 7:12 PM | | |
Cubs' news and notes
Cubs' 2019 Opening Day: 90 days.
Graveman: It would appear as though the Cubs' newest acquisition, RHP Kendall Graveman, slipped up and let the cat out of the bag regarding a new Cubs' hire during a recent interview. "I can be a student of the game and learn under these guys," Graveman said, "You got Hottovy and…they just hired Brad Mills, who I played with. And I've heard nothing but good things about Hottovy as a pitching coach." The team has not formally announced the hiring of Mills, and it is unclear as to what role he will assume with Chicago.
Latest news and rumors from around the league
Fact: We are now approximately six weeks into this off-season, and there are still approximately 200 unsigned free-agents. Wait for Harper, Machado, and Kimbrel to sign, then watch the dominoes fall.
Harper/Machado: According to Joel Sherman of the New York Post, the "word" is that neither Manny Machado nor Bryce Harper "particularly likes" the idea of playing in Philadelphia. Whether that relates to the city or the team, itself, is not known. If the Phillies are still wanting to spend "stupid money" and fail to land either Harper or Machado, there's no telling who they'll buy next.
Sherman also suggests that both Harper and Machado would rather play for the Yankees, this is where I become suspect. While the Yankees have been aggressively pursuing Machado, Harper has given zero indication that he has interest in playing in the Bronx. Bear in mind that Sherman writes for the New York Times.Latest news and rumors: The "Harper Stove," new Cubs' coach accidentall announced, more
Phillips on Harper: Steve Phillips, former Mets GM, weighed "in" on who's really "in" on Bryce Harper (and that's only one team) via his Twitter account. "There is being "in" on a free agent player and there is being "IN". A team (Cubs) saying they might be in on Bryce Harper, if they can move $ or if the owner changes his mind, is not really "IN." A team (Phillies) that is "IN" on Bryce Harper, would meet with him at the winter meetings in Las Vegas when he was three blocks away. If not, they aren't really "IN." A team (Dodgers) that is "IN" on Bryce Harper, only if he is willing to accept a deal half as long as he wants, is not really "IN." They are a fallback option. A team (Nationals) that is "IN" on Bryce Harper, after having their $300 million offer rejected and then spending almost half that money elsewhere, isn't really "IN." They are a soft landing spot in case everything falls apart. That leaves the White Sox as the only team really "IN" on Bryce Harper."
Angels: The Angels are now showing interest in the free-agent reliever, David Robertson. For his part, Robertson has ties to Angels GM, Billy Epler and is said to like teams in the northwest. Robertson's biggest desire is to close, which is an opportunity that the Angels may be able to afford him.
Blue Jays: Toronto has signed RHP Matt Shoemaker to a one-year, $3.5M deal, with an additional $1M available in incentives.
Brewers: Milwaukee remains engaged with the Yankees in talks for pitcher, Sonny Gray.
Dodgers: I suppose any site can report anything they want, but Dodger Nation is reporting that the Dodgers are "on the ten or twenty-yard line" with signing Bryce Harper. According to the site, Michael Duarte of NBC Sports stated that the Dodgers are "getting close on a deal to land Harper."
Giants: SF has signed former Mets' right-hander, Jamie Callahan to a minor league deal.
Phillies: The Phillies are reportedly pursuing Dallas Keuchel but are reportedly unwilling to sign him for a five-year deal.
Rays: After losing their bid on Nelson Cruz to the Twins, the Rays have made finding a right-handed hitter their top priority.
Yankees: While waiting on Machado, the Yanks are focusing on shoring up their pen. Current interests include Adam Ottavino and possibly re-signing David Robertson and Zach Britton.