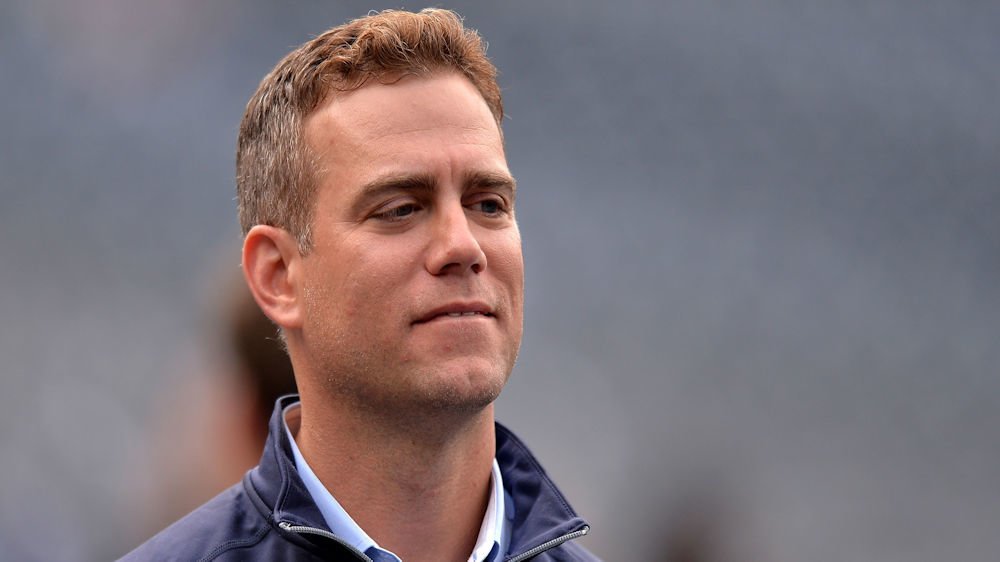 | | |
| --- | --- |
| Latest notes and quotes from 2019 Cubs Convention | |
---
| | | |
| --- | --- | --- |
| Sunday, January 20, 2019, 10:58 AM | | |
Cubs' news and notes:
Cubs' Opening Day: 67 days. (March 28 vs. Rangers)
Pitchers/Catchers Report: 24 Days.
First Spring Training game: 35 Days. (Saturday, February 23, Brewers vs. Cubs at Sloan Park)
All-Star Game: "The Cubs expect to apply for 2021 All-Star game at Wrigley Field. The ballpark will be up to MLB specs after offseason work is completed.
Cubs Con notes & quotes
Kyle Hendricks: "No I haven't ever hit a batter on purpose ... probably wouldn't hurt him.
Javy Baez: When asked about the Cubs' success against the Nationals come playoff time, Javy replied, "Get used to it."
Mike Montgomery on beanballs: "One time in the Minors, my manager told me to hit someone. I was so nervous that I missed."
Monty on the filthiest pitch he's thrown: "I'll just say the last pitch of the World Series."
Theo Epstein: "We have to be able to look at ourselves in the mirror at the end of the year and say we did everything possible to win this division. We know we fell short, and we let you guys down. We let ourselves down."
Epstein likened last season's ending to "a slow-motion car crash." He has spent more time talking to players and staff this winter than he ever has in the name of "honesty" and "accountability." Now, it's time for the adjustments to right the wrongs.
"We have to be excused for being excited because we are optimistic about this season," Epstein said. "But I completely get it from a fan standpoint. I know there are a lot of questions out there. I actually appreciate that just to have fans who are as passionate about baseball and about winning and about the Cubs as we are. You can't take that for granted.
"It also reflects the fact that standards have been raised around here quite a bit. We're coming off a 95-win season, we've won more games than any other team in the last four years and yet there are loud, legitimate questions from our fans. I think that's a good thing. I'm happy to provide answers the best I can."
Bryant on Russell: "I don't really want to be involved in it," Bryant said after being asked a question about Russell. "It's tough to be up here answering questions for him on his behalf. I know there is going to be a day you will have your chance to ask him all the questions you want. Hopefully, you get that chance. It is tough to be up here answering those questions because quite frankly, I wasn't involved in it and nobody was. I think the only person that should answer those questions is him."
Kris Bryant admits it has been difficult to answer for #Cubs teammate Addison Russell after Russell's personal wrongdoing. Bryant believes Russell needs to address the topic soon. "The only person that should answer those questions is him," Bryant says.https://t.co/bgNUth5Mlz pic.twitter.com/A79YfyxYde

— 670 The Score (@670TheScore) January 19, 2019
Just wanted to say thank you to @Cubs for having me at this years #CubsCon ! Last day is today so let's make it a good one Chicago! ??

— Justin Steele (@J_Steele21) January 20, 2019
Latest news and rumors from around the league
Yadier Molina: After Kris Bryant made comments about playing the Cardinals, Molina had some words of his own for KB: "Only stupid players and losers" make those kinds of comments. It'll be interesting to see if Molina retaliates during the season by ordering up an inside pitch with Bryant at-bat. Molina's teammate, Marcell Ozuna, also chimed in with, "From outside they speak and talk like a tiger but at the end, they gonna be like a little cat."
THIS is what a rivalry looks like, ladies and gentlemen, Cubs/Cards, NOT Cubs/Brewers… Just ask Cole Hamels. (wink).
Dodgers: LA now showing interest in OF AJ Pollock.
Twins: Minnesota in agreement with LHP Martin Pérez on a one-year contract.