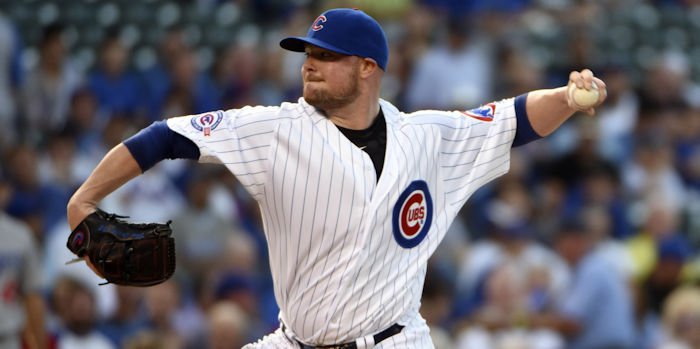 | | |
| --- | --- |
| Lester goes the distance in 2-1 win over Dodgers | |
---
| | | |
| --- | --- | --- |
| Wednesday, June 1, 2016, 11:10 PM | | |
The Chicago Cubs (36-15) defeated the Los Angeles Dodgers (28-26) 2-1 on Wednesday night in the third game of the four-game affair at Wrigley Field between two of the National League's top teams.
On a day in which it was announced that the Cubs were leading the National League All-Star Game balloting by a mile, with five of the eight position players slated to start for the NL hailing from the north side of Chicago, the resulting jubilation quickly dissipated inside of the Friendly Confines when Dodgers second baseman Enrique Hernandez hit a home run to left field in the first at-bat of the game. However, Cubs starting pitcher Jon Lester gathered himself and went on to pitch a complete game (the 13th of his career), retiring 26 of the last 28 batters he faced.
The highlight of the game came in the bottom of the third when Cubs left fielder Kris Bryant crushed a home run 423 feet over the center field wall, his longest homer at Wrigley this season. Marking his 12th deep ball this year, Bryant's moonshot scored two, as center fielder Dexter Fowler was on first at the time.
Following Bryant's round-tripper, a pitching duel ensued, with Dodgers starter Mike Bolsinger going tit for tat with Lester. Reliever Pedro Baez replaced Bolsinger in the sixth and pitched well, too, going six up, six down in two innings pitched. Neither team experienced much success at the plate. In fact, there was not a single runner in scoring position following the fourth inning.
Once Lester struck out first baseman Howie Kendrick in the bottom of the ninth to seal the victory for Chicago, the lefty moved to 6-3 on the season and became the first left-handed Cubs pitcher to pitch a complete game with no walks since Steve Wilson in 1990. Lester's 6-3 record is not fully indicative of the excellent year he has put together thus far, as Wednesday night's outing was Lester's eighth of the year in which he gave up one earned run or less, which leads all Major League pitchers.
With the Dodgers only accruing four hits and the Cubs only three, the game followed suit with the theme of the series thus far: offense being hard to come by. Bolsinger earned the loss on the night, moving him to 1-2 in 2016. He was simply outmatched by the veteran Lester, who struck out 10.
In the series finale on Thursday, Kyle Hendricks will start for the Cubs, and he will face young Dodgers phenom Julio Urias, who, at 19 years old, will be the first teenage starting pitcher to face the Cubs since former New York Mets great Dwight Gooden did it in 1984. The Cubs have won two out of three in this series so far and will look to claim a series victory tomorrow afternoon.