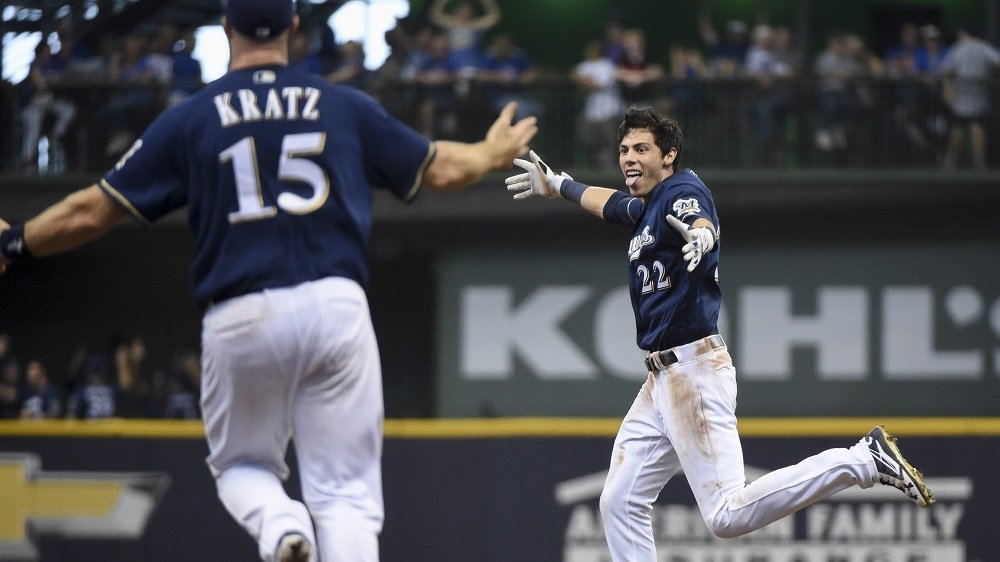 | | |
| --- | --- |
| MLB Insider: Player news and injuries, standings, highlights, and more | |
---
| | | |
| --- | --- | --- |
| Tuesday, April 16, 2019, 7:07 PM | | |
"MLB Insider" will give you all you need to know with all 30 teams in MLB. Full of news, rumors, commentary, video, highlights, and bloopers, there'll be something for everyone. No favorites here (and I'm not a Brewers fan just because I point out something good that Yelich did), just a look at everything going on in Major League Baseball 2-3 times per week.
NL Central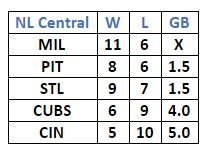 Cubs: Carl Edwards Jr. is reportedly receiving racial messages on social media. MLB is investigating. (For other Cubs' news, please see my daily column at CubsHQ.com)
Brewers: Give credit where credit is due: Christian Yelich is on fire. In Monday night's game against the Cardinals, Yelich cranked a pair of 3-run homers, then hit a solo shot in the eighth, tying the Brewers' single-game records for HR (3) and RBI (7). Cards manager Mike Shildt, said, "Candidly, I've never seen anything like that in my life… You have to tip your hat. It's unbelievable. It's almost like he's psychic.
Cardinals: RHP Mike Mayers (right shoulder lat strain) and OF Tyler O'Neill (right elbow nerve subluxation) was placed on the 10-day IL. INF/OF Drew Robinson was optioned to Triple-A. St. Louis has recalled INF/OF Yairo Muñoz, RHP Giovanny Gallegos and RHP Ryan Helsley from Memphis (AAA).
Reds: Cincinnati pitcher, Luis Castillo committed quite the blunder Monday night in LA. After hitting what would have been an opposite-field single to the right, Castillo failed to run and was thrown out at first.
Outs don't get much easier than this. pic.twitter.com/A6Rkk9LOZg

— Cut4 (@Cut4) April 16, 2019
NL East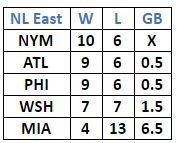 Marlins: Miami has optioned shortstop, JT Riddle to Triple-A New Orleans, and has selected the contracts of OF Isaac Galloway and recalled LHP Jarlin Garcia. The team will make another move to clear a roster spot for Garcia.
Mets: Met's manager, Mickey Callaway has quite the closer in Edwin Diaz, who was traded to NY from Seattle this winter in a multi-player swap. Callaway is playing it safe with Diaz- maybe too safe, vowing to use him for no more than three outs per game. In eight appearances this year, Diaz has only tossed 6.1 innings but has struck out 13 of the 27 that he's faced.
Nationals: The Nats have developed an interesting tradition to celebrate big wins- they fling cabbage around the locker-room after a win. Back in Spring Training, third-base coach, Bob Henley, took it upon himself to build team spirit. After browsing online, he noticed that the day's date, February 17, just so happened to be National Cabbage Day. The Nats also bring cabbage on the road with them.
Phillies: The Phillies have optioned RHP Drew Anderson to Triple-A Lehigh Valley and have recalled RHP Jerad Eickhoff from Triple-A Lehigh Valley.
NL West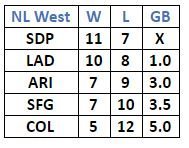 Dodgers: Clayton Kershaw made his return for the Dodgers on Monday night, and was welcomed back by a two-run homer from former teammate, Yasiel Puig in the first inning. Kershaw lasted seven innings, as the Dodgers walked it off on Joc Pederson's two-run blast in the ninth. LA bruiser In the third inning, LA's Cody Bellinger was hit in the knee with a 95 mph fastball, and was removed from the game. Bellinger's x-ray was negative.
Giants: It may be time to say goodbye to "Triples Alley" at Oracle Park. Players have supported moving in the fences and relocating the bullpens from foul-territory. The Giants have acknowledged that it may be time to look into doing that.
Padres: Rookie shortstop, Fernando Tatis has quite the baseball instinct. In addition to batting .283 with 11 RBI and five homers in 68 plate appearances this year, he also pulls off some defensive gems.
Not to be outdone, Friars' 2B, Luis Urias, shows a little "El Mago" of his own:
This @LuisUrias03 tag is unreal. pic.twitter.com/C1Fr9nDrAw

— Cut4 (@Cut4) April 16, 2019
Rockies: Colorado has bumped veteran righty, Chad Bettis, from the rotation and has sent him to the bullpen, He's struggled this season with an 8.78 ERA in just 13.1 innings of work.
AL East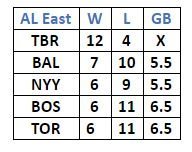 Rays: What a difference a winter makes. Last year, at this point, Tampa had started the season at just 3-12. Meanwhile, the Red Sox took off with a 13-2 start through the first half of April, on their way to becoming the WS champs. Just five-and-a-half months later, Tampa (12-4) finds themselves in first place by 5.5 games over the O's, while Boston (6-11) is clawing at the cellar walls in fourth place, 6.5 games back. In other news from Tampa, the Rays have placed pitcher, Blake Snell on the IL with a fractured right toe.
Red Sox: The Red Sox have elected to designate catcher, Blake Swihart, for assignment. Swihart looks to be the first fall-guy for Boston's World Series hangover, as the team has gotten off to a 6-11 start. Boston's has called upon minor-leaguer Sandy Leon. Boston has also selected the contract of RHP Erasmo Ramirez from Triple-A Pawtucket.
Yankees: NY has suffered another injury setback, this time to first-baseman, Greg Bird, who was diagnosed with a left plantar fascia tear (foot). Bird has been placed on the 10-day IL, and the Yanks have selected INF Mike Ford to replace him, signing Ford to an MLB contract.
AL Central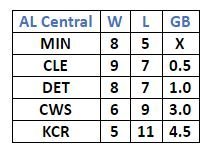 Indians: Although Cleveland has reactivated 2B Jason Kipnis from the IL (right calf injury), they are still missing All-Star SS, Francisco Lindor, who still has at least one rehab start before returning to the Tribe's lineup. Lindor has been out with a sprained left ankle and right calf-strain.
Tigers: Detroit righty, Matt Boyd, has now struck out 29 batters in his first three starts.
Twins: The strangest things happen in baseball. Toronto INF Brandon Drury thought he'd drawn a walk in the sixth, so he stripped off his batter's gear and started trotting for first. Meanwhile, Jays' OF Teoscar Hernandez, already on first, began his trot to second. Just one problem though; the count was only at three balls on Drury. Martin Perez easily picked-off Hernandez who was clueless.
AL West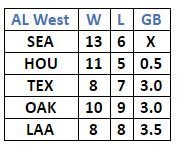 Angels: Halo starter, Tyler Skaggs is headed for the 10-day IL after spraining his ankle in Chicago while facing the Cubs last week. During that outing, Skaggs allowed 4 ER on 7 hits (including 3 HR), despite striking out 7 of the 19 that he faced through 4 innings.
Astros: Houston starter, Garrett Cole fanned 11 in six innings Monday night against Seattle.