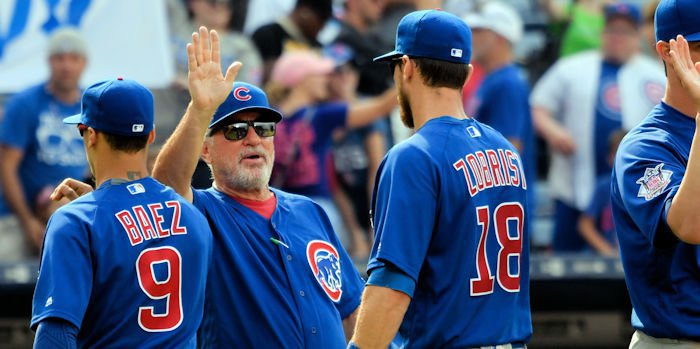 | | |
| --- | --- |
| Cubs News: Maddon's batting orders: Ingenuity or Madness? | |
---
| | | |
| --- | --- | --- |
| Wednesday, June 27, 2018, 9:11 AM | | |
Recently, I've had several people ask, "Ken, why do you think Maddon never uses a consistent lineup?" While I've certainly noticed this to be the case, I never gave much thought to it. As I sat at my desk tonight, I pondered the question again…and again…and again…and…
For people like me who loathe routine and love thinking outside the box, there is nothing at all wrong with Joe Maddon shaking up the lineup, day in and day out. Some people, however, cling to the sense of security that a routine provides, even if that routine is not something that they have any bit of control over. I'm speaking of the fans here, as many certainly obsess about the consistency of the team's lineup, and question Maddon's managerial skills and decision-making process.
In the end, how much does a batting order matter? I mean, after all, there are nine guys on the team, and no matter what order you bat in, you still only bat once per nine batters. This is why I never understood the unwritten rule about the pitcher batting ninth (unless the pitcher is Tyler Chatwood and only expected to go 2-2/3 innings, in which case you'd be saving the nine-hole for a pinch hitter, the first time through the lineup). The Reds almost always bat the pitcher in the eighth spot, and based on DeSclafani's grand-slam on 6/23, followed by Lorenzen's solo shot on 6/24; I'd say it's working out pretty well for them.
Back to the Cubs, the batting orders, Maddon and the certainty of Joe's uncertainty. Thanks to my uncontrollable (and no, that is NOT a Chatwood reference) obsession for statistics and numbers, I just spent the last 52 minutes of my life, scrutinizing and tallying lineups that the Cubs have used this season. How many, do you ask? Well, my eyes went crossed, and I developed a headache after analyzing the lineups for the first 24 games of the season, but in the first 24 games, Maddon used 21 different lineups- and that doesn't account for the pitcher's spot (unless a DH was used). OK, so maybe Joe is a little out of control here… On the other hand, the number of possible permutations in a batting order that includes only the possibilities of each of the Cubs' positions players playing is 19,958,400- so Maddon hasn't even scratched the surface yet, compared to all the possibilities at hand. (When I tried to factor in the six starting pitchers, the calculator suggested that I was using too large of a sample field. I tried explaining that this was Maddon's idea, not mine, but it still refused to cooperate...)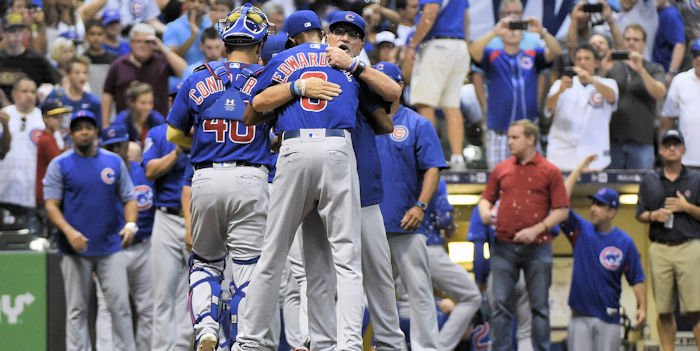 So what is the reason behind Maddon's unwillingness to stick to a semi-stable batting order? Keep the opposition off guard? Keep the Cubs players guessing? My guess is that this isn't some deep-seated, psychological ploy, designed to keep everyone guessing- especially not his own players. Plain and simple- the man wants to find the lineup that yields the most productivity.
Many argue that continuously moving the lineup around, affects a player's psyche; I say nonsense. While batting leadoff or cleanup may make a guy feel more important, there are always going to be variations based on daily player substitutions, scheduled rest, opposing pitchers and player injuries. For the sake of argument, let's say Maddon plays the same lineup, religiously, every game- in this scenario Contreras will bat third. Tomorrow is Willson's scheduled day off, and Gimenez is to catch. Contreras is hitting .262; Gimenez is currently batting .125. Do you think Joe is going to bat Gimenez third for the sake of continuity? Of course not, which is precisely why a set lineup can't always work. If that isn't enough to sell you on the idea of mixing things up, consider this: Almora and Happ usually alternate playing CF. If the Almora/Happ combination always leads off, what do you do on the days when Almora starts in CF and Happ starts in right field? You could make an argument that Maddon could make set lineups that would cover some of those contingencies, but the possible scenarios are endless.
After my vision finally straightened out and my headache dissipated some, I realized I was wasting my time staring at all of those lineups- we get it- Maddon uses multiple lineups. It then occurred to me, that if he's only using variations to find the perfect storm, then all I should have to do is find the lineup(s) that produce the most runs. Simple, right? Not really.
I loosely figured that on most days, eight runs should be enough to win a ballgame, so I tracked down the games this season in which the Cubs scored eight runs or more (17 total games), and then I cross-referenced the lineups from those dates. The results kind of blew my mind. Not so much about which lineups were most productive (though I'll get to that in a minute), but rather to discover which of the Cubs' starting pitchers the offense scored more runs for. Of the 17 games in which the Cubs scored eight or more runs, eight were games in which Lester started, followed by Quintana (3), Chatwood (3), Hendricks (2), and Darvish (1). Interesting, when you consider that Lester probably needs less of the blitzkrieg-style run support than do his co-starters.
Now, about those run-bearing lineups. There seems to be no particular combination to score eight or more runs for the Cubs offense, though I did find a few things that seem to be constants, or for some other reason, are worth looking at…
* In 13 of the 17 games, either Almora or Happ led off; Almora (9x), Happ (4x).
* In 9 of the 17 games in which the Cubs offense produced 10 or more runs, Almora led off six times, followed by Happ (2) and Zobrist (1).
* In 16 of the 17 games, Bryant batted either 2nd (8x) or 3rd (8x).
* Of the 17 games, only one game had a DH (Schwarber; batted 6th against CLE).
* The winning lineup (16 runs)-
* Implemented on 4/20/2018
* Away game vs. Colorado
* Hendricks (RHP) vs. Jon Gray (RHP)
* Lineup was as follows: Almora, Bryant, Baez, Rizzo, Contreras, Schwarber, Russell, Heyward, Hendricks.
* Maddon has used that same lineup (with the exception of the pitcher) a total of five times this season.
* This lineup has produced a 4-1 record
* Lineup has generated a total of 35 runs (7 per game avg.), and a run differential of +20.
So what does all this even mean?
To tell you the truth, I'm not even sure, other than the fact that the Cubs can produce runs and wins in a plethora of ways. While the lineup listed above has produced four wins in five attempts, the Cubs are currently 43-34, so somewhere along the line, other lineups have produced 39 wins. This lends some credibility to my assertion that lineups don't really matter much to the players after all.
At the end of the day, Joe Maddon still has a job managing the Cubs and has a World Series ring to show for his effort and decision-making skills. So, Joe, I'm still behind your decision to keep mixing up the order. In the words of the legendary sports talk, radio personality, Scotty Ferrall, "Shake, shake, shake it u-u-uu-up!"