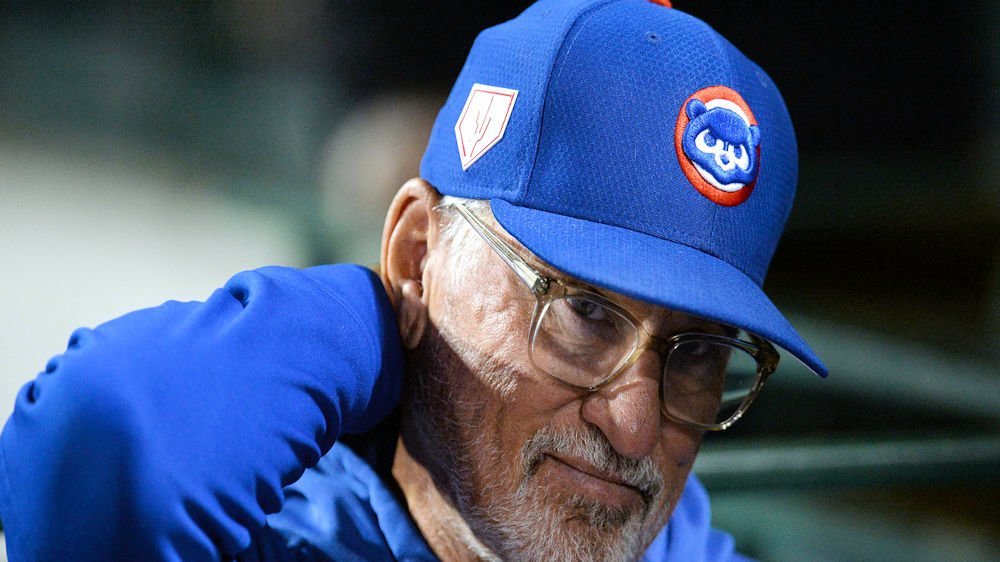 | | |
| --- | --- |
| Cubs News: Maybe Next Year- Part 2: The End of the Maddon Era | |
---
| | | |
| --- | --- | --- |
| Tuesday, October 1, 2019, 8:23 AM | | |
Just as I began putting the finishing touches on Part-1 of this series, the Cubs were in the process of making headlines in sports-news. At 11:25 AM Central time on Sunday, Joe Maddon was accompanied by Theo Epstein and Jed Hoyer, as the trio entered the Cubs' Clubhouse; the news of Theo's decision on Joe's future was imminent. I predicted this was coming for the last four months, and now the naysayers can finally accept that Theo is serious about changing Chicago's path in 2020.
Even a day before the Cubs' offseason began, Theo Epstein made his first move for next year, as he announced Joe Maddon's release. The writing has been on the wall for a year now, and the time had come to finally say goodbye to one of the "best-worst" managers in Cubs' franchise history.
"It's a good moment for everybody." —Joe Maddon pic.twitter.com/bRAENyFJ89

— Jordan Bastian (@MLBastian) September 29, 2019
Just three years removed from a World Series title, the Cubs will now be exploring a new avenue for management, as Maddon somehow had the Cubs off-pace after the 2017 season. This move should come as no great surprise, as it became apparent (to most) when Maddon entered the 2019 season without a contract extension. The Cubs never offered an extension and Maddon allegedly never requested one, spelling out (in a covertly overt format), that the Joe Maddon era was coming to an end.
Joe Maddon says he was never offered an extension by the Cubs.

— Zach Zaidman (@ZachZaidman) September 29, 2019
The majority of fans loved Joe Maddon and still can't believe (even now) that his departure was imminent, despite the Cubs being eliminated with a week to play. Even at that point, with only a minuscule shot at a wild card spot, many fans still wanted to see Maddon return to the Cubs for 2020 and beyond.
"How could the Cubs part with Maddon after he turned the Loveable Losers into World Series Champions in just two years?"
In all likelihood, the decision for Joe not to return was based upon the desires of Tom Ricketts and Theo Epstein, but there is at least some possibility that Maddon, himself, wanted to be done with the team. If this was solely the decision of ownership and upper management, I believe there were two key factors involved.
Declining Performance
In a way, it's insane to think the Cubs would release a manager who's accomplished what Maddon has, but baseball is a business, and like any business, the bosses demand results. The declining performance issue speaks for itself, as the Cubs- a last-place team in 2014- came out of nowhere in 2015, then seemed to peak after they won the World Series in 2016. In 2017, they dropped out of the playoffs at the NLCS level. In 2018 they fell short at the wildcard level, and this year? Let's not even talk about 2019.
This team was configured in a manner that should have allowed it to become a dynasty. Built to win for several years, ownership wasn't about to settle for what's gradually become the Cubs' tendency to cling to life in the standings, then drop out of the playoff scene prematurely- when they make it that far.
"A Google search for "Cubs collapse" on [September 25th] produced more than 24 million results in 0.43 seconds. This was before a must-win game against a last-place team even finished. This was on a night when Kyle Hendricks took a no-hitter into the sixth inning at PNC Park. This was the group that was supposed to be a dynasty." -Patrick Mooney, The Athletic
"How could that be Maddon's fault? Maddon doesn't pitch, swing the bat or play the field…"
That's true; however, Maddon is the one who decided who batted, pitched, and played the field, when they did it, and he determined for how long. Maddon was the one charged with producing a lineup and batting order which should have produced runs, and he was the one responsible for extracting and exploiting the talent contained in the roster. The Cubs have changed just about every component imaginable over the past few years, and nothing has helped. They've replaced hitting and pitching coaches more often than most people blink, and players have been promoted, demoted, traded and designated for assignment. Despite the multiple changes, the one constant through this process had been Maddon. It's not always fair, but eventually, the manager will always become the fall-guy.
The most common allegations and perceptions were that Maddon had consistently mismanaged his pitching staff and bullpen, while also failing to use consistency in his batting orders and lineups. It's not just the laymen and armchair managers who thought so, as broadcasters and other media folks had been seeing this as a problem for quite some time.
I have been watching and rewatching a ton of the Cubs games over the past month. I cannot believe some of the moves that Joe Maddon is making with his lineups and his in game decisions. Do yourself a favor and go back and do the research. If I was his boss I would furious.

— David Kaplan (@thekapman) September 9, 2019
They say that in every genius, you'll find a little bit of madness, but some of Maddon's decisions were just insane. During the first three years of his tenure, Maddon's propensity to think outside the box was an exciting change for Chicago- and he always found a way to make the end justify the means. As time wore on, the Cubs were winning less and less and seemed to be winning more in spite of Joe, rather than because of him.
Maddon's laissez-faire attitude worked wonders when the team was winning with consistency, but sometimes you need to be able to throw a gut punch, and that was something Maddon just never seemed to want to do. Benching a guy like Jason Heyward or Daniel Descalso for going hitless in a dozen games wasn't showing Maddon's ability to make any sort of authoritative statement, that simply constituted common sense. The Cubs may very well have benefitted from a ton of swift kicks to the rear-end over the past five years, but Joe wasn't that guy, which makes me wonder if the tail wasn't wagging the dog.
Will #Cubs regret letting go of Joe Maddon?

— ESPN 1000 (@ESPN1000) September 21, 2019
As his years as the Cubs' skipper wore on, Maddon also became less and less aggressive with his offense, and that decision showed in the team's results. While there's no question that an ever-changing roster creates a necessity to shift your strategy, Maddon never seemed to want to keep an aggressive game plan. Sometimes less is more, but that philosophy only applies if the "less" is producing the desired outcome.
The trend toward younger and less expensive management
Joe Maddon and Bruce Bochy (San Francisco) shared the honor of being the highest-paid managers in MLB in 2019, with salaries of $6M each. With Bochy's retirement announced earlier this season, the Giants will almost certainly seek a less expensive alternative for a manager, following the trend being set by teams around MLB. Although the manager's salary doesn't figure into the team's payroll, so far as the luxury tax threshold is concerned, both the Giants and the Cubs could certainly use that six million in other areas.
It isn't uncommon for teams to fire highly paid managers who've had success. Veteran managers Joe Girardi (Yankees), John Farrell (Boston Red Sox) and Dusty Baker (Nationals) were all fired after leading their teams to postseason berths in 2017. Their replacements were all rookie managers who earned a combined total of $2.7 million in 2018. Alex Cora made $800k in 2018, while delivering a World Series Championship to Boston, Aaron Boone (Yankees) had a 100-win season, and although Dave Martinez fell short of Dusty Baker's 2017 accomplishments, Tony Lovullo (Arizona) was named the NL Manager of the Year in 2018 while earning a salary of $900k.
Many have speculated that Girardi could be named as Maddon's replacement, but I can't see Joe Girardi settling for one, or even two million a year, as his last deal with the Yankees was a four-year/$16M marriage. If the Cubs take him on at a salary of at least $5M, you'll know that Maddon's termination wasn't a money issue.
Was it Maddon's own choice to leave?
There is a third possibility surrounding Maddon's departure; maybe it was Joe's own desire to leave the Cubs. Maddon had accomplished the impossible- bringing Chicago a championship- but for whatever reason- the Cubs have failed to reproduce that magic since 2016. Maddon appeared to show a lot of disinterest and borderline disconnect this season and frequently seemed only about 60% engaged. Also, very uncharacteristic of Maddon, were the camera glimpses into the dugout which showed the manager's obvious frustration with the team's level of play, often shaking his head in disbelief.
Maddon's done his best work with younger players, and at this point, it would almost appear as though this group has outgrown him. Not that he's lost the clubhouse- far from it- but with the cloud of uncertainty that's hung over the heads of Maddon and his team, it's perfectly reasonable to think that his words and instruction failed to resonate with the team this year completely.
Maddon certainly must've seen (and known) that his tenure was coming to an end. He never seemed concerned about becoming a lame-duck manager, stating, "Let's just win the World Series and see how that all plays out," but he had to know that probably wouldn't be the case. He knew the Cubs' ownership wasn't spending much last winter, and that he'd have to continue with a depleted bullpen and an aging rotation, while dealing with an almost entirely new coaching staff- again.
Maddon had just opened a restaurant in Wrigleyville, and many felt that he wouldn't have done so had he known that he wouldn't be staying with Chicago. The restaurant seems to be flourishing, and Maddon has spent a ton of time promoting it. Joe's no dummy- with or without the Cubs, his restaurant has name value- much like Ditka's and Harry Caray's, and no matter where Maddon lives, he'll continue to profit from it.
If Maddon chooses to stay in baseball, there should be several managerial openings by the end of October. The Phillies, Marlins, Padres, Royals and a few others will be looking for a skipper. I see Joe going back to the Angels- he's spent 31 years of his life with that team, and ownership has fire Ausmus on Monday to possibly have Maddon back.
It won't take Joe very long to find work, and despite what some of you may think, I wish him the best and I'll be forever grateful for 2016. https://t.co/CxK7qyC0WC

— Ken Allison (@KenAllison18) September 26, 2019
Whatever happens, good luck, Joe, you've accomplished a miracle.
So, who fits into the Cubs' plans for the manager spot in 2020? Check out the remaining parts to this series and find out. Next up: Resecting the Cubs' roster.