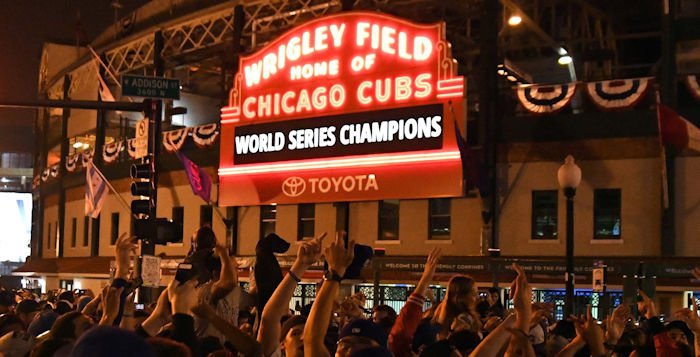 | | |
| --- | --- |
| Merry Christmas, Cubs fans! | |
---
| | | |
| --- | --- | --- |
| Tuesday, December 25, 2018, 7:45 AM | | |
Merry Christmas and Happy Holidays
First of all, Merry Christmas and a happy and prosperous New Year to each of you, our readers. You folks are what keep us going, and your support is what drives us to succeed.
I would also like to wish my colleagues and their families a safe and Merry Christmas and a Happy New Year. You guys are the best.
It's hard to believe that I've been with CubsHQ for six-months as of today. Writing for this site has been a blessing- and I look forward to continuing to do so in 2019 and beyond. Thanks to all of you for reading and supporting my articles (even when you don't agree) and thank you for helping to make The Hot Corner a success.
Go eat some turkey, drink some eggnog, and if you're going to have some "Christmas cheer," please do so responsibly. In the meantime, I'd like to share my favorite Christmas song with each of you. Merry Christmas.
-- Ken Allison and Family
Merry Christmas Everyone, and to all a good write
I hope all of you have a great Christmas and a very happy new year. I'm going to give you all a gift. Regardless of your religious beliefs, please enjoy my favorite rendition of O Holy Night.
To you and all of yours, may 2019 bring you joy and happiness. Thank you for reading us!
-- The Watkins family
Have a Holly Jolly Christmas
Man, these are coming around faster and faster every year. While the season is the time to spend with our families and friends, let's not forget those that aren't so lucky. To those brave men and women, and their families, who serve our country and keep us safe, thank you. To the first responders, and their families, who are the only people I know that run to trouble and not from it, thank you. To our passionate, committed, and informed readers, and your families, thank you. To my fellow staff, and your families, here at CubsHQ.com, thank you. To my editors and your families, here at CubsHQ.com, thank you.
Merry Christmas to each one of you and may your holiday be safe and happy.
-- Dan Marich