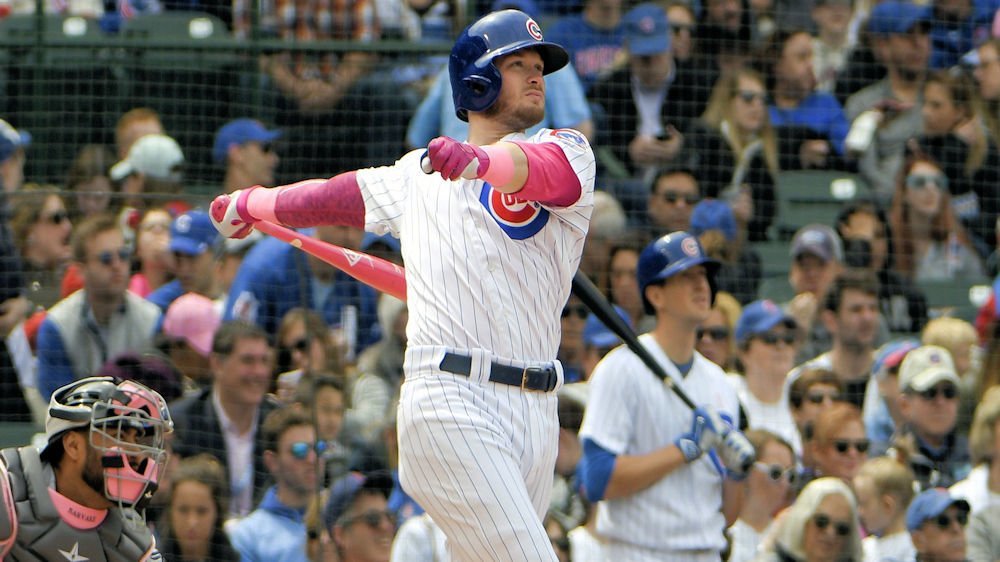 | | |
| --- | --- |
| My Cubs 2020 lineup if season started today | |
---
| | | |
| --- | --- | --- |
| Friday, January 24, 2020, 12:30 PM | | |
As the annual Cubs convention was going on last week, there was not the same excitement as in years past as it was just a weird aura. That was until David Ross was announced and fans rose to their feet giving him a standing ovation.
Ross fielded his share of questions all weekend regarding the team, his plan for the season, the confidence he has in this group, and so much more. One question that Ross was continuously asked was about his plan for the leadoff spot and the rest of the lineup going forward. Spoken like a true veteran of the game, Ross told reporters that he is going to let those situations play themselves out in spring and will not focus on any lineup situations until the Cubs start playing games.
With practically their same roster intact from last season, it makes sense to have those hitters hit in the same place or at the very least close to where they were hitting when the season ended last year. If the season started today, this is how I would make out my Cubs lineup if I were given the keys to run the franchise.
CF Ian Happ: Yes, Ian Happ tried the leadoff role in 2018, and failed miserably, but as of right now he is clearly the best option on the team. After starting off the season in AAA last year, Happ redefined his approach at the plate which really paid off during the month of September. Hopefully those adjustments can continue this season and he can once again thrive in the leadoff role.
Not only does Happ possess power from both sides of the plate and could put the Cubs in front 1-0 with one swing, but he also has a great eye and knows how to work the count and take his walks. Add in much better speed than most give him credit for, and he is the ideal candidate to bat leadoff this season if his strikeouts are cut down.
3B Kris Bryant: I know people hate when Bryant hits in the No. 2 hole because they feel it takes away his RBI chances during the game. Although a good thought in theory, the proof has been that he is a much better hitter batting in the No. 2 hole, especially when you have a reliable leadoff man in front of him.
Go back to his MVP season in 2016 where Dexter Fowler was the table setter for this team. The more he got on base, the better the offense and Bryant was during the season. With hitters like Anthony Rizzo, Kyle Schwarber and Javy Baez behind him, teams wouldn't want to get too careful with Bryant with the fear of putting two guys on ahead of the big boppers. That is why I think he would get not only more fastballs, but more pitches to hit in the second spot of the lineup.
1B Anthony Rizzo: Rizzo has moved around a lot more in recent years, but I like him in the No. 3 spot. Yes, he was very good at leadoff. Yes, he would be the perfect cleanup hitter, but much like Bryant, his best numbers have always come from the No. 3 spot, which is where I would start him for now.
Hitting in the No. 3 hole gives Rizzo the chance to drive in plenty of runs, especially early on should the top two men do their job, or he can play leadoff by extending the inning if no one is on base. His great eye at the plate and willingness to get hit by pitches tend to make him a tough out, which is why he has been a 100 RBI seemingly every season since 2015.
LF Kyle Schwarber: Another guy that has bounced around a lot and struggled to find his form since a breakout World Series in 2016, Schwarber may have discovered something in the second half of 2019 as he became the Cubs best hitter down the stretch. His high on-base percentage and raw power is an understatement, and pairing him with Rizzo near the top of the lineup gives the Cubs two pure RBI men from the left side of the plate.
Down the stretch last season, it was Schwarber along with Nicholas Castellanos who carried the team offensively with Schwarber leading the club in homers with 38 and finishing second in RBI's with 92 only behind Rizzo. Ideally, the Cubs want him to hit better than the .240 range, but after posting a near .300 average the final six weeks of the season, maybe he figured something out to become the cleanup hitter for this team.
SS Javy Baez: Baez is a compelling case because of his aggressive nature at the plate. He will strikeout 200 plus times a year and will never reach the 40-walk mark unless intentional. However, on the positive side of things, his power and growth as a hitter is off the charts, so putting him in the middle of the lineup seems like an ideal fit.
Going back to 2018, Baez was at his best hitting in the No. 2 hole oddly enough when Albert Almora was leading off in front of him. Well, Almora now has a questionable future with this team, and the Cubs were more confident with Baez hitting in the 3-5 range much of last year.
With Ross as the team's manager this season, I look for him to put his high on-base percentage guys near the top of the lineup with hopes the rest of the lineup will see more pitches to hit and make solid contact. In Baez's case, he could hit a pitch anywhere close to the plate a long way, so let's see if he can refrain from swinging out of his shoes at pitches three feet outside the zone.
C Willson Contreras: Another topflight power candidate, Contreras could very easily hit in the No. 4 spot, but I like him as the No. 6 hitter for now. Much like a lot of hitters on this team, Contreras has unbelievable raw power, but seems to lack overall plate discipline to make him a much more complete hitter.
Health has always been an issue for him, so look for him to see more days off behind the plate and more games in other positions. Remember, it was in 2017 when he put together his best season of baseball, which happened to be the only time he played in more than 120 games. If the Cubs can get that from him again, this offense will be a whole lot better long term.
RF Jason Heyward: I am going to cut Heyward some slack after what Joe Maddon did to him last year. Through the first half of the season, Heyward was arguably one of their most clutch hitters at the plate and the numbers backed that up in a big way securing a career high in homers with the Cubs by early June.
Once the Cubs elected to move him to the leadoff spot in July, Heyward got off to a good start before his approach began to change at the plate. That sent him into a month-long tailspin, which was something he wasn't fully able to recover from despite posting his first 20 home run season since Atlanta.
Look for the Cubs to put Heyward seventh in the lineup and leave him alone should he produce the way he did for nearly four months last year. Obviously, that isn't the type of production he should have given the money he is making. Still, it was way better than his first three seasons in Chicago as he continues to be a key component both offensively and defensively.
Pitcher spot: Taking a page out of Joe Maddon's play book, look for David Ross to use the pitcher in the eighth spot early this season. Except for Tyler Chatwood and maybe Jon Lester, Cubs pitchers don't strike fear in opposing pitchers but there is a method to this strategy.
Should an inning have a chance to become a big scoring opportunity, teams would not be able to walk the No. 8 hitter with the hopes of striking out or getting the pitcher to role over into a double play. Now, they would have to go after the pitcher who may be an easy out, but the Cubs would have another hitter lined up behind this spot.
Another strategic move by hitting the pitcher eighth is their ability to bunt runners over, which could change the approach of the No. 9 hitter. Either way, as weird as it sounds, I think this helps the Cubs lineup a lot more than it hurts.
2B Nico Hoerner: Now Nico Hoerner batting ninth is all dependent on him making the opening day roster otherwise I would move David Bote to the No. 9 spot. Why would I move Nico to this spot instead of near the top of the order where most people see him as a fit.
Yes, he may be a high contact bat, but he also showed a lack of discipline last year which needs to be ironed out before you can become an elite top of the order player. Secondly, much like what the Cubs did with Addison Russell and others early on, hitting Hoerner ninth benefits him in terms of developing him as a player but also helps the Cubs lineup become deeper.
It gives them essentially two leadoff hitters to start or end innings depending on the situation, which could turn out to be golden if the cards fall just right. Now I don't expect Nico to stay here the entire season, but look for him to be here early on until Ross gets comfortable with his new-look lineup.
The last thing I will say about the lineup goes back to the 2016 World Series. If you look at the spots, these hitters were in then compared to now, and you will see how much more successful they were then compared to now. With Ross being a part of that team, I think he will try to incorporate some of what worked back then to his new style of managing this year.
Hopefully, it works out.

Tags: Cubs Baseball
,
David Ross
,
,
,
Dexter Fowler
,
Anthony Rizzo
,
Kyle Schwarber
,
Willson Contreras
,
Jason Heyward
,
Tyler Chatwood
,
,
David Bote
,
Addison Russell
,
Joe Maddon