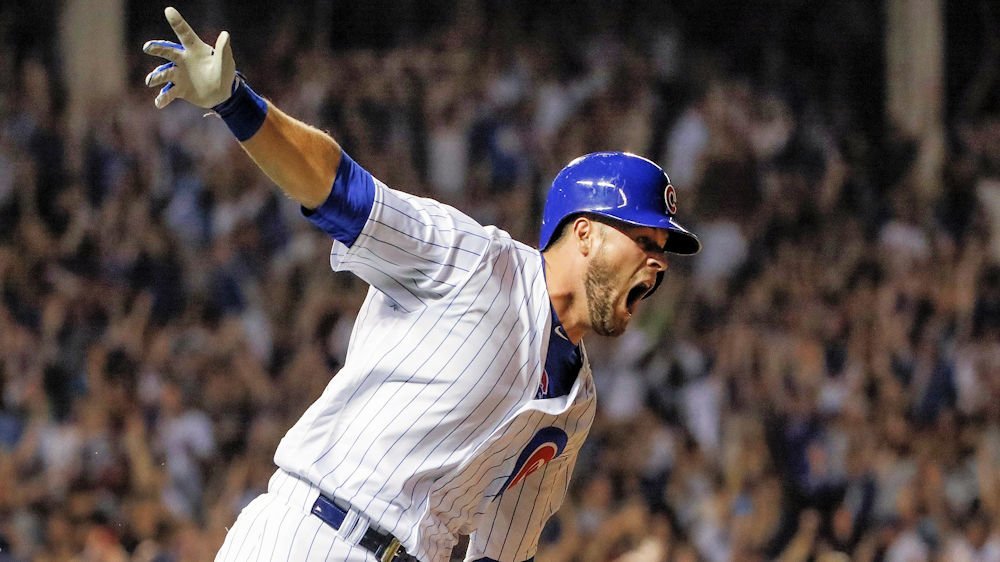 | | |
| --- | --- |
| Cubs News: No More waiting, It's Opening Day! | |
---
| | | |
| --- | --- | --- |
| Thursday, March 28, 2019, 9:11 AM | | |
NOTE: In my continued effort to improve this column, I've made some changes. In addition to the Cubs news and MLB notes, it will now include a "Standings" section for the NL Central, as well as a weekly game schedule for NL Central teams only. Send me your feedback (EMAIL: Ken@CubsHQ.com), as I'm always eager to improve things for our readers.
OPENING DAY: 3:05 PM: Cubs @ Rangers. Lester (0-0, 0.00 ERA) vs Minor (0-0, 0.00 ERA)
Cubs' Home Opener: 13 Days. April 8 vs. Pirates: Game time: 1:20 PM Central. (ABC-7, MLB.TV)
Game Recap: This afternoon- 3:05 PM CDT.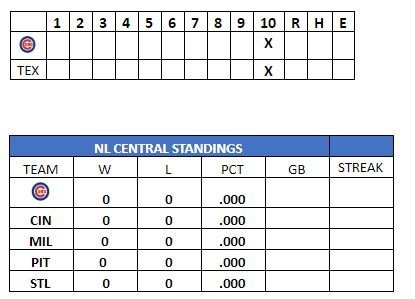 Cubs News & Notes:
Javy asks a critical question:
Who's ready for the season? ????? #ElMago @sskbaseballusa https://t.co/v6daggeot9 pic.twitter.com/ijcxDbrBmV

— Javier Báez (@javy23baez) March 27, 2019
1st or 5th for the Cubs? PECOTA says last place. ESPN says third, and others suggest first. My take: Either 1st or 3rd. Why the indecisiveness? Because my school of thought is that Theo's (and the Ricketts') tactic of doing little this winter/spring is either going to pan out, or it's going to backfire. No one knows if that cash shortage actually existed, but either way, we have to play the hand we've been dealt. If the talent comes alive (meaning that doing less was more): (1) Cubs (2) Cards (3) Reds (4) Brewers (5) Pirates. If enough was not done: (1) Cards (2) Brewers (3) Cubs (4) Reds (5) Pirates.
Epstein on Happ: Speaking on Happ's demotion, Theo Epstein wouldn't get too specific on what the Cubs wanted from Happ. "It's the stuff that has been discussed a little bit," Epstein said, "about pitchers attacking him in certain parts of the zone, and his swing really geared towards other parts of the zone. And just his ability to continue to adapt to make more consistent contact, while keeping his strengths as a hitter."
Epstein on Lester's spring: "Veteran Spring Training. Stuff-wise, it looks really similar to what he featured last year, when he was pretty darn successful. Last time I recall we played a game that counted, he went out and shoved in a very important, high-pressure situation. I expect him to do that on a number of occasions this year."
Maddon on Almora: "We don't have Ian right now to fit into that mix," Maddon said. "[Almora] will get more of an opportunity?—?yes, he will. There still might be the time you want to get him out so you can get somebody else in. Don't forget Descalso. And how's that work? And how's that get Zobrist in a game? There are still different mechanisms in place."
Luke Haggerty: Luke Haggerty is a nearly 38-year-old pitcher, trying to make his comeback with the Cubs. He was in camp this spring, throwing nearly 100 mph, but it looks as though his comeback may have been short-lived. The Cubs announced yesterday that Haggerty is to undergo elbow surgery.
Cubs birthdays: Celebrating yesterday were ex-Cubs Junior Lake (29), Jaime Navarro (52), Drew Hall (56), Dick Ruthven (68), Vic Harris (69), and posthumously, Lynn McGlothen (69), Wes Covington (87), Newt Kimball (104), Walter Stephenson (108), Johnny Gill (114), Bill Collins (137), and George Magoon (144).
NL CENTRAL SCHEDULE (March 24 – March 31, 2019)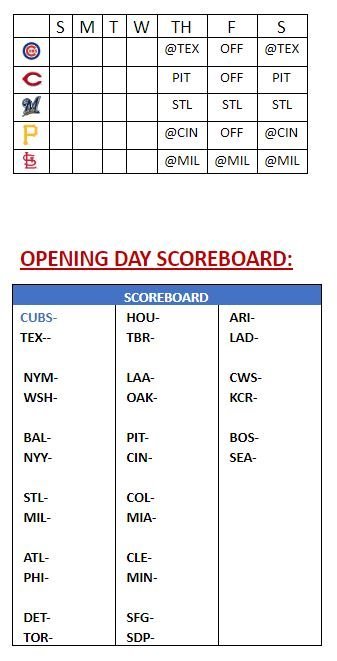 MLB News:
D-Backs: Arizona will be without the services of OF Steven Souza for quite some time. Souza is scheduled to undergo "major knee surgery," to repair his left knee. Souza has a torn ACL, a torn LCL, a partially torn PCL, and a posterolateral capsule tear.
White Sox: The Sox have announced that Eloy Jimenez will be on their Opening Day Roster.
#Cubs Opening Day is here!#EverybodyIn pic.twitter.com/UBNEnsfrIN

— CubsHQ (@ChicagoCubsHQ) March 28, 2019