| | |
| --- | --- |
| Now Playing: The PECOTA Cubs | |
---
| | | |
| --- | --- | --- |
| Monday, March 11, 2019, 11:57 AM | | |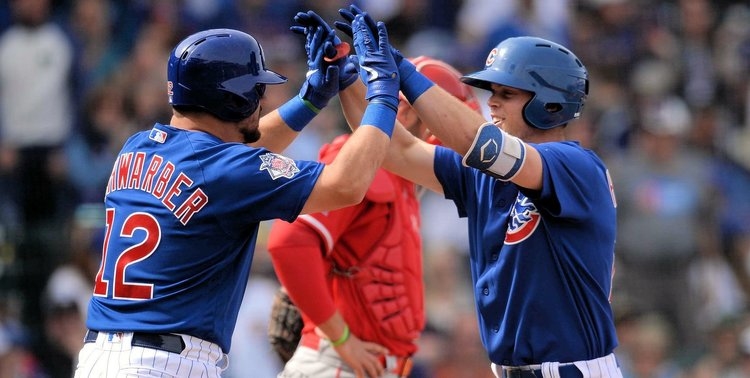 Baseball Prospectus (BP) has made it clear they believe the Cubs farm system is already canned and in the cellar. Ranked at #30 for talent overall, the Cubs pipeline - if BP is to be believed - is clogged and leaking hope. Some beat writers and bloggers have taken issue with the ranking, while others believe it is true that there are only a handful of prospects worth notice.
Nico Hoerner, Cole Roederer, Miguel Amaya, Taylor Davis (not really a prospect, per se, but we'll add him anyway), Justin Steele, and Adbert Alzolay get good press. Hoerner is already being hailed as the next Kris Bryant, and fan favorite Davis always gets noticed when he's at Wrigley. Amaya is expected to make an impact soon, and BP has Alzolay bouncing back and up the charts.
There are more and we'll get to one of them in a moment. For now, consider: Algorithms and statistics do tell a compelling story, both for players and teams. What they cannot measure, no matter the brilliance of the code written, are intangibles. Those are the pesky little factors that can, in just a few games, lay waste to the best of player evaluations. To wit, see Bote, David. A couple of years ago, he was just another prospect vying for playing time and notice. He was on the outskirts of the scouting radar, and then 2018 happened. It seemed for a while that if he wasn't hitting heroic home runs, he was forever on writers' bubble. Yet, here he is, back for 2019 with a roster spot locked up.
He achieved this in part because his work ethic is second to none. Bote shows up early on game day to work with hitting coaches, and his reputation is that of one who won't rest until he gets better. How do you factor that into a stat formula? You don't. All that is measured by numbers are the results of his efforts. This is where scales like PECOTA tip precariously; individual and collective performance results are forever fluid. Yesterday's no-name can rise to the top by spending sweat equity. Though he hit .207 last year, if a prospect works hard and figures out how to hit that high fastball, he will suddenly find himself the object of the press – and fan - affection.
The other issue I have with the PECOTA ranking system is that it in no way, shape or form (that I've found) considers the nature of the entire Minor League, which is change. Players are shipped to the next A level, down to lower ones, traded outright, and yes, called up to their field of dreams. This makes it difficult to quantify, say, the Myrtle Beach Pelicans in May vs. their team "identity" in August. Chances are, they will have a lot of roster changes throughout those 2-3 months. Add in players suddenly promoted or picked up from the Dominican Summer League (and now the Baseball Federation of Cuba) and the entire dynamic shifts yet again.
I'm sure my colleagues and a lot of fans will take issue with this, but for my money? Meet Zack Short, a 23-year-old shortstop who last year posted a less-than-exciting .227/.356/.417 slash line for the Tennessee Smokies. I've no doubt he was unhappy with those results, and I'm even more confident in his ability to turn it around. By all accounts, he has the work ethic, the desire, and the skill set to do it. He's a great base runner and my contention is a solid SS.
Yes, yes, I know; the PECOTA ranking is one hung on the entire farm system for each team, not just a few possible major league prospects. I contend that it does, in fact, come back to the individuals wearing the uniforms and grinding out their minor league seasons with a hard focus on making it to the bigs. It's their dream; it's what they get paid (however paltry or generously) to do – get better. The vast majority of them are expected to one day get better enough to earn a locker at Wrigley.
If I were asked to pick one team in the Cubs farm system to showcase serious talent this year, I couldn't. Because of all of them – all nine – will at some point this year do exactly that. They may not be recognized right off the bat, but the next Rizzo, Bryant, Zobrist, Lester – and Bote – are out there. We already signed them. BP's PECOTA ranking may look dismal to Cubs fans, but take it with a grain of salt.
Projections and declarations based largely on 20/20 hindsight are already doomed to fail. There isn't an algorithm anywhere that can predict Cory Abbott will improve (or worsen) his solid .253 ERA from last season with the South Bend and the Pelicans. That's the beauty of baseball, isn't it?
Numbers may not lie, but they fall woefully short in taking the measure of heart.