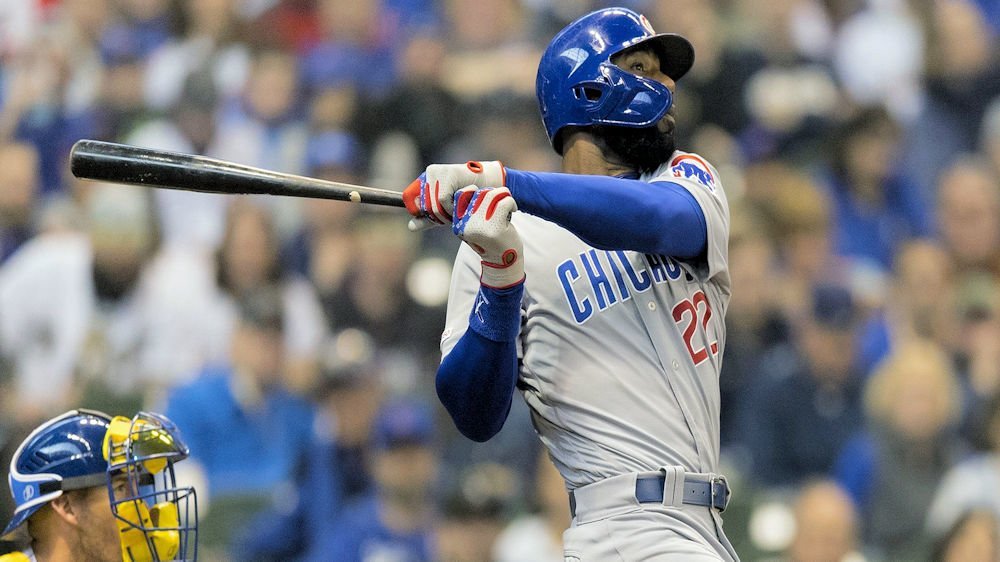 | | |
| --- | --- |
| Numbers don't lie: Cubs hitters on fire, bullpen needs to improve | |
---
| | | |
| --- | --- | --- |
| Wednesday, April 10, 2019, 5:12 PM | | |
Just about a week has gone by since I last tallied the stats and rankings for the Cubs, and there have definitely been some changes. The 3-7 record, while disheartening and disturbing, is a little deceptive for someone who hasn't watched the games. The offense is alive, and fire, whereas the pitching (mostly from the bullpen) is what has sunk the ship in nearly every one of the seven losses.
In the rating sections, I've added two charts to this feature (one for offense, one for pitching) to showing improvement or decline from the last time that I calculated the numbers. If you need a tutorial on how my rating system works, check out the first edition of my stats column.
Cubs' Offense: The Basics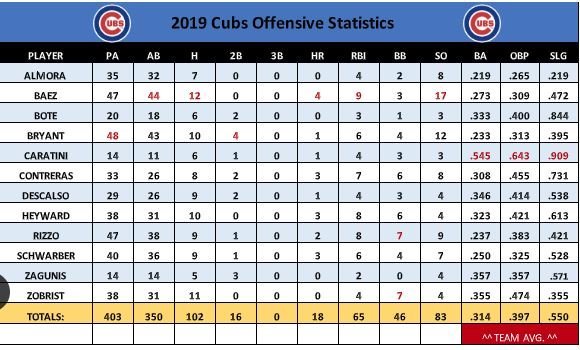 Make no mistake: There is nothing wrong with this team's offense. Generally, if a player has a slash-line (BA/OBP/SLG) if 300+/400+/500+ he's considered a good hitter, and the Cubs are currently slashing .314/.397/.550 as a team. Victor Caratini, David Bote, Willson Contreras, Daniel Descalso and Jason Heyward are all individually slashing above the 300+/400+/500+ mark.
As opposed to last year, only a few guys even have minor slumps at the plate to begin this season. Kris Bryant is only batting .233, Albert Almora, Jr. is struggling, batting just .219, as is Anthony Rizzo, batting .237. Despite the low number of hits between the trio, they've combined for 18 RBI in the first ten games.
The Cubs are doing their fair-share of striking out (83), but they're also showing increased patience at the plate, walking 46 times in 10 games, or about 4.6 times per game. While Javier Baez is leading the team in strikeouts (17), he's also leading the team in RBI (9), while Anthony Rizzo and Ben Zobrist lead the team in walks with seven each.
Cubs' Offense: Player Rankings & Ratings
Quick recap: Positive points per occurrence for hits, doubles, triples, homers, RBI, stolen bases, walks and sacrifices (flies/bunts). Negative points per event for strikeouts and grounding into double plays. Every stat for each player is set proportionately to the stats of his teammates. Then individual factors are totaled, then added to, or subtracted from, the base score of 100, depending on whether the factor score is positive or negative.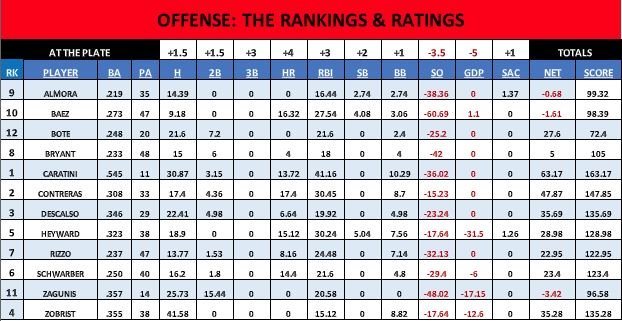 There've been a lot of players changing places in the ratings between this week and last. Baez ranked 1st on April third, but he slid back to 10th this week, while Caratini bounced himself from 11th to 1st. Jason Heyward moved from last place a week ago to fifth overall this week, and Kris Bryant dropped from 3rd to 8th.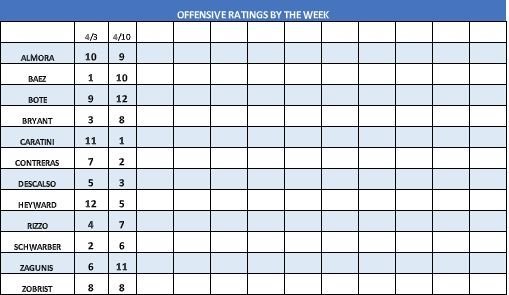 Cubs' Pitching: The Basics
Jon Lester's 2.57 ERA leads the pack of starters, with Jose Quintana's 10.29 ERA rank last. In fairness to Quintana, he had an off-night against the Brewers, but with the bullpen underperforming, Joe Maddon forced him to stay in the game, resulting in a shellacking. Cole Hamels is currently sporting the best WHIP (1.364), while Q's 2.155 again trails all starters. Lester also leads all starters in strikeouts (14), while Darvish has the least at six. Darvish does lead the team (and all of MLB) with 11 walks, while Hendricks has given up the most hits (18).
For the bullpen, (with a couple of exceptions) it was more of the same, walks, runs and home runs, although they buckled-down nicely in the opener against Pittsburgh. Mike Montgomery (IL) and Carl Edwards, Jr. (optioned to Triple-A Iowa) have been included below, as they both pitched within the last week. As for those exceptions- Brandon Kintzler has become the go-to guy, and Brad Brach is starting to shine as well. Both have been solid, and Kintzler has yet to give up a walk.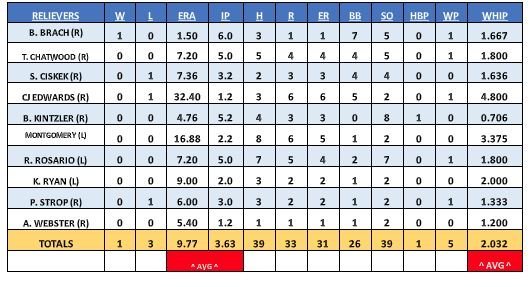 Cubs' Pitching: Ratings and Rankings


There were several shifts in the starting rotation's ranks this week, but while most moved up or down a spot or two, a couple made big moves. Jose Quintana dropped from #1 to #5, while Tyler Chatwood (listed as both a starter and a reliever below) jumped from #6 to #3- comforting to know, especially if Jon Lester has to hit the IL. While Montgomery is also included in both the starter and reliever sections, it is highly unlikely that he'll get a start anytime soon with his injury.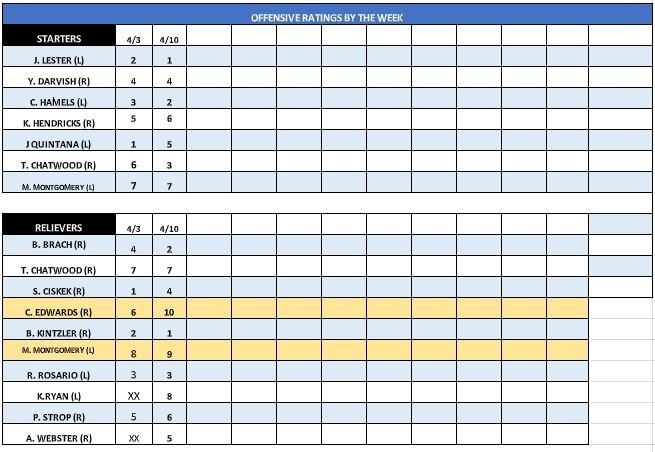 That's about it for this week. Stay tuned, and I'll be doing this again with updated stats on the Cubs' next day off (April 18), the article will then post on April 19. Feel free to send me your feedback: ken@cubshq.com.

Tags: Cubs Baseball
,
Victor Caratini
,
David Bote
,
Willson Contreras
,
Daniel Descalso
,
Jason Heyward
,
,
Anthony Rizzo
,
,
Ben Zobrist
,
,
Jose Quintana
,
Cole Hamels
,
Mike Montgomery
,
Brandon Kintzler
,
Tyler Chatwood
,
Joe Maddon