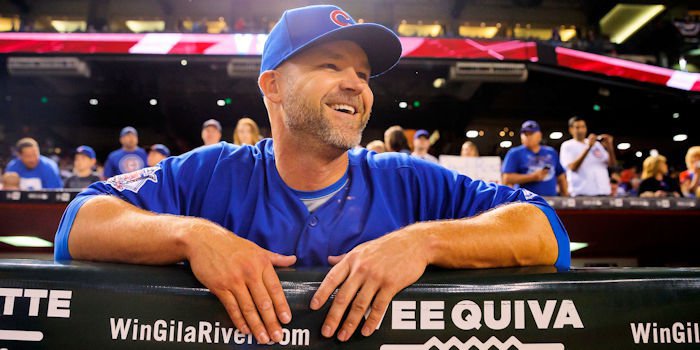 | | |
| --- | --- |
| Cubs News: Pack your bags Grandpa Rossy, your team needs you | |
---
| | | |
| --- | --- | --- |
| Friday, December 14, 2018, 9:14 AM | | |
For over a month it looked as though the Orioles had plans on hiring Cubs' bench coach, Brandon Hyde, as Buck Showalter's replacement, and I'm surprised it is taking them this long to do so. Several media reports have called it a done deal including MLB insider Ken Rosenthal.
Of course, the O's had to do their due diligence by interviewing other potential candidates but entering the winter meetings without a manager in place bordered on lunacy. Baltimore trying to conduct talks when you have no manager isn't exactly a selling point.
For Hyde, it will be a new opportunity, although the O's have already said that they expected to lose plenty in 2019 and didn't want a manager who would take that on the chin. Still, most coaches aspire to be managers one day, and as long as the team doesn't expect Brandon to go out and win 90 games next year, he should do fine. With the Orioles posting a 47-115 record last season, their worst season ever since becoming the Orioles, Hyde could hardly do any worse.
So, who replaces Brandon Hyde in Chicago with his likely departure? The short answer for fans: David Ross.
Both Theo Epstein and Jed Hoyer have commented that the Cubs wanted to see David Ross in some sort of "expanded role," and this may very well be the time, opportunity and place to slide Ross back into the clubhouse. Ross had a definite presence in the clubhouse during his short tenure with the Cubs, and he's both a player and fan favorite, not to mention ranking up there pretty high on the lists of Epstein and Hoyer.
Jed Hoyer commented recently that the Cubs "miscalculated" the importance of not having that veteran leadership last season, after the departure of Jon Jay in 2017 and David Ross in 2016. Hoyer had hoped the core would organically produce some new leadership, but that wasn't the case. The Cubs want to replace that veteran leadership, which is why they are said to be looking for a veteran backstop, but Ross fits their needs well, and hiring him may even quell some of the talks regarding the possibility of trading Contreras or Caratini.
There's little doubt that Jon Lester, Cole Hamels, and Jason Heyward possess leadership qualities, and Javier Baez, Anthony Rizzo, and Willson Contreras undoubtedly galvanize the team as well, but the Cubs have elected not to put that task on their marquee players in 2019. The energy they produce is unmistakable, and it will undoubtedly continue to help the team, but the Cubs need that player (or coach) who isn't afraid to take a player or players to task when things aren't right.
Even if the Cubs wish for that leadership to come from someone playing at least part-time, having Ross on the bench still makes sense for a number of reasons- the biggest being the possibility that Joe Maddon may not be with the team beyond next year. While I'm not going to debate whether or not Maddon deserves an extension, the reality is, Maddon hasn't requested one and the Cubs haven't offered one.
With little news surrounding the Cubs as the winter meetings finished, announcing Ross as the next bench coach would certainly be a step in the right direction, for both players and fans alike. I don't expect the Cubs would make that announcement anytime soon until Hyde is obviously announced officially. With the knowledge that Hyde is leaving, it wouldn't surprise me if the front office was already preparing for this.
Pack up your stuff, Grandpa, your team needs you.

Tags: Cubs Baseball
,
David Ross
,
Jon Jay
,
,
Jason Heyward
,
,
Anthony Rizzo
,
Willson Contreras
,
Joe Maddon
,
Brandon Hyde
,
Theo Epstein