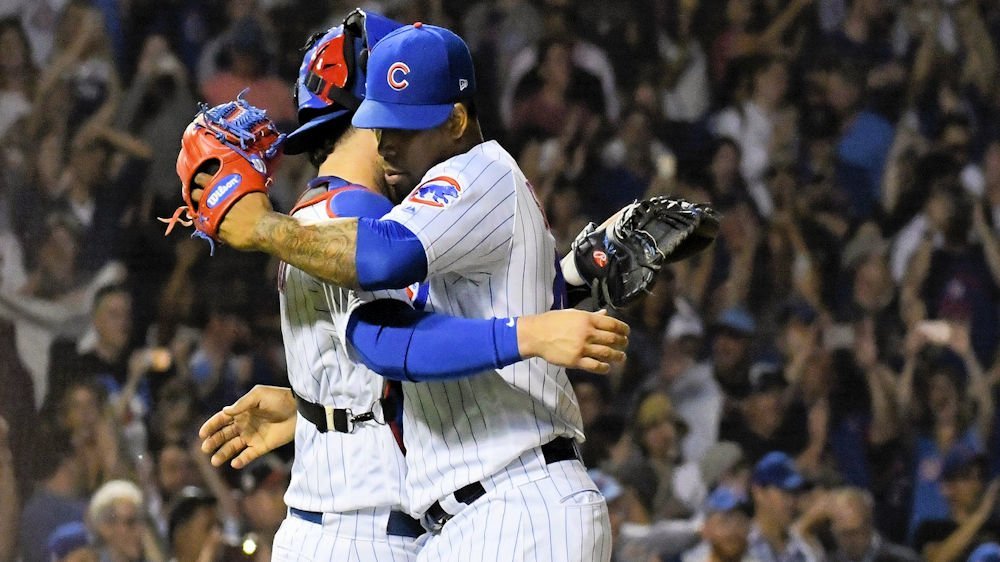 | | |
| --- | --- |
| Pedro Strop spotted in Chicago: Should the Cubs sign him? | |
---
| | | |
| --- | --- | --- |
| Friday, August 28, 2020, 11:34 AM | | |
In case you haven't heard the news, crooked hat man is back on the market and available for the taking. I am talking about Pedro Strop, who is now a free agent after being released by the Reds this weekend. Strop never seemed to fit in with Cincinnati this season, and after a groin injury popped up this year, the Reds elected to cut ties with the 35-year-old. That brings the question should the Cubs inquire about Strop and sign him.
For the longest time, Cubs fans have had mixed feelings on Strop, and I don't understand why. Maybe it has to do with his crooked hat, but there is a reason why he wears it like that, so that shouldn't be an issue. Is it because of his struggles last season that people think he is old and past his prime? It could be, but remember, Strop injured his hamstring in 2018 and then again in 2019, so he wasn't completely healthy at any point in 2019.
Regardless of why people dislike him, the numbers don't lie as Strop was one of the best relievers in Cubs history. When you look back at all the relievers we have had for a minimum of six seasons, only hall of Famer Lee Smith has posted a lower ERA than Strop. That shows you not only the company he is in, but just how good he was for an extended period.
Brought over in 2013 with Jake Arrieta in what might go down as the best trade in Cubs history, Strop immediately took to the Cubs pen where he became a leader and someone they could count on in any situation. In his seven years with Chicago, Strop was as durable as they come averaging nearly 59 appearances per year with a career-high 76 in 2015.
He has posted a 3.22 career ERA, but in Chicago, his career ERA was a 2.63, primarily inflated by his 4.97-mark last year. Outside of that, his 2.91 ERA in 2015 was his highest mark in Chicago as he got the job done often. Known as a setup man most of his career, Strop filled all different roles in the pen from middle relief to closer.
Strop has logged 32 career saves with 28 of those coming as a Cub, including 23 in 2018 and 19 combined filling in for both Brendon Morrow and Craig Kimbrel. Along with him being able to close games if needed, you always could count on him as a setup man in the eighth innings as he averaged 21 holds a season. He has the most holds in franchise history, meaning that when he took the ball in the eighth, nine out of 10 times, he got the ball to the ninth in good shape.
I understand the frustrations with Strop from last season, but at the same time, I am wondering if he was every healthy last year. I don't understand the people who complain about what you got from him for six seasons. Up until last season, his ERA with the Cubs was in the 2.58 range for six seasons. What more can you ask from a reliever that was called upon as many times as he was?
Now going back to his release this season. From a performance standpoint, Strop wasn't that bad as he posted a 3.86 ERA this season. That was throughout four games compiling just 2 1/3 innings of work. That problem was his command as he had six walks as opposed to three strikeouts. Consider that he averaged 25 walks and 62 strikeouts a season with the Cubs, and something was off. Maybe it was the groin injury that caused his command issues this season.
Whatever it was, Cincinnati didn't feel comfortable keeping him on the roster, which ultimately led to his release making him available for the taking. With that being the case, and I may be in the minority on this, but I want the Cubs to bring him in now. Had the money fit this offseason I am positive Strop would have been back in Chicago for the eighth season.
Suppose you look at Strop's Instagram post following his release from the Reds and see his journey across Indiana into Chicago. Maybe that doesn't mean a thing, and he may have a place still in town that he wanted to come back to. Or could it mean everything we need to know? Does his trip to Chicago mean he is coming in for a physical and working out with the Cubs to return?
Windmills seen on @pstrop46's latest Instagram Story. Possibly in Indiana. Heading to South Bend, perhaps?
?? #Cubs pic.twitter.com/sYDdRf0cZZ

— CubsHQ.com (@ChicagoCubsHQ) August 28, 2020
We know Chicago holds a special place in Strop's heart, and he never wanted to leave in the first place. Sometimes, pitchers pitch well for specific organizations and not as well in other places. That is the case for Strop, who had the best years of his life here in Chicago. Maybe the comfort of this organization and knowing what they expect can unlock some more Strop magic.
PEDRO STROP IS IN CHICAGO. pic.twitter.com/8i15DIz87J

— Cubs Zone ™? (@CubsZone) August 28, 2020
If the Cubs and Strop are indeed interested in making things work, don't be shocked to see it happen as both sides share so much respect for one another. Strop may be getting older at 35, but that doesn't mean he can't still be reliable. I don't expect the old Strop to suddenly come walking through the door to post ERA's in the low to mid 2.00.
However, if you get a Strop close to his career mark of 3.22, that is a win for both sides. Not only would it rejuvenate Strop who brings tons of energy to the team, but it would help the bullpen get better right from the start. You could insert him in the seventh or eighth inning where he feels comfortable and let him stabilize things to get to the ninth.