| | |
| --- | --- |
| Quintana, Chatwood impressive in blowout win of Diamondbacks | |
---
| | | |
| --- | --- | --- |
| Friday, March 1, 2019, 6:46 PM | | |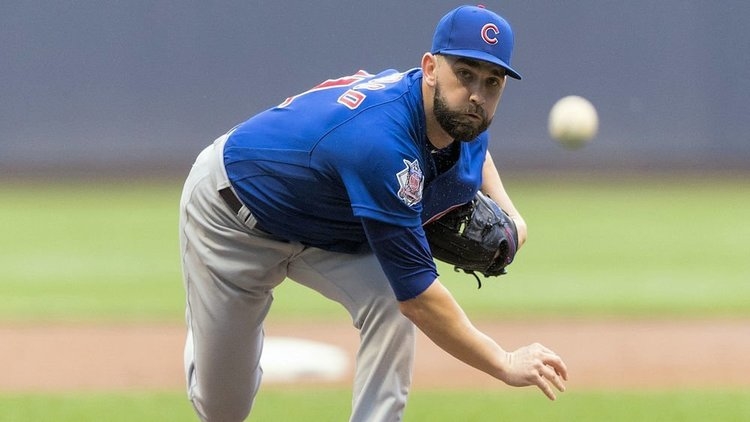 After an ugly loss yesterday, the Cubs traveled to meet the Diamondbacks this afternoon, with Jose Quintana squaring off against Robbie Ray.
Quintana and Tyler Chatwood would combine for five innings in the Cubs 10-2 blowout over Arizona.
T-1: With one out, Bote walks, then takes second on a wild pitch. Schwarber, hitting against the shift, grounds to the left side and winds up with a double, scoring Bote from second. Brace yourselves: A thinned down Kyle Schwarber stole third base but would wind up stranded. Both Bote and Schwarber have increased their swing speed by a ton.
B-1: Quintana looks relatively the same this season, effective, but not flashy. He did give up a two-out single, but it wouldn't haunt him. Cubs up 1-0.
T-2: A one-out single by Mark Zagunis would be wasted, as the Cubs failed to score. Zagunis looks much improved from what he showed last year in his limited appearances. He has been making solid contact during almost every at-bat so far this spring.
B-2: Quintana retires the side in order, grabbing a strikeout along the way. Total of 29 pitches for two innings, retiring the last four batters he faced. Cubs lead 1-0.
T-3: Ian Happ would break his week-long, 0-9 streak when he reached first on what amounted to a swinging bunt. A bad throw to first should have afforded him second base, but he slipped and fell. Happ would subsequently be gunned down trying to steal second. Although they'd fail to score, Schwarber provided some excitement on a long fly out to center to end the inning.
B-3: Tyler Chatwood would take the mound in the third. Despite giving up back-to-back singles to start the inning, Chatty would get out of it, unharmed, on only 16 pitches (11 strikes). His windup and delivery look much better, less jerky, and his control was amazing. For the record, two of the called balls were close. Cubs lead 1-0.
T-4: With one away Russell would hit a bloop single to right-center, followed by an Adduci walk to give the Cubs runners on first and second. Mark Zagunis would the clear the bases on a no-doubter to left-center, putting the Cubs up 4-0.
Mark Zagunis misses the 'bunt' sign. pic.twitter.com/8uK9xeVrrq

— Chicago Cubs (@Cubs) March 1, 2019
B-4: Tyler Chatwood would return for the fourth, looking even better. Good movement on his fastball, two strikeouts, and retired the side in order on only 13 pitches. He did spike one ball in the dirt, but one out of thirty is undoubtedly an improvement.
T-5: Bote and Schwarber would both draw one-out walks, though Schwarber would be lifted for a pinch-runner (Higgins). Victor Caratini would drop a single into shallow-center to load the bases, but Russell would end the inning by hitting into a 6-4-3 double-play.
B-5: For the first time this spring, Joe Maddon would allow a pitcher to pitch into a third inning, when he sent a re-invented and confident Tyler Chatwood back to the mound. A single to the right side would go unnoticed as Chatwood would again get out of the inning with a walk and run free, on 15 pitches, taking the last out by strikeout on a wicked curveball. Chatwood would see his ERA drop from 9.00 to 3.60 with this outing.
T-6: Cubs go down for the first time in this game.
B-6: Carl Edwards, Jr. would take the mound in the sixth, looking very confident, and exhibiting good control. Three-up, three-down, on nine pitches with one strikeout.
T-7: Evan Marzilli and Trent Giambrone would open up the Cubs' half of the seventh with back-to-back singles. Although Ryan Court would hit into a would-be double-play, a clean but effective slide by Giambrone would break it up, leaving runners on the corners with one out. Still, in the game, Caratini would hit a long double to center, scoring Marzilli from third. Two batters later, Jared Young would jack a three-run-blast to left field, putting the Cubs up 9-0.
Cubs win!

Final: #Cubs 10, D-backs 2. pic.twitter.com/pquizz5rHa

— Chicago Cubs (@Cubs) March 1, 2019
B-7: Duncan Robinson would pitch the seventh, for what was a bizarre outing. Robinson would record two outs, then issue a single, double, single, followed by a fly-out to end the inning, all on 17 pitches, keeping the shutout intact.
T-8: A pair of doubles (Burks and Giambrone) would put the Cubs up 10-0.
B-8: Kyle Ryan would take the mound for the bottom of the eighth, retiring the side in order on just nine pitches.
T-9: The Cubs would threaten in the ninth but would settle for scoring ten runs on the day.
B9: Right-hander, Rob Scahill, would allow the D-backs to get on the board in the ninth, but it wouldn't be nearly enough, as the Cubs finished out by a final of 10-2.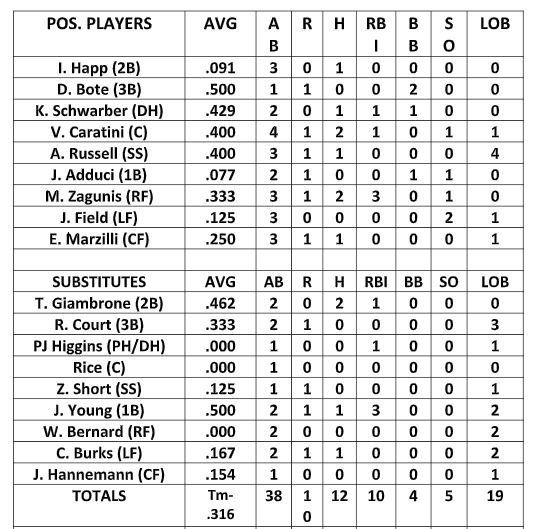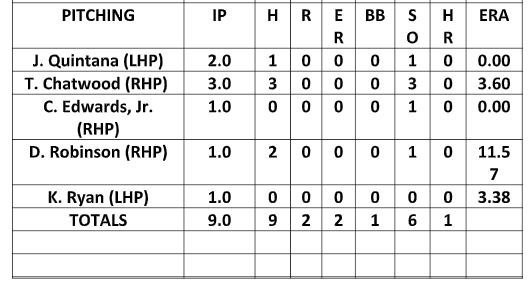 Final: #Cubs 10, Dbacks 2 pic.twitter.com/5Tt4B89YVj

— CubsHQ (@ChicagoCubsHQ) March 1, 2019