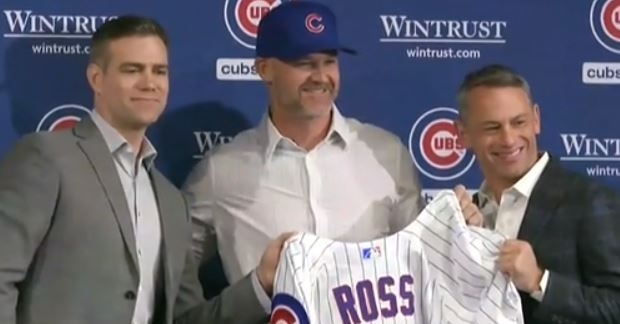 | | |
| --- | --- |
| Cubs News: Quotes from David Ross press conference | |
---
| | | |
| --- | --- | --- |
| Tuesday, October 29, 2019, 11:48 AM | | |
On Monday, the Cubs officially announced that David Ross would take over as the Cubs' 55th manager in club history. Former catcher, game seven hero and big leaguer takes over for his former manager, the manager who was on the top step when the Cubs won that World Series that served as Ross' last hoorah on the field.
But that wasn't Ross' last hoorah in his career. A new chapter has begun with Ross as the manager of his most recent team. Ross was the favorite all the way through and ultimately won the job due to his natural leadership instincts, which were advertised in a mock speech. Although the organization seemed to be grooming him to be a manager since his heroic game seven performance, Ross surely earned the gig.
Cubs managers must be able to face adversity, and answer to it every day from the Chicago media, something Joe Maddon excelled at. Ross met the media Monday and was officially introduced as manager, with a tough act to follow in Maddon.
Here are some of the highlights from Ross' press conference:
"I want to win a championship. I want to win multiple championships. I want to bring it back to Chicago."
"I think there's a little bit of a misconception of the fun-loving 'Grandpa Rossy'...I don't think that's me in the dugout."
"The people that know me, those guys know. The fans call me "Grandpa," the players don't. I'm "Rossy," they know it, and now I might be "Skip."
"I know there's a big fun-loving Grandpa Rossy theme out there, but if you ask any of my friends or ex-players what kind of teammate I was, I didn't shy away from the tough conversations."
"I think these guys know, especially the ones that have already played for me, the relationships that I have, what kind of person I am at heart. I'm a positive guy, but I don't take less than your best. I'll call you out if I see less than is expected. So my goal is to set these standards, set these things that I think in place that I think entails winning, that I've seen in winning my entire career, and hold guys accountable to that. And then hold me accountable. I want to build relationships and trust. I want them to know I love them, and I care about them, but I also want them to know the truth. And I think I respected my managers when I played when they shot me straight, and I hope to do the same."
"I think some of the challenges for me will be that initial learning how to run a game, relying heavily on my coaches. I'm going to make some mistakes. I don't have all the answers, I know that going in. I've never played for a perfect manager. I don't know that there is one out there. I'm going to communicate well, I think that's key for me, and I'm going to rely heavily on my coaches."
"It drives me. I've been a part of winning, and I want to do it so bad. When you get out of this arena, even as much as I enjoyed TV, you get out of this arena, and there is something about being in that dugout and being a leader of men — being a part of something special, a group that's going to make history. I'm so passionate about that. I want that so bad for myself, my teammates, and this city. That's what drives me, man."
"I always want to put my own stamp on it. I think Joe has brought a lot of great to this organization, a lot of great attributes that I'll use in my day to day preparation and how I think about things and run things. But for me, I want to put my own stamp on this team and create relationships, create trust with this group. That's what it's all about. It's hard to say what was wrong when you're in the day-to-day grind and seeing it from a bird's eye view. I just want to put my own stamp on this team of what I expect and the things I've seen on winning teams I've been on, that's what I want to do."
"I know what winning looks like."
"I want to stay true to who I am. These guys responded to me when I was here as a player. I don't think that will change as a manager."
"I'm going to be a manager that wants to watch the game and see how it plays out...I think managers that go in with a preset notion can sometimes get in trouble."
"The more they fired the questions and I talked about what I believed to the core. I knew this was something I wanted to do because I was passionate. I sat up in my chair. I was getting emotional. I could feel the fire that I had inside me."
Here's what Theo Epstein had to say about his new manager:
"If you want a puppet, you don't hire David Ross...He is absolutely his own man. I don't expect a yes man in the least.''
"He's an easy-going guy until he sees something that he thinks doesn't contribute to winning or gets in the way of winning and then he doesn't care who it is. He'll push back."
"Joe Espada did a phenomenal job as well. Whoever lands him as a manager is going to be a very lucky organization, because he brings a lot to the table."