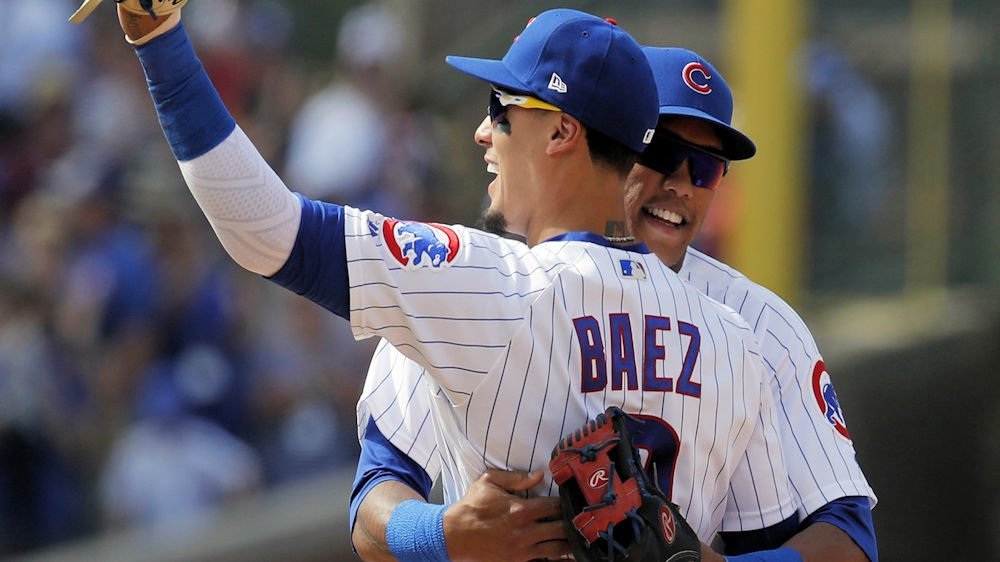 | | |
| --- | --- |
| Cubs News: Ranking the top players by position in NL Central | |
---
| | | |
| --- | --- | --- |
| Tuesday, January 22, 2019, 8:27 AM | | |
With the 2019 Cubs convention just completed and the Cubs brain trust still pushing the narrative that they are done making moves, I thought it would be interesting to look at the National League Central Division to see where the boys in blue are standing after a wild offseason for everyone else.
Using the MLB.com depth chart for each team I've highlighted who, in my professional opinion, is the best player at each position to see where our beloved stand right now. This chart is, of course, subjective, and you each will have your opinions, but these are mine.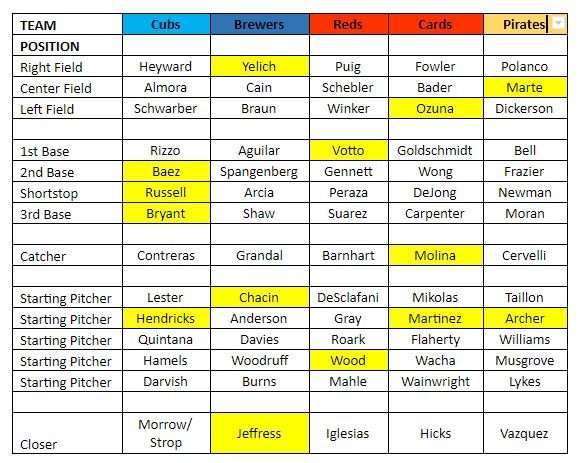 So, what does this tell us other than I know how to make a chart using Excel?
It tells me that the Cubs are still the team to beat in the Central Division even with all the additions from everyone else. With all things being equal, and no additional major moves from anyone, the beloved will be strong in 2019.
The infield is excellent, especially when Addison Russell comes back, and it's not like Anthony Rizzo is some bum at first. This division may have the best group of first basemen in baseball and standing out in this crowd is going to take something remarkable.
While Yadier Molina needs to be considered the best until he quits or dies, whichever comes first, he is being chased by another strong group in the Central with Willson Contreras being number two with a bullet.
I would make the case that Albert Almora Jr. and Kyle Schwarber, along with Yasiel Puig, are the next tier of outfielders and that is another building block of success for the Cubs. As for the closers, well none of them are what you would consider elite level players, and Jeffress stands out among this group, although Brandon Morrow, if healthy when he gets back, can give him a run.
The starting pitcher group of five is another tough one. You have to take each teams ace before you can pick a two, three or four just because they should be, in theory, better than the others. So, I did just that.
Where it gets dicey is in the bullpen. The Brewers have a pretty strong group, probably the best in the division. The Reds have made improvements and could be formidable, and the Cardinals always seem to find another bunch of no names that are strong. The Pirates still have some work to do, and I'm underwhelmed with the Cubs pen today.
This is where I expect team Theo to do some building up between now and the season opener or my opinion could change. I would like to see more depth late in the game so that Maddon is not using the same three guys for four months.
Injuries, trades, and other things beyond anyone's control between now and October will turn this beautiful chart into a complete mess, but for today this is how I see things. I feel pretty good about this team for some other reasons too.
I do not expect the Brewers to all have career years again in 2019, reality will strike them, and they will be what they are, a second-place team. I'm concerned about the Reds but think they will struggle early as they try to fit all the new pieces into a cohesive unit. The Cards starting pitching does not have the depth needed to win, and the Pirates are still another year away from being serious players.
We will all see together what happens, but I'm looking forward to 2019.