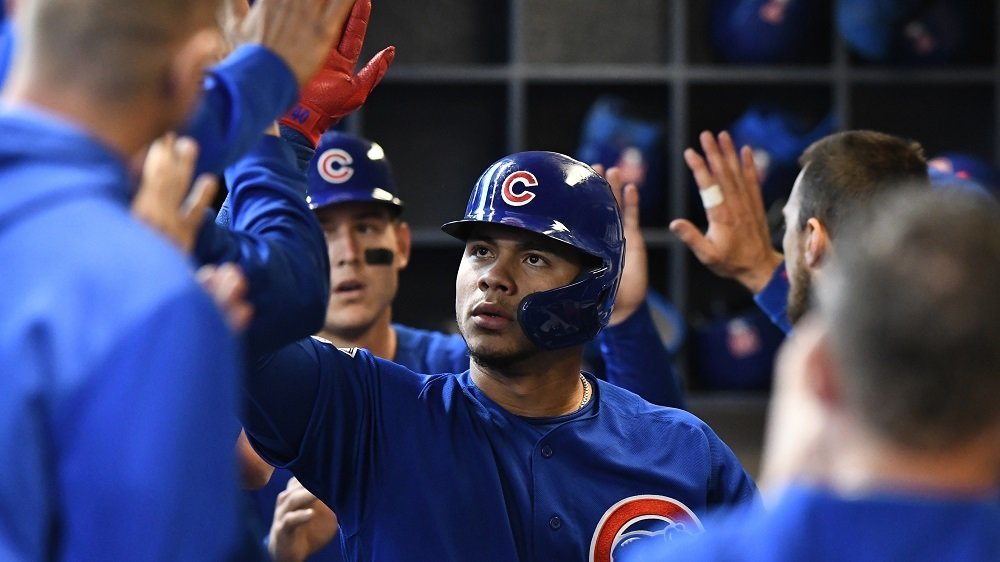 | | |
| --- | --- |
| Report Card Grades: Cubs catchers in 2019 | |
---
| | | |
| --- | --- | --- |
| Friday, October 4, 2019, 11:54 AM | | |
Now that we have recovered from the end of the season, the Chicago Cubs have begun to clean out their lockers as they move toward what is expected to be a busy offseason. With this year roster once again underachieving in some respects, it appears change is on the horizon for this team as some tough decisions need to be made.
However, a lot of this team did improve for the season, and if it wasn't for a few players carrying them down the stretch, they might have been eliminated sooner. With the offseason officially underway, I am starting a long positional grading series that will review and grade the production from each spot from the majors to the minors. It will start with catchers and work down through pitchers. Part one is the MLB Catching group.
TAYLOR DAVIS: Everyone's favorite bearded wonder, Taylor Davis made a name for himself in May when he crushed a grand slam off Michael Wacha to help the Cubs to an early-season sweep. That was about all Davis did at the plate as he was an early season fill in for Victor Caratini when he broke a bone in his thumb.
Known as a career minor leaguer, Davis became Yu Darvish's personal catcher in his time with the Cubs and helped Darvish in terms of overall pitch framing. Davis has never been a big-league caliber guy, but the organization loves him and always tends to keep him around.
Season grade C: I chose to give him a C because he knows his spot on the team and knows he will never be a big-league caliber player. However, that Grand Slam against St. Louis early in the season automatically earns recognition, especially since that was his first and only big-league homer.
JONATHAN LUCROY: Another late-season acquisition, Lucroy was added to the roster as a waiver claim in August, once Contreras went down with another injury. This was a low-risk high reward type of move by the Cubs because Lucroy came cheap and had great numbers in Wrigley Field.
What started as a 50/50 split with Caratini when he first arrived turned into minimal playing time as Caratini proved he could handle everyday duties in Contreras' absence. Still, Lucroy managed to give the Cubs some production, connecting for one homer and nine RBI's in 25 games playing a limited role in the field.
Season grade C-: He was a hard one to grade because no one knew what to expect from him. I thought bringing him in was a good decision because it allowed the Cubs to get more creative with changes come September. However, he didn't see the field as much as I thought he would, so that took away from his value. Depending on what happens in terms of trades this offseason Lucroy may be a piece the Cubs look to bring back in a backup role.
VICTOR CARATINI: No one benefitted from injuries more than Caratini as he was finally given a chance to be more of a regular player. After missing four weeks with a broken thumb earlier in the season, Caratini played in 95 games this season after only seeing 107 his first two seasons. Most of that playing time came when both Contreras and Anthony Rizzo were missing time due to injuries, but Caratini was also the personal catcher for Darvish most of the year helping Darvish turn around his season.
Known as a high average and contact hitter in the minors, the switch-hitting Caratini never was able to find that rhythm as his playing time was sparse in his first two seasons. Once he got into a regular groove this season, he not only showed he can play but could be counted on as an everyday player given a chance. He went on to hit a respectable .266 with 11 homers and 34 RBIs. All those numbers were career highs offensively as his game continued to grow as the season played out.
Season grade B: Caratini is the definition of what a perfect back up should be and lived by those standards all season. He can play multiple positions, providing the Cubs depth to make changes if needed. The more plate appearances he saw, the better his bat became as he started to look more like a complete hitter as the season went on.
Ideally, I would love to see him back with the Cubs in 2020, but with Miguel Amaya as the future behind the dish, could Chicago ship him off somewhere to give him a shot at an everyday role? That is an interesting question, and depending on the return may be something to entertain, going forward.
WILLSON CONTRERAS: Let's face it, no one was happy with the way Contreras finished out 2018, and he was determined to put that behind him and put together a great 2019 season. Not only did he do that, but he earned the starting catcher position at the all-star game, proving to everyone that he indeed is one of the best catchers in the game.
His .272 average may not be where he would have liked it to be as it went down during the teams final month of the season, but a career-high 24 homers to go with 64 RBI's proved once again how powerful of a bat he gives the Cubs in the middle of the lineup. The one thing holding him back this season was injuries, as he missed near 40 games with a pair of injuries during the second half of the season. Playing catcher as often as he does will lead to injuries, but with the ability to also play first base and left field, the Cubs may want to give him extra days off during the season next year to move him around preserving his body.
Despite a great bat at the plate, Contreras continues to struggle at framing pitches consistently, which sometimes makes pitchers work a bit harder. That has been something he has tried to improve on in recent seasons, but it just has yet to come. He does, however, make up for things with a cannon of an arm that makes teams think twice about running on him. Contreras shows no fear when it comes to letting the ball fly as he will fire all over to try and nab a runner.
Season Grade B+: Normally, when a catcher hits 24 homers, I would give them an A, but the fact that his framing ability is still lacking takes a bit off his season grade. Also, injuries are hampering him recently, which makes me question his durability behind the plate long term. Don't get me wrong, I love Willy C and know he is the catcher for the foreseeable future. However, when it becomes time for Amaya to reach the bigs, what direction would the Cubs go? Do they keep Amaya and move Contreras elsewhere in the diamond, or do they part ways with him altogether? Either way, Willson will be in Chicago for a few more years and will continue to be a top catcher in this game.
MARTIN MALDONADO: Once Willson Contreras went down with an injury, the Cubs were looking to stabilize the catching spot, not knowing how long he would miss. They chose to trade Mike Montgomery to Kansas City for veteran catcher Martin Maldonado whom the Cubs looked at adding in previous off-seasons. Not expected to be the everyday guy, Maldonado played even less than he anticipated being traded to Houston just 16 days after his arrival. He went hitless with the Cubs and recorded One RBI. Season grade Incomplete: He gets an incomplete because he was not even with the team for a month.
Tomorrow we will dig into the Minor League catchers and discuss what their future holds for them.