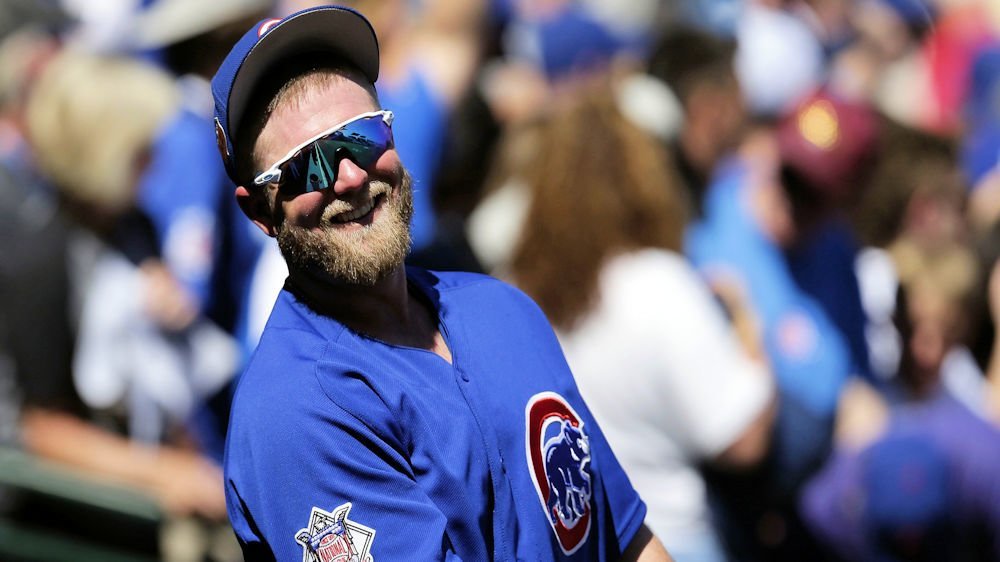 | | |
| --- | --- |
| Cubs News: Report Card Grades: Iowa Catcher prospects in 2019 | |
---
| | | |
| --- | --- | --- |
| Saturday, October 5, 2019, 1:01 PM | | |
We continue our postseason grading of the Cubs catchers with Iowa next in line. This is always a hard thing to do with many promotions coming through the system, especially late in the year. However, three players found themselves on this roster most of the season, and therefore will be graded upon what they accomplished at AAA this season.
TAYLOR DAVIS: This is a name that everyone should be familiar with by now as he has seen minimal stints in the bigs since 2017. The Bearded wonder that is well known for his camera stares once again found himself in Chicago this season, delivering a grand slam against the Cardinals as his big highlight moment.
Once he returned to Iowa, Davis continued to do what he always does which is hit and show patience at the plate. A catcher by trade, Davis also saw time at both first base and DH as the Cubs did whatever to get his bat in the lineup.
A career .277 hitter in the minors, Davis did struggle after the all-star break before losing the starting job as his Average dipped to .231 to finish the season. His 31BB and 38K was a positive as he continued to display a great eye at the plate. Davis has never been known as a power hitter, but with five homers and 23 RBI's in just 61 games, his power numbers would have approached career highs in 2019 had he been an everyday player down the stretch.
Grade C+: I love Davis, and I love what he brings to the table, but let's face it, he is a minor leaguer, and that is what he will always be. I wanted to give him a higher grade, but he did not live up to his yearly abilities down the stretch when it mattered.
ERICK CASTILLO: Castillo began the season for the Smokies, where he only played in 10 games. He then moved on to Iowa, where he played sparingly, only seeing action in 27 games. However, Castillo did show some positive signs for Iowa, leading them to believe he is a reliable option moving forward.
After hitting a .259 with just one RBI for Tennessee, Castillo nearly tripled his at-bats for Iowa and found himself hitting .228 for the season. His zero homers and eight RBI's are nothing to write home about, but he did show terrific potential as someone who could be used in a backup role long term. Ideally, I would like to see more out of him, considering he didn't show us much in 2019.
GRADE: C: This was a hard one based on his limited action, but that was not by his choice. I can only grade him on what I saw from him at the plate. Yes, he did struggle much of the season at AAA, but he did play above-average defense behind the plate, which saved his grade a little bit. Look for more action from him in 2020.
P.J. HIGGINS: Higgins was an essential piece down the stretch for Iowa as he was promoted mid-season from Tennessee. Despite playing in just 36 games for Iowa as opposed to 72 for the Smokies, he lands on this list given he was trusted with the starting catcher duties down the stretch playing in 12 of the team's final 16 games.
Higgins got off to an excellent start for Tennessee, where he slashed a .276 with five homers and 38 RBI's. His power and increased production was a great sign for the Smokies as they lacked that kind of offense much of the season.
Higgins continued to turn it on at Iowa, where he managed to hit even better with a .291 average. His five homers and 18 RBI's in half the games showed that his power numbers would only increase with not only more reps, but more time at a certain level as he tries to figure out high minor league level pitching.
Grade B+: I will say that Higgins impressed me this season as I didn't know much about him when the season started. All the talk in the system has been about Miguel Amaya and how good he is or how good the international catching signings were that Higgins flew under the radar much of the season. He may not move into the top 30 prospects anytime soon, but Higgins will have no trouble securing the starting nod for Iowa next year as he looks to build on a solid overall 2019.
Tomorrow we move to the Tennessee Catchers.