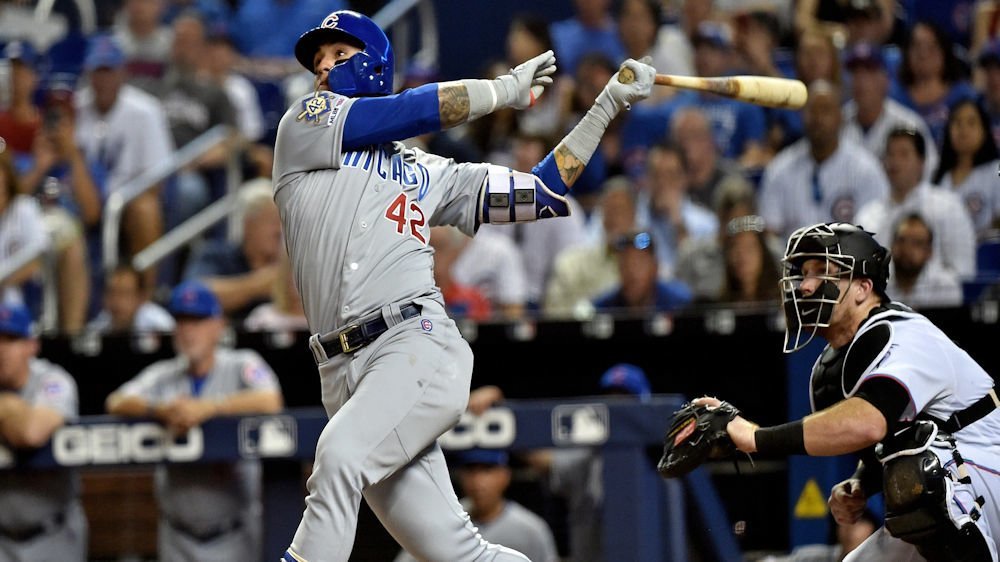 | | |
| --- | --- |
| Report Card Grades: Javy Baez and other Cubs shortstops | |
---
| | | |
| --- | --- | --- |
| Saturday, October 12, 2019, 2:43 PM | | |
Perhaps one of the only positions the Cubs did not have a major issue with this season was the shortstop position. With 2018 MVP runner-up Javy Baez as your starter and 2016 all-star Addison Russell poised to be the backup, the Cubs appeared to be in great shape in the hole for the duration of the season. That is when things changed down the stretch.
With Baez being lost for the teams final five weeks with a broken thumb, and Russell's inability to consistently reach the levels of 2016, Cubs were suddenly in glaring need of a SS who could fill in down the stretch. Once Russell took a pitch off the head eventually being shut down for the season, the Cubs callup some reinforcement at that position as Nico Hoerner got the call in early September.
All Hoerner did once he was promoted was hit and play above-average defense, making Russell potentially expendable this offseason. With second base as a position of need, Hoerner could very easily move to second to help the infield defense long term. Here are how the Cubs shortstops graded out for 2019.
NICO HOERNER: What was almost another lost season for Hoerner after suffering a fractured wrist in April turned into gold as he was able to crack the big-league roster in September. Hoerner was a surprise call up this season as he played in just 75 games in the minors this season and only 89 for his two-year career. Despite the limited sample size, Hoerner has done well at the plate where he has posted a career .297 in the minors to go with five homers and 28 RBIs. A 31BB/36K rate is also essential as he provides excellent bat to ball contact skills.
Not knowing what to expect from him in September, Hoerner was preparing for the Arizona Fall League before getting the call in San Diego. That decision to bring him up proved to be the right choice, as Hoerner hit a .282 with three homers and 17 RBI's in 20 September games, making him a near-lock for next year's opening day roster.
Season Grade A: You must give him an A based on everything he went through this season. After missing that month plus early in the season, Hoerner did struggle with his swing when he returned before becoming the Nico of old in July and August. Not only that, his ability to step in and produce at a high level during a pennant chance opened my eyes as I see no reason why he shouldn't be on the opening day roster at second base next season. His high contact ability could make him a perfect leadoff hitter if they Cubs don't get one this offseason.
ADDISON RUSSELL: My how the mighty have fallen. That is the perfect phrase to describe what has happened to Russell over the past few years. Once regarded as one of the Cubs untouchables after belting 34 homers in his first two seasons, including a 21 homer 95 RBI campaign in 2016, Russell has been a shell of himself since then as personal matters and injuries have gotten in the way.
Since 2017, Russell has hit a total of just 26 homers, with 12 of them coming in 2017. That sudden dip in power is especially alarming considering how he is also only a .242 career hitter with 2018 being his best season average wise at 250. Sure, he has had to deal with his share of injuries in the past few seasons, but his issues off the field, which led to a 40-game suspension, have taken a toll on him.
Yes, he may say he has moved on and is good, but I don't think he will ever be the same player, at least not in Chicago. Russell needs a change of scenery, and with the emergence of Hoerner late this season, Russell now becomes expendable and appears to be the odd man out in terms of being released or traded. I am not saying Russell isn't a good player because I genuinely think he is, but with everything that has happened with him in Chicago, he is in a lose-lose situation.
Season Grade D: Yes, Russell did hit nine homers this season in 82 games, but he also only drove in 23 with a .237 average. After serving his early-season suspension and spending time in AAA, Russell was finally called up in May and was given every chance to be the full-time second baseman for the remainder of the season.
Whether it was lack of concentration (baserunning and mental gaffes on defense), Failure to learn the signs or just plain lack of offensive development overall, it was clear Russell and the Cubs were not on the same page this season as he was once again sent to Iowa for a second time before one more call up late in the season. From that point forward, Russell was not the player the Cubs expected him to be, which gives them an easy out clause on a player that once looked like a franchise SS.
JAVY BAEZ: What else can be said about El Mago over the past few years as the nickname Magician doesn't do him justice. Whether his it is his ability to play gold glove defense at three different positions or an incredible knack on the bases that require such instinct that its impossible to duplicate, the game seems to be slower for Javy as he sees things differently than anyone in the field.
Many people were wondering how he would respond from a .285 34 HR 111RBI season that led to him finishing second in the MVP voting. The truth is, Baez was on pace for a similar season in 2019, before a broken bone in his thumb ended his season at 138 games, hitting .281 with 29 HRS and 85 RBI's. Put that into a 162-game season average, and Baez was on pace to finish with 33 HRS and 104 RBI, which would be a down year from 2018 yes but still a great season.
Season grade A -: Injuries did slow him down a bit this season, but I also never expected him to duplicate his numbers from 2018. Offensively, I think we saw Baez's ceiling last season, but wouldn't be shocked if he doesn't consistently hit those numbers again. What makes him so unique and why he will continue to receive high grades is what he does on the field daily.
As mentioned above, the game seems slower than normal for Baez, who does things on the bases that everyone can only dream of. His ability to go 1-3 or second to home on seemingly a routine play makes him the biggest X-Factor for the Cubs because you are never going to know what is coming next.
Defensively speaking, is another thing as Baez is the best infielder in baseball. I know people will argue that Wong is better at 2B and that Francisco Lindor or Nolan Arenado are better at their positions than Baez, which may be accurate, but being the best infielder in baseball means you can play multiple positions at a high level and the team wouldn't miss a beat.
That is precisely what Baez does on the field as he can play SS, 2B, and 3B with the ability to earn a gold glove at any one of those spots. The reason why he has yet to receive one has been his ability to move around the diamond as this was the first season in which he qualified for enough games at a set position to possibly earn one. He also has the tendency to make some horrible decisions in the field, but that comes as second nature to him as he feels any ball, he can make a play on has the chance to be an out.
The Cubs will live and die by Javy's all or nothing approach in the field and at the plate as that is what has gotten him to the bigs. The only thing that needs to be done for him to be an MVP player year in and year out is to harness that all or nothing approach and know exactly when and when not to use it.