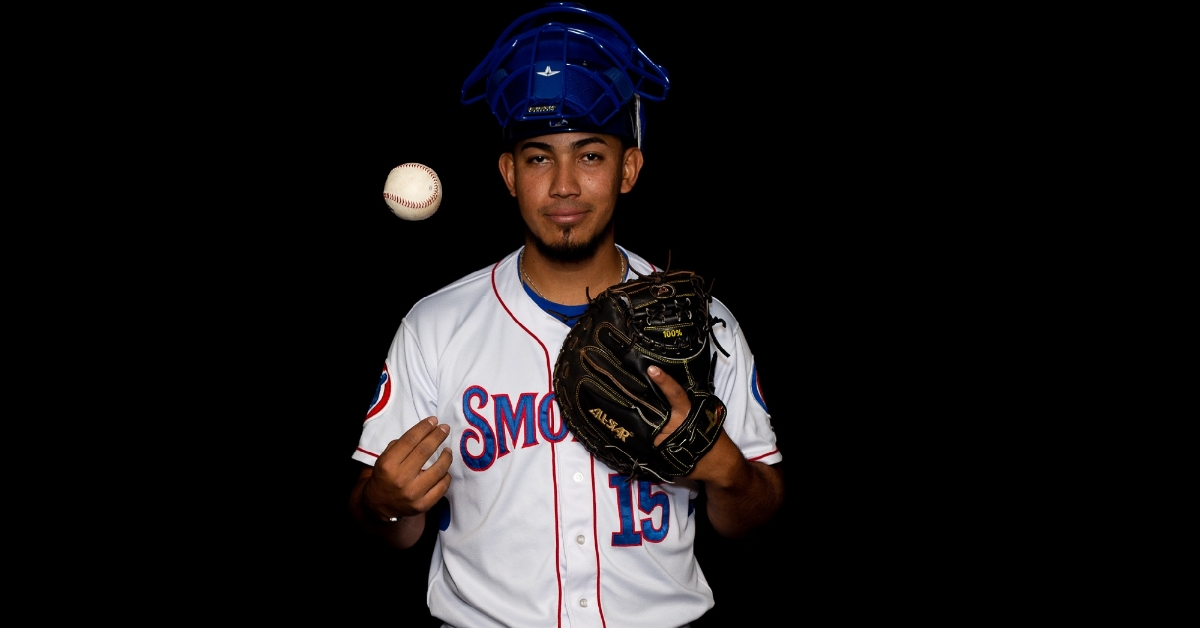 | | |
| --- | --- |
| Report Card Grades: More Cubs catcher prospects | |
---
| | | |
| --- | --- | --- |
| Monday, October 7, 2019, 1:39 PM | | |
Moving right down the list, we move to AA Tennessee as we dig into how their catchers performed during the season. After a semi-competitive first half, the Smokies finished with the worst second-half record in the system, putting them barely ahead of Myrtle Beach for worst record overall.
Whether it was the injuries, constant promotions, and demotions, or just lack of overall development at this level, things didn't go well for Tennessee in 2019. One position that did seem to produce was the catcher position, as whoever called the game behind the plate generally had a bit of success.
JHONNY PEREDA: Coming into the season as the starting catcher, Pereda did lose some time as the year went on but still managed to appear in 98 games for the Smokies in 2019. The 23-year-old Pereda led the team in games caught and was a precious asset to a team struggling to do much of anything good this past season.
His .241 season average is nothing to get too excited about, but when you consider the Southern League is often one of the hardest leagues to adjust too you realize that average is not terrible. His two homers may not be the type of power the Cubs would be hoping for in terms of a possible future back up, but his 39 RBI's shows he is not afraid to come up with clutch hits when needed. Also, his 35bb/55K ratio shows a patient approach to the plate as he is not afraid to take pitches.
SEASON GRADE B-: Pereda had a decent season but still has a lot to work on moving forward. At 23-years-old, Pereda is a long way away from being polished but did show some great poise in a tough hitting league. No one knows the plans moving forward for him at this point, but looking at what the system looks like next season, I would not be shocked to see him start in AAA come April.
Ian Rice: Ian Rice was a surprise system callup this season as he struggled mightily in AA. After playing 63 games for the Smokies, Rice got the call to Iowa for their stretch run and postseason where he played in 12 games. During his time in AAA, Rice showed great potential hitting .256 with two homers and 6 RBI's, but it was his performance with Tennessee that stands out the most.
Known as a very difficult hitting league, Rice fell into that trap hitting below the Mendoza line at .190 in his 63 games. He also had just one home run to go with 13 RBI's as he couldn't do anything right offensively. Somehow, despite those horrid numbers, Rice earned a promotion to Iowa, where he looked better in AAA than he did in AA. Whether it was the different balls being used or just getting out of one of the hardest-hitting leagues remains to be seen, but Rice has something to build off for 2020.
Season Grade C: This may come as a shock considering his production in AA, but he was promoted and looked good at the next level. That alone brought his grade up a few spots for me. Even if the Southern League is a difficult hitting league, Rice did nothing to show he was ready for the next level. However, the Cubs' front office and Iowa thought otherwise, and he proved calling him up was a great decision down the stretch. Now that he got some postseason experience with Iowa, the question is do you bring back Rice to AAA or do you send him to AA one more time to develop his game.
TYLER PAYNE: I could have stuck Payne with Myrtle Beach tomorrow, but he finished the season with Tennessee, so he goes here. Payne wasn't with the Smokies very long this season, playing in 20 games in the course of just over a month where he hit .247 one homer and ten driven in. That is not bad considering he came from a better hitting league.
The numbers that stand out for me are what he put together in the Carolina League, which made him easy for a promotion. After sharing time with the Cubs No.2 prospect Miguel Amaya, Payne got on a roll midseason that saw him in the lineup a bit more. In total, he went onto hit a respectable .256 with eight homers and 30 RBI's. The power numbers were a pleasant surprise as that was his career-high for homers thus far.
Once he heated up, playing time was taken away from Amaya, leaving the Cubs minor league staff with a tough decision. It didn't seem to be that tough, as promoting Payne was the best thing they could have done. Not only did he see action in a difficult hitting league, but it got Amaya in the lineup every day down the stretch as he finished his season in Myrtle Beach on a tear.
Season grade B: Grading minor leaguers in low level is always hard because you know they won't play every day if not a top prospect. Payne gets a B for his efforts this season, largely because of how he took over the starting role in Myrtle Beach before heading to Tennessee in August. With Amaya as the future of this team behind the plate, Payne could be used as trade bait down the road should he continue to develop. For now, look for him to start at Tennessee and battle out Amaya again for the bulk of the playing time.