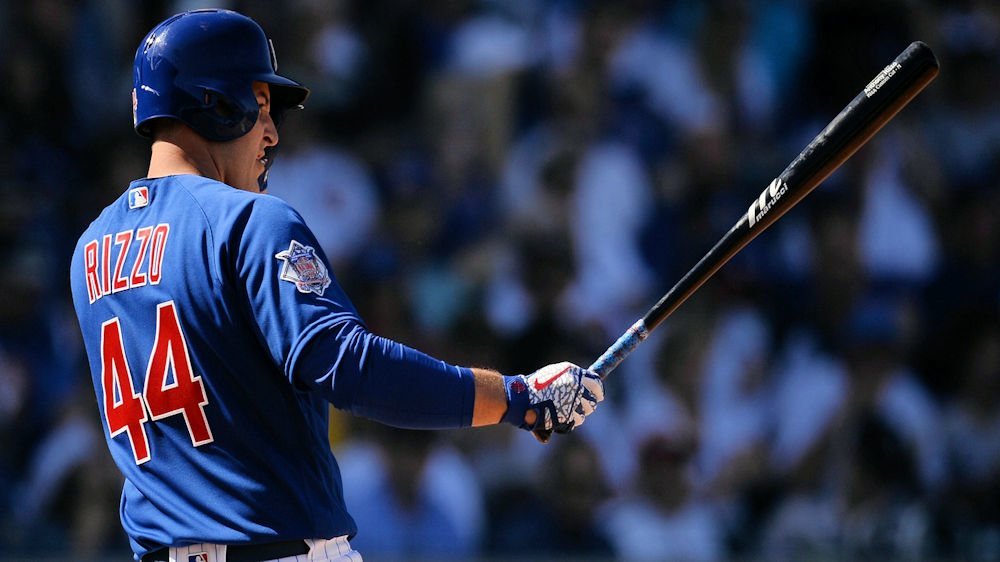 | | |
| --- | --- |
| Rizzo's blast, Hoerner still impressive, Strop's health, Edwards may close, and MLB notes | |
---
| | | |
| --- | --- | --- |
| Thursday, March 14, 2019, 7:39 AM | | |
Upcoming games: Today, 3:05 PM (CDST): Rangers @ Cubs; Darvish (1-0, 2.70 ERA) vs Adrian Sampson (1-0, 3.86 ERA). March 13, 3:05 PM: Cubs at White Sox (Pitchers TBD)
Cubs' Opening Day: 14 days. March 28 @ Rangers; (Lester vs TBD). Game time: 3:05 PM Central. (WGN, MLB.TV).
Cubs' Home Opener: 25 Days. April 8 vs. Pirates: Game time: 1:20 PM Central. (ABC-7, MLB.TV)
Wednesday's Game Recap: Jon Lester's rough day would almost be saved by the Cubs' offense, almost… Despite scoring 11 runs (4 homers) on 16 hits, Oakland's two-run single in the bottom of the ninth would end the day with a 12-11 loss.

Anthony Rizzo: If a picture is worth 1,000 words, then a video must be worth a lot more. Check out Rizzo's moon-shot yesterday:
Jon Lester: Spring-game or not, Lester wasn't happy with his outing yesterday. He has just one more start and one sim game before the regular-season starts.
Nico Hoerner: The kid came through again yesterday with a double in the ninth, bringing his spring total to 6 for 9 (.667) with a homer and three RBIs.
Tyler Chatwood: Before walking Kyle Farmer last night, Chatwood had faced 25 batters since issuing his last walk. He may have gotten clobbered in the second, but you can't say he hasn't done better this spring. Chatty still has a lot of bridges to mend before fans start accepting him, as even last night there was sarcastic applause when he threw a strike.
Kris Bryant: Reacting to a pair of shifts against him that resulted in four-man outfields on Tuesday night (vs. Rangers), KB says, "I don't know if that's the way baseball should be played." Bryant was successful against the shift once in two attempts.
Pedro Strop: Arriving at the park this morning, and reportedly walking without a limp, Stroppy says "I'm fine. It's not going to be a big deal." Strop went on to say, "I'll be ready for Day 1, 100%."
Carl Edwards, Jr.: I do believe that Gordon Wittenmyer from the Chicago Sun-Times may have lost his mind. As people so often do, he reported this morning that Strop said he'd be ready on opening day, yet tonight, Wittenmyer speculates that with "Strop joining Morrow on the sidelines…" that Carl Edwards, Jr. may become the Cubs closer.
Bullpen signings? According to Jordan Bastian (MLB.com), Joe Maddon says that there have been internal meetings about possible bullpen alternatives via waiver claims and free-agents. Maddon denies any dialogue about Craig Kimbrel, stating, "We really didn't discuss that, but I can tell you that it's out of the question."
Cubs to face minor league A's squad: Spring training games ended for both the A's and Mariners today, as the two teams will fly to Japan tomorrow to prepare for the regular-season opener. The Cubs, set to face the A's again on March 20th, will be facing a minor league squad.
Luke Hagerty: Yesterday when I wrote that the (almost) 38-year-old was attempting a comeback after being out of baseball for 11 years, I figured it was some kind of "one-last hurrah for him." Boy, was I wrong. Do you want to believe this guy is in Cubs' camp and throwing at 98 mph?
The @suntimes_sports cover, featuring #Cubs' Luke Hagerty, who has a 38-year-old arm, a 98-mph fastball and a long-awaited chance for 'redemption,' by @GDubCub - https://t.co/zriZ0txMUV pic.twitter.com/oZWqWdGLqN

— Sun-Times Sports (@suntimes_sports) March 13, 2019
Iowa Cubs: Although the rotation is not yet set, Iowa has it down to seven possible names: RHP Adbert Alzolay, RHP Trevor Clifton, RHP Alec Mills, RHP Jen Ho Tseng, RHP Duane Underwood, Jr., and RHP Duncan Robinson. A little surprising that there' not a single southpaw on that list.
Cubs Birthdays: Celebrating yesterday were ex-Cubs Eddie Butler (28) and posthumously, George "Chippy" Gaw (127) and Mal Eason (140).
Monday's Scoreboard: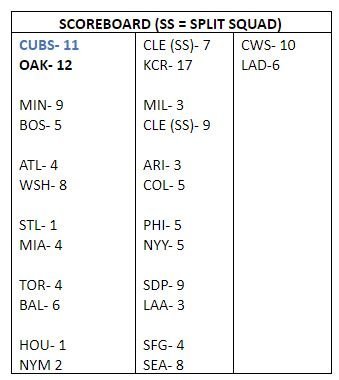 THURSDAY (EST)- 1:05 PM: PHI (SS) @ PIT, BOS @ DET, MIN (SS) @ BAL, MIA @ HOU, NYM @ STL, PHI (SS) @ TBR, WSH @ MIN (SS), NYY @ TOR. 4:05 PM: TEX (SS) @ CUBS, COL @ CLE, CIN @ LAD (SS), LAA @ MIL, TEX (SS) @ KCR, SFG @ ARI. 9:40 PM: LAD (SS) @ SDP.
FRIDAY (EST)- 1:05 PM: TOR @ PHI, DET @ RAYS, MIA @ ATL, BAL @ MIN, BOS @ NYY. 1:10 PM: WSH @ SFG. 4:05 PM: CUBS @ CWS, CLE @ TEX, SDP @ MIL. 4:10 PM: KCR @ COL, ARI @ LAA. 6:05 PM: HOU (SS) @ STL (SS), STL (SS) @ HOU (SS). TBR @ PIT 9:05 PM: LAD @ CIN.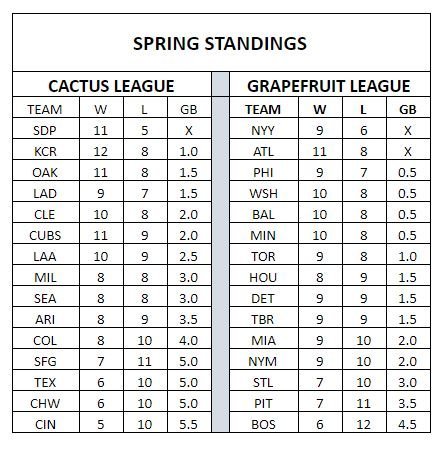 News from around MLB:
Angels: LA has shutdown left-hander, Andrew Heaney due to inflammation in his left arm.
Astros: After already being sidelined from Tommy John surgery, Houston righty, Francis Martes has now been suspended for 80 games for testing positive for PED.
Mariners: Seattle has optioned infielder, JP Crawford to Triple-A Tacoma.
Nationals: Washington has signed free-agent reliever, Tony Sipp, to a one-year, $1.25M deal. Nats are still under the $206M threshold but getting closer.
White Sox: The Sox optioned several players to minor league camp yesterday, including Eloy Jiminez.
Yankees: NY has reassigned RHP Danny Farquhar to minor league camp.