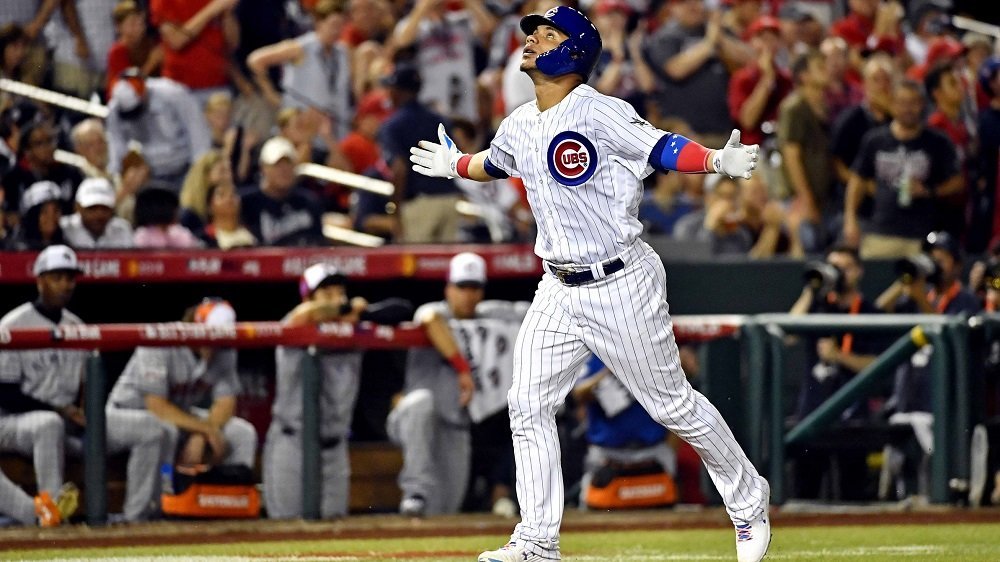 | | |
| --- | --- |
| Should Cubs trade Willson Contreras for pitching? | |
---
| | | |
| --- | --- | --- |
| Saturday, October 26, 2019, 12:38 PM | | |
Now that David Ross has formally been announced as the Cubs new manager, the team can now shift their focus to fixing some of the recent problems of this team. From an inconsistent offense, aging starting rotation, and crapshoot of a bullpen, the Cubs certainly have holes to fill moving toward 2020.
Whether spending money in free agency, making trades, or calling up certain players from the minors to better this team, significant wholesale organizational changes are expected for 2020. The question is, what players from this current roster will be available for trade if the right offer comes into play.
Theo has already said that no one is untouchable on this team moving forward. However, I highly doubt that Anthony Rizzo, Javy Baez, and Nico Hoerner, among others, will be dealt this season as they appear to be the future of this team moving forward. However, there is one name that was never mentioned before that is now getting tossed out for trade scenarios. That player is catcher Willson Contreras.
Heading into the 2019 season, Contreras vowed to improve on his 2018 season, which included a two-month-long tailspin to end the season. That message was received loud and clear as he put together a fantastic season and was one of the best offensive catchers in the game. At 27 years old, Contreras is coming off a season in which he hit a 272, 24 homers and 64 RBI's Contreras ranked no. 1 in baseball among catchers for on-base percentage and slugging for a minimum of 400 plate appearances.
However, with him being under contract through 2023, Contreras has now gone under the microscope as the Cubs may be willing to move on from him soon. Indeed, David Ross would love to have Contreras as a catcher considering how he brings a big bat to the middle of the lineup and a cannon of an arm that can slow anyone's running game down.
Contreras has already shown us that when he is on, he is an MVP type candidate that can put a team on his shoulders. That may be true, but there are still major holes in his game that he continues to struggle with. Losing a player like Contreras will be difficult to replace given his bat, athleticism, and overall control of the running game. Still, he continues to rank near the bottom of the league in pitch framing, which is starting to cost the Cubs valuable strikes.
His minus 8.9 framing runs grade was way up from his minus 18.2 in 2018 but remains toward the bottom of the league in that category. Contreras ranked 109 out of 113 in framing runs (minus 9.4), and 101st in fielding runs (minus 7.7) this past season. Put that into perspective with Victor Caratini 1.6 framing runs and 3.1 fielding runs, and you can see how far Contreras needs to come still.
Just one year younger than Contreras, Caratini proved he is more than capable of filling in a fulltime role where he hit a .266 this season with a career-high 11 homers and 34 RBI's in 95 games. Keep in mind that was all in a much smaller sample size than Contreras, so the ceiling is there for Caratini to perform even better with more action in the field.
According to Fangraphs, had Contreras been able even to record an average pitch framing grade, he would worth around 21.7 million dollars a year.
Should he be able to develop pitch framing even more consistently, his value would go through the roof in terms of what he is worth annually. That makes him worth a lot to the Cubs, but also an extremely intriguing trade chip for teams interested should they be able to put a package together to fill some of the Cubs' needs.
If the Cubs feel they can still win a high number of games while departing with what many seem to think is the best offensive catcher in baseball Contreras may become the primary trade chip the Cubs dangle this spring. Then again, Ross has played with Contreras in the past and has seen his growth as a player, so would he want to let him go without having a chance to work on framing with him.
"We've won a lot of games with Willson Contreras behind the plate," Epstein said to the media recently regarding Contreras. "We've had a lot of success pitching with Willson Contreras behind the plate. There are certainly areas he can continue to improve upon, but shame on us if we can't continue his development at the big league level, because this is like the most tooled-out, athletic catcher who has a huge heart and cares and wants his pitcher to succeed as well."
This is one player to keep an eye on this winter as a once viewed untouchable core player for this team may be the first one in this core to find a new home.