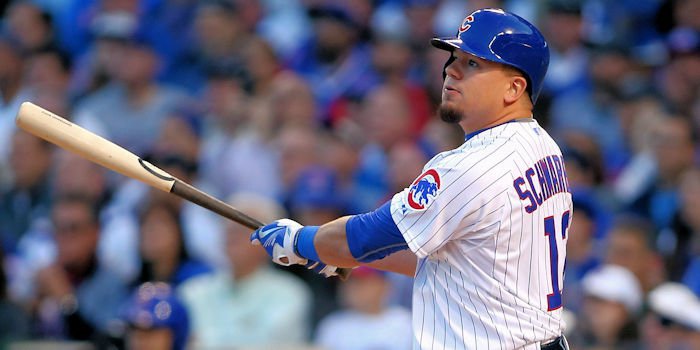 | | |
| --- | --- |
| Should Schwarber be sent down to the minors? | |
---
CHICAGO -- I was never convinced that having a strong leadoff hitter was that important until outfielder Dexter Fowler came to the Chicago Cubs. The "You Go, We Go" motto set the tone for 2015 and 2016, as the dynamic offense ended with a World Series Title last season. Fowler made me realize that the most important skill of a leadoff hitter is not having speed, it is all about plate discipline.
It's an argument that stat geeks like me try to enforce. Traditionally, the top-of-the-order hitter was the master of small ball, needing loads of speed and a good batting average with little power. But even the all-time greats at the top of the order fit into the sabermetric values. For example, when looking at the all-time great Rickey Henderson, it is important to note that in addition to his 1,406 steals he also led the league in walks four times and had a career 0.401 On-Base-Percentage (OBP). He had held the record for walks before Barry Bonds came along, and he even hit 297 career home runs!
Dexter Fowler led the team (among qualified hitters) with a 0.393 OBP in 2016. His number of home runs and steals were not as valuable, both standing at 13. But one stat made him stand out over all leadoff hitters in the majors: he took, on average, 4.40 pitches per plate appearance. That was the fourth highest in 2016, just beneath Mike Trout and ahead of on-base giants Joey Votto and Paul Goldschmidt. Taking more pitches per plate appearance not only is helpful in generating walks, but it gets the pitcher's pitch count going up early in the game. Fowler's best ability was not speed or power, it was taking pitches and generating walks for the pitcher to face the next batters. When your next hitters are Kris Bryant and Anthony Rizzo, this is a HUGE piece to have.
This leads me to Kyle Schwarber at leadoff. Currently, the idea of Schwarber leading off has been a failed experiment. However, Schwarber possesses similar numbers to that of Fowler in 2016. His pitches per plate appearance is at 4.46, which is third best in the MLB. His OBP is at a measly 0.286, but he has already drawn 27 walks, leading to an OBP-Batting Average difference of 0.121 (Fowler's difference in 2016 was 0.117).
So is the pitches per plate appearance a flawed stat, and is Fowler's season just an outlier? Not exactly. The problem with Schwarber is that he just cannot hit. He is striking out three times for every ten plate appearances and seems to only connect on a long ball now and then. It could be from the fact that he missed almost all of 2016 and putting him in the leadoff position right away was too much. However, he possesses good qualities to have for a leadoff hitter: excellent plate discipline and can generate walks. But, as for every other part of the order, you must be able to hit above the Mendoza line.
It is possible that the Cubs send Schwarber down to Triple-A and this might not be favored by some, as it worked wonders on Mets leadoff hitter Michael Conforto. Conforto, 24, was sent to the minors last season after batting just .222. This year, he is hitting .316 with 13 home runs and only one stolen base, and is likely to make his first all-star appearance.
Kyle Schwarber might be the solution in the long run, but not right now. This is why I like seeing Ben Zobrist leading off for now – he too has a healthy walk percentage and takes 4.15 pitches per plate appearance. He is also hitting at a higher clip, but at 0.247, it is nothing special. Zobrist just turned 36 and is likely not a long-term solution.
The notion of Schwarber being a leadoff hitter is not as crazy of an idea when looking into it. He could be a damn good leadoff hitter, but he needs to be able to hit first. However, if he continues to reside below the Mendoza line, then the answer is probably some work in the minors.