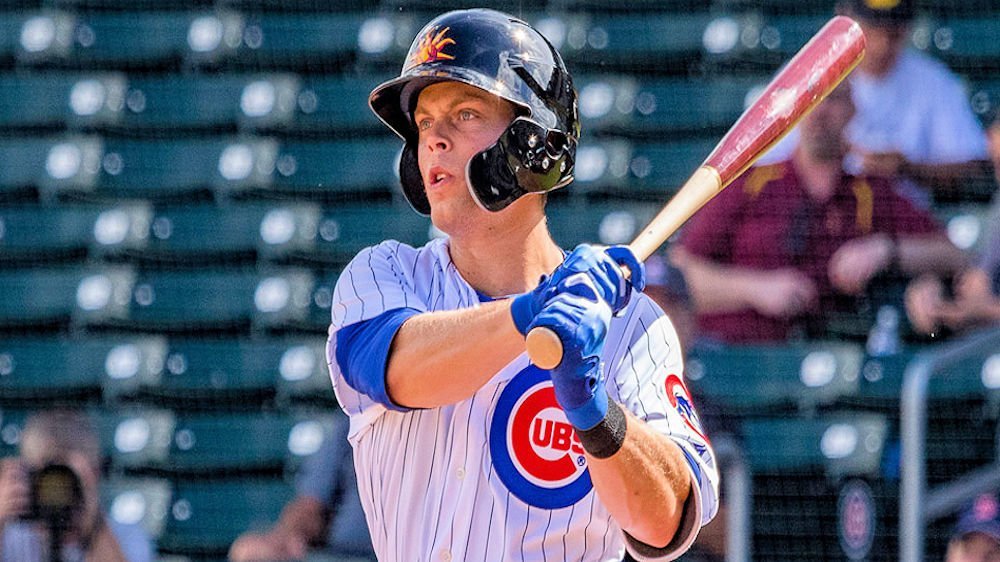 | | |
| --- | --- |
| The Arizona League: Weaning Cubs to Win | |
---
| | | |
| --- | --- | --- |
| Wednesday, December 5, 2018, 8:01 AM | | |
When Branch Rickey created baseball's farm system back in 1921, no one could have imagined it as the complex behemoth it would become. Originally intended to provide a feeder, training ground for the professional teams, in that way, it remains unchanged. However, MiLB has grown into something of a monster, with tiers of competitive play (Rookie Leagues, Single-A to Triple-A High A, etc.) featuring players that will never see a Major League roster. Instead, they are there either to fill out a slot or mentor those who will one day go to The Show.
That doesn't mean the play is any less high octane, though. Fans get treated to some great competitive baseball in Arizona. Like the Dominican Summer League (DSL), the Arizona League (AZL) is for (mostly) MLB's rookies. The rosters are filled with first-timers playing for their very careers. There is a League Championship every year, as well as two important Fall League (AZFL) games; one a salute to the military, the other an all-star game.
Like their A through Triple-A cousins, and unlike the DSL, the Arizona League isn't limited to rookies, per se. Virtually anyone could wind up with a locker in Mesa, and though not quite a revolving door, the Cubs are not above sending a veteran to the desert to heat things up.
The Cubs have two AZL teams, aptly named Cubs1 and Cubs2. Cubs1 took their division (East) running away in 2018 with a stellar 20-8 division record, the best in the entire AZL. They went 38-18 overall. Though losing to the AZL Dodgers in the championship series, they didn't fall at all short of talent; rookies Peyton Remy, Didier Vargas, and Yonathan Perlaza made their case for a major league look, while veterans Chris Coughlan and Mike Freeman added battle-tested leadership. Cubs first-round pick Nico Hoerner even made a few plate appearances and did well at SS during the All-Star game.
Over on Cubs2 (Central Division), things didn't go quite as rosy W/L-wise, but they still peppered the league – and the big boy Cubs – with reasons for optimism. They wrapped up at 28-25, with a division finish of 15-15. Rookie Cole Roederer (CF) was solid at the plate and has a shot at a future in the bigs; the 19-year-old led the team in hitting, with 30 runs, 5 HR's, and 13 stolen bases. He also had 24 RBI's, which tied with teammates Fidel Mejia and Henderson Perez. Roederer, who hit to a .275 BA, also sported a respectable .819 OPS.
Other Cubs2 players of note include minor league veteran Henrry Pedra, who in 2014 at the age of 20, signed on with the now-defunct Venezuelan Summer League. He hit .333 this year in 19 games. Fidel Mejia, a 20-year-old third baseman who was signed to the DSL Cubs in 2015, hit to an impressive .324 average in 2018. He also had a .798 OPS, 24 RBI's and 61 hits. The aforementioned Perez, 19 years old and playing Catcher, had 24 RBI's, 44 hits, finishing with an OPS of .712. Though a relatively small sample size, these numbers are encouraging, and all of these guys will be watched closely next year.
Whew! I don't know about you, but all those numbers and names sprouting from the far reaches of the Cubs farm system can be tough to keep up with. The beauty of the AZL though is found in its roster. Though not featured at AAA Iowa or even Eugene, they nonetheless could well have a future in MLB. It all depends on them. They have their careers in their gloves, bats, and attitude. That's what makes baseball insanely fun, and yet maddening all at once. The numbers simply will not tell you everything about a prospect, ever.
The AZL, though technically a rookie-staffed league, still brings a unique enthusiasm to the diamond. These aren't players whose best years are behind them. They are, for now, the Cubs future. Don't let anyone tell you that is a bad thing. We can rank teams, prospects, and performance, but there isn't a magic number for hunger. Every one of these players, young though they may be, are one step closer to a locker with their name on it at Wrigley or possibly elsewhere.
They are living and chasing dreams, these true boys of summer. For all the statistics, scouting reports, draft orders and assignments, they shine brighter with every swing of a bat.
And that, ladies and gentlemen, is absolutely Cub.