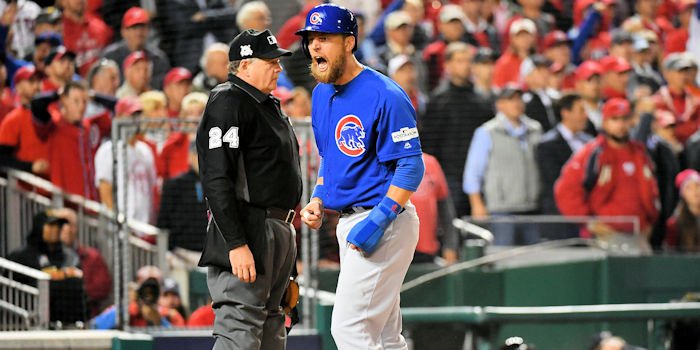 | | |
| --- | --- |
| Cubs News: The Ben Zobrist effect | |
---
| | | |
| --- | --- | --- |
| Saturday, September 7, 2019, 7:25 PM | | |
Ben Zobrist has finally returned to the big league roster after three plus months away from baseball. It still came as no shock that he worked a full count in his first two plate appearances upon his return.
Zobrist completes a Cubs lineup that has been missing his skill set since they haven't had it. He brings a steady dose of contact mixed with a phenomenal eye and a presence at the plate.
Opposing pitchers realize how much better the Cubs are with Zobrist because by the time he's through one batter he's already up around six or seven pitches on average. Not only that, the Cubs feed off of Zobrist's consistent approach and are more accepting of their walks and more aware of their strike zone after watching the 38-year-old do his thing.
When the Cubs deploy a lineup with Zobrist at the type, they are guaranteeing themselves that the player who works the best at-bat will bat the most.
The Cubs then adopt an approach that wears out opposing pitching, making it more likely that they or the player next in the lineup sees a mistake that the Cubs can take advantage of. Instead of the oh too familiar swing and miss, the Cubs look more similar to the 2016 team.
Not to say the Cubs are as good as the 2016 team, no team might ever be. It would be incorrect and unfair to assume that having Zobrist back in the lineup can fix all of the crippling inconsistencies the Cubs have faced all season long on offense.
But his play since his return has not only spoke for itself but also rubbed off on his teammates who seem to be putting together better at-bats as of late.
Essentially he makes every player around him better, a good recipe for success.
The simple fact that the Cubs 22-15, when he's on the roster, is what I like to call the Zobrist effect.
In two games since being back on the big league roster, Zobrist has batted nine times. In those nine plate appearances, Zobrist has reached base seven times- with four hits and three walks. The most important stat of all: the Cubs were 2-0, outscoring opponents 16-6 before last night.
The Zobrist effect is in full swing down the stretch, which is music to Cub fans and the organization alike.