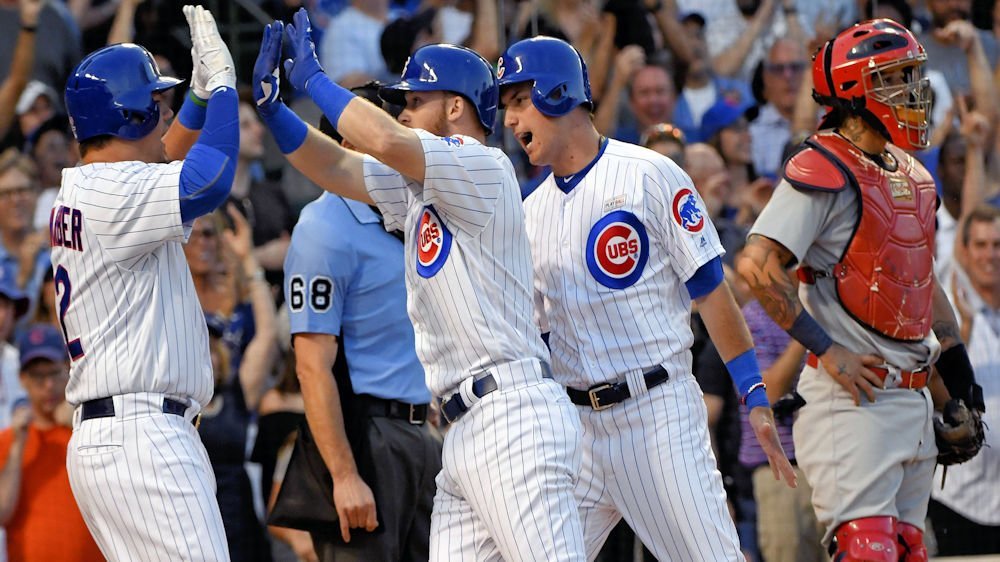 | | |
| --- | --- |
| The Expendables: Cubs Trade-Away Options | |
---
| | | |
| --- | --- | --- |
| Thursday, November 15, 2018, 10:23 AM | | |
There is often a tendency to romanticize players on one's favorite team. Fans buy their replica jerseys, read everything written about them, defend them, make excuses for them, and wring our hands when they slump in some area of their game. That's what being a fan is all about, and whether the gazillionaires that own the team like it or not, they can't survive without them. If we all quit on the Cubs tomorrow, the team would be in a lot of trouble. We also enjoy a sort of love/hate relationship with the players, who we put under a microscope every single day of the season and long after it's over.
That said, baseball is also a business, and as such must continuously look for ways to improve. Every team wants to be good enough to win the World Series every year, but when the last out is called, only one does. That reality forces owners, GM's, and managers to spend the kind of time and money on it that you and I can't possibly fathom. That doesn't stop us from having expectations and daydreams though. This year's Hot-Pillow talk has been all about Bryce Harper, with a little Manny Machado sprinkled in for seasoning.
What sparks the most conversations among die-hard fans is who the Cubs should never in a million years trade away to land "better" players in return. When I try to visualize the analysis on each player, I see a sky full of drooping info clouds, or a warehouse of overstuffed binders. Tell me, how anxious are you for the next Theo Epstein presser? With all the talk of a blockbuster acquisition now fading, still, Epstein could appear any minute now with news that will have us talking.
We've all heard by now some of the names being tossed around as possible trade to improve our 2019 WS odds. What will it really take? Who can the Cubs actually spare? Let's name drop three, shall we?
Albert Almora Jr. (2018 WAR 1.7, Career 3.5): He of all those center-field-spectacular-catches highlights is one name that's been scribbled on the trade board by fans and writers alike. In a what-have-you-done-for-me-lately world, his notable absence from the lineup in the last half seemed to dilute his fan value. Even though it was noted that Maddon likely replaced him due to opposing pitching matchups, still, fans were able to rationalize trading him. Can they spare him? Maybe, but for whom? The FA market isn't exactly running over with upgrades from what Almora brings to the game, so I'm not at all in on this one. He's just too much hustle to lose.
Kyle Schwarber (2018 WAR 1.5, Career 2.7) The pinch-hitting hero of the 2016 WS, is another name being batted around. What people are forgetting is just how scary his arm was in left field this year. He was a bazooka out there, and just knowing he had the ball held a lot of runners from advancing. No, he didn't hit 50 HR's and have a ton of RBI's, but his fielding was more than exceptional, and his speed seemed to double from 2017 to 2018. Do we risk trading him knowing his bat is due to heat back up in 2019? I can't imagine what the upgrade would even look like.
Ian Happ (2018 WAR 0.6, Career 2.3) Probably the most talked about as a trade option by fans. His bat had a little trouble finding the ball at times, and he didn't seem to be as sparkly as Almora or Schwarber in the outfield. Some even wrote they wanted to see him smile more, which as a skill is a little hard to put a stat on. I remember well his debut with the Cubs, and then, he was a powerful sight to behold. Fans loved him, Maddon loved him, everyone did. For whatever reasons, people felt he was flat in 2018 though. Lest we forget, Happ is technically a utility player, and can move from OF to 2nd base effortlessly. This is a trade I can see Happ-ening, though.
There are others. Addison Russell, and even Jason Heyward's name has been spoken in the same sentence as the word trade. I'm not sure what the Cubs could get for Russell or how costly that trade would be, but speaking solely of baseball value, they have SS pretty much covered. As far as the idiocy of claiming the Cubs are really open to trading Kris Bryant, well, consider the source is all I can say.
Meanwhile, has anyone seen Anthony Rizzo lately? I mean, he's still here, right? Right?