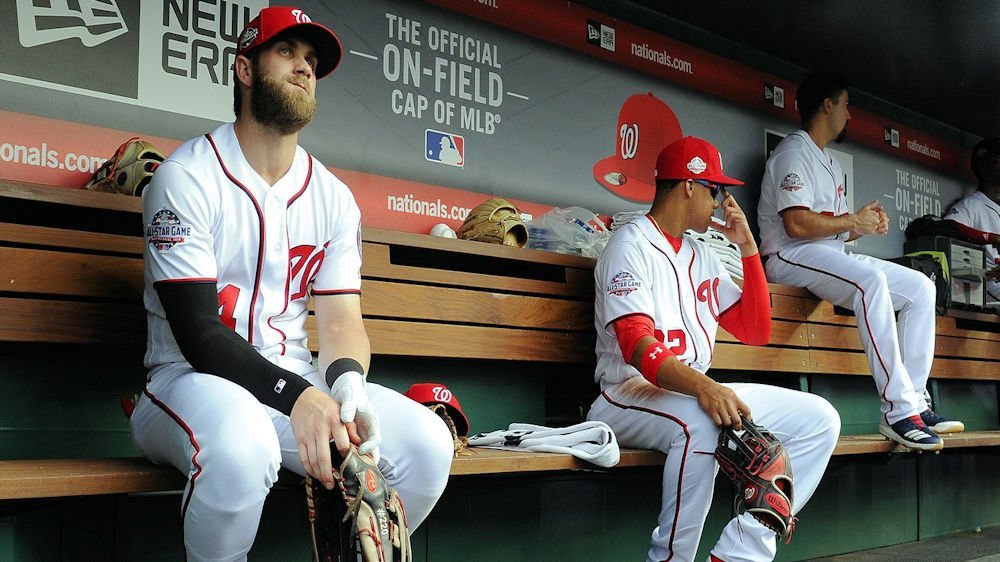 | | |
| --- | --- |
| Cubs News: The Free-agency war: Collusion or Delusion? | |
---
| | | |
| --- | --- | --- |
| Wednesday, February 6, 2019, 8:44 AM | | |
Now in its 101st day, the free-agent vs. ownership war, featuring Bryce Harper and Manny Machado, rages on. While Harper and Machado get top billing on the marquee for this show, a cast of nearly 100 supporting characters wait in the wings.
Attrition in this battle seems to claim new names daily. Among several other pitchers and position players, veterans Francisco Liriano and Jerry Blevins have settled for minor league contracts. Former Cub, Justin Hancock, and others have fled to Japan or Korea to find a spot to play, while others such as Jarod Saltalamacchia, have bowed down in favor of retirement.
There are now reportedly nine teams in on Harper, although some are said to be more serious than others. Machado has somewhere between four and five dance partners that we know of, and new "mystery teams" rumors seem to surface about once a week.
With so many options between them, one must now begin to wonder if the holdout is due to the owners being thrifty (as everyone originally alleged) or whether it has become a matter of greed on behalf of the players.
I read a tweet from a baseball fan (to Ken Rosenthal) this morning, that I thought summed up the situation nicely. "@Ken Rosenthal-I love you, but at what point will the narrative shift from "cheap, colluding owners" to "players/agents believing the talent is worth more than the market/analytics will support"? If I believe I am worth [x amount of dollars] and nobody hires me, is it collusion or delusion?"
Good question, sir.
We live in a land where the sky's limit, or so they say, but there are also rules to basic supply and demand. When your product (or talent in this case) is unique, yes, you have a little bit of a stronghold, but you must also remember that something is only worth what someone is willing to pay for it. Harper may think he's worth $300M over the next ten years, and maybe he is, but if no one bites on that carrot, he isn't.
Right or wrong, Harper and Machado may be on the hook for this whole fiasco, as they were touted as this winter's best free agents, but they aren't the only big names seeking exorbitant amounts of money. Starter, Dallas Keuchel is still not signed due to his demands for a multi-year, high dollar contract, and reliever, Craig Kimbrel, is looking to set a record with his demands.
The Phillies, once a team known to be vying for both Harper and Machado, set a precedent and sent a message to Harper when they signed Andrew McCutchen back in early December: "We're interested, but we don't necessarily need you."
Ken Rosenthal eluded to the possibility of a work stoppage sometime back, and after the way this off-season has gone, I wouldn't be surprised to see it occur sooner rather than later.
Along with the player's union, agents like Scott Boras view this as collusion by the owners to drive down free-agent values. If the owners were to band together and agree to sign no one asking for multiple years or insanely high average annual values, they would drive down the value of talent in the market. Is this what has happened? Maybe, but I sincerely doubt it. On the other hand, perception is reality.
For my part, I've owned businesses, and I've belonged to unions, so I can see both sides. I think in this case the blame probably falls somewhere between the two parties. The players have made a statement about their purported worth and their desire to spend multiple years in the same city, and whether the product of collusion or not, ownership has made its statement about long-term deals (greater than a few years) and average annual value.
Let's hope this doesn't boil down to a strike or a lockout down the line, but with the current atmosphere, and with the collective bargaining agreement due to expire in December of 2021, there's no telling what may happen in the not-so-distant future.