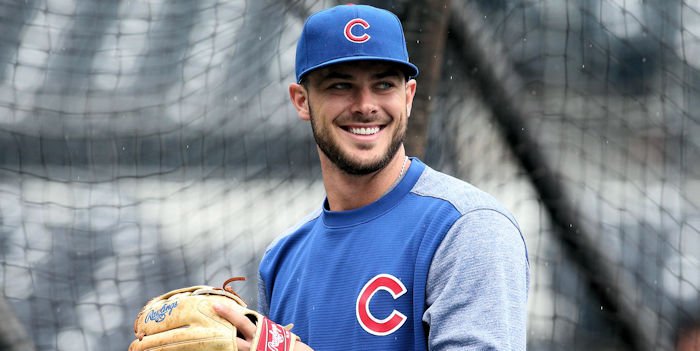 | | |
| --- | --- |
| The Hot Corner: Bryant addresses critics, Cubs lineup vs Giants, latest Hot Stove, more | |
---
| | | |
| --- | --- | --- |
| Sunday, February 24, 2019, 11:24 AM | | |
Author's Note:
As we get closer to the start of the season, I've been tweaking my Hot Corner column, trying to cover MLB from every angle for you. Over the next few weeks, the layout may change some with the addition of the scoreboard and standings, but everything pertinent will still be there. As always, the Cubs' section will be right up top, as I know that's why 99.9% of you are here. Time to get busy with baseball. Enjoy.
Cubs' Corner:
Cubs' Opening Day: 32 days. (March 28 @ Rangers)
TODAY: Cubs @ Giants, 3:05 PM. Today the Cubs will start an almost familiar lineup, at least at least in terms of notable names on the 25-man roster. Yesterday saw just four of the Cubs' most notable names get the start (Heyward, Bryant, Baez, and Contreras), though newly signed free-agent Daniel Descalso also saw action at second to start the game. The pitching selection featured even lesser known players to Cubs fans, with Jen Ho Tseng getting the start, followed by a plethora of new-names and minor leaguers in relief.
Starting lineup: (1) Almora- CF; (2) Happ- 2B; (3) Rizzo- 1B; (4) Schwarber- LF; (5) Russell- SS, (6) Bote- 3B, (7) Caratini- C; (8) Zagunis- RF; (9) Hannemann- DH. Starting pitcher- Tyler Chatwood.
Bryant: Before yesterday's game vs. the Brewers, KB said the negative press and social media surrounding him served as motivation.
"When you're not playing you have a whole lot of time to just sit there and either go through a twitter rabbit hole and start seeing things about yourself or seeing things about 'trade him' and this and that. And I'm like 'Alright. I'm motivated, keep 'em coming. Bring it."
Kris Bryant's motivated and ready to have a huge year ?? (via @Scheuer_Thing) pic.twitter.com/GTfzcI0bbi

— Baseball Bros (@BaseballBros) February 24, 2019
Saturday attendance: The Cubs reported that paid attendance for Saturday's home opener in Mesa was 15,716- the sixth largest turnout in both Sloan Park and Cactus League history.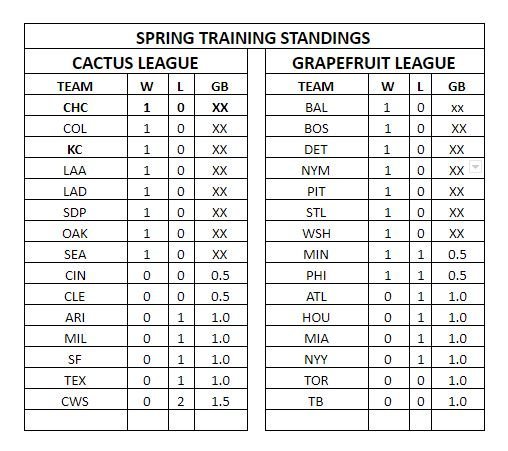 Latest news from around the MLB:
Bryce Harper: Talks are reportedly heating up between Harper and the Phillies.
Craig Kimbrel: Although rumors are circulating that Craig Kimbrel may sit out for 2019 if he doesn't get an offer for his self-proclaimed worth, his agent says that isn't the case, and Kimbrel will be signing somewhere.
Angels: The Angels have claimed utility RHP, Caleb Cowart off waivers from the Tigers and have placed RHP JC Ramirez on the 60-day IL.
Padres: After signing Manny Machado, the focus on another big free-agent signing for the Padres has shifted names. While the Friars do have interest in Bryce Harper, the Pads are said to now be equally or more interested in landing Dallas Keuchel.
Royals: Not even baseball is immune to frivolous lawsuits. A Kansas man sitting six rows behind the third-base dugout files a lawsuit against the Royals as a result of being hit in the eye by a hot dog thrown by Sluggerrr, the team's mascot. The suit seeks $25,000 in damages for injuries caused by the flying hotdog."
Sunday's Scoreboard: