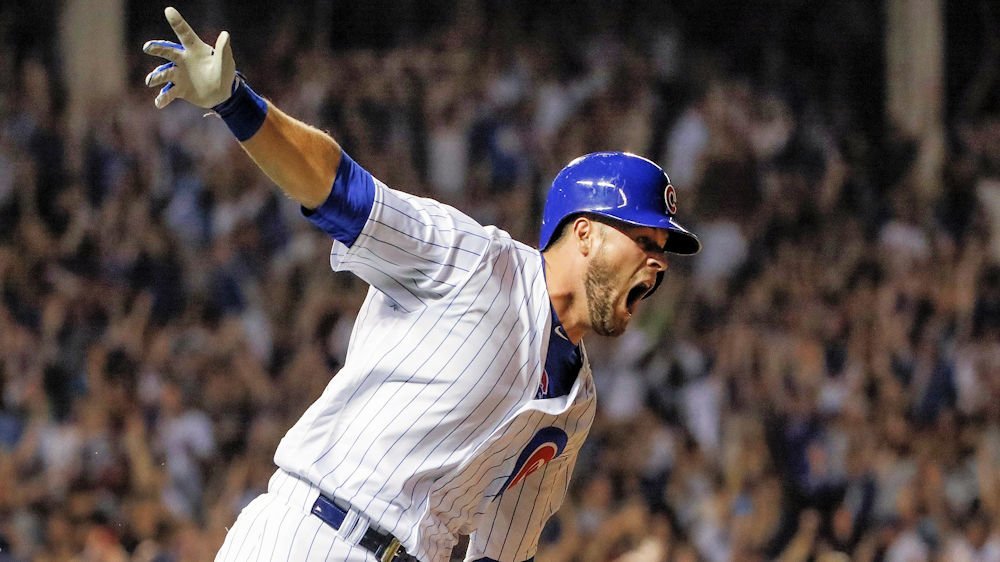 | | |
| --- | --- |
| The Hot Corner: Cubs 2-0 start, Bote nailed in head, Chatwood's spring debut, more | |
---
| | | |
| --- | --- | --- |
| Monday, February 25, 2019, 8:05 AM | | |
Cubs' Corner:
Cubs' Opening Day: 32 days. (March 28 @ Rangers)
David Bote: Tense moments for the Cubs in the top of the second on Sunday, as the team watched David Bote take a pitch to the head from Giants' pitcher, Madison Bumgarner. Bote was spent several minutes on his knees at home plate, then was immediately removed from the game, as he returned to the dugout with some assistance. Because the Cubs were the visiting team, Bote was attended to initially by the Giants doctor and training staff, who say he is doing well, but the Cubs will continue to monitor him overnight. For the record, Bumgarner was visibly shaken by the incident and didn't survive rest of the inning.
Dakota Mekkes: The much talked about, non-roster invitee, made his debut for Chicago on Sunday, when he entered the game in the bottom of the seventh. Mekkes only pitched one inning, but he made the most of it. Although he issued a walk, Mekkes would ring up two strikeouts in a scoreless inning of work.
Mike Montgomery: According to Cubs pitching coach, Tommy Hottovy, Mike Montgomery got back on the mound on Saturday, with the next one scheduled for Tuesday. If all goes well, Monty will have two more bullpen sessions before throwing live batting practice. In Hottovy's words, Monty is "Doing well."
Addison Russell: "It felt great, to get the clay underneath my cleats. Being in the lineup, especially with guys that we won the World Series with. It was a great day. I had a lot of fun." With regard t a potentially hostile reaction by fans, Russell says, "I'm just trying to prepare myself for when that happens. The crowd today was a pretty nice crowd. A lot of supporting fans today. That made my heart explode as well."
Tyler Chatwood: We all hoped through our grimaces that Tyler Chatwood would emerge today showing improvement, whether he did or not is still up for debate. Chatwood started well, throwing nothing but strikes to the first two batters he faced, but it would only take one more batter before Chatty issued his first walk of 2019… then one more batter until he gave up his first home run. Despite just giving up two runs in two innings (ERA of 9.00), Chatwood wasn't quite over his control issues, as he hit the third man that he faced in the second inning. On the bright side, Chatwood walked only one and collected one strikeout.
Extensions: Although there's still time, the Cubs have not yet discussed extensions with either Javier Baez or Kyle Hendricks.
Sunday's Scoreboard: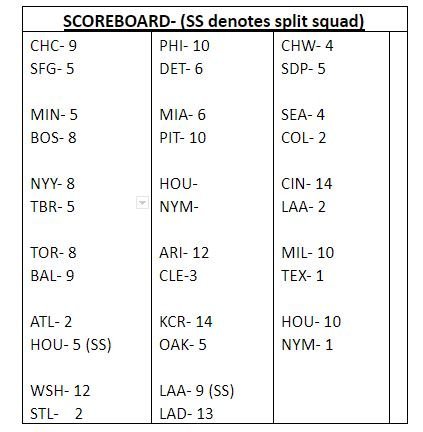 Monday's games: 1:05 PM- MIA @ TBR, BOS @ PIT, DET (SS) @ STL, WSH @ ATL, BAL @ MIN, TOR @ NYY, NYM @ HOU, DET (SS) @ PHI. 3:05 PM- CUBS (SS) @ LAD, SDP @ CUBS (SS) COL @ KCR, TEX @ CLE, CHW @ SFG. 3:10 PM- MIL @ LAA, CIN @ SEA, OAK @ ARI.
Tuesday's Games: 1:05 PM- STL @ WSH, TBR @ BAL, NYM (SS) @ ATL, PIT @ MIN, PHI @ NYY, HOU @ MIA. 1:07 PM- BOS @ TOR. 1:10 PM- DET @ NYM (SS). 3:05 PM- ARI @ CUBS, SFG @ CIN, KCR (SS) @ CWS, LAA @ OAK, SDP @ MIL, LAD @ KCR (SS). 3:10 PM- CLE @ COL, KCR (SS) @ SEA.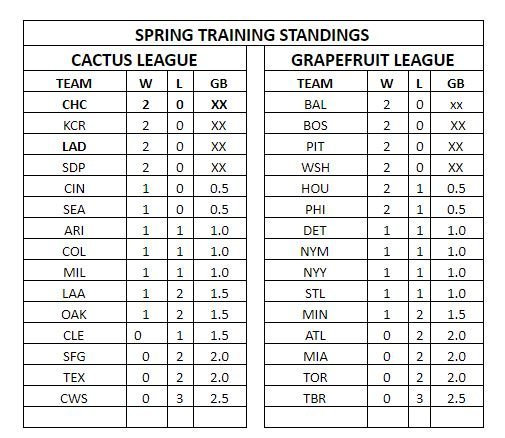 Latest news from around MLB:
Dodgers: The Dodgers have somewhat updated the injury to Clayton Kershaw, saying that it involves his throwing shoulder. No other information was immediately available, but Kershaw is shut down "indefinitely" at this time.
Orioles: Baltimore has acquired RHP David Lebron from the Rangers in exchange for international slot money.