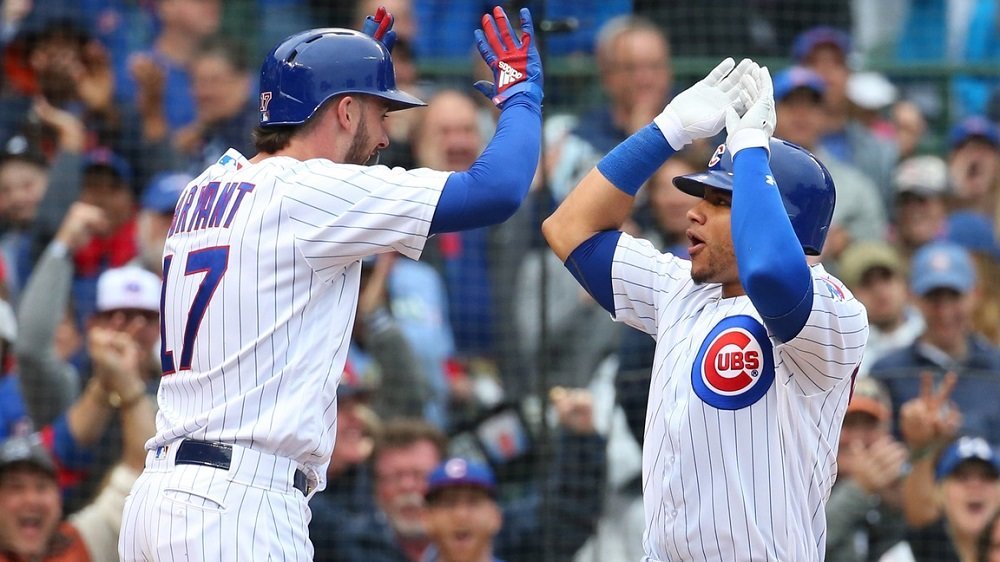 | | |
| --- | --- |
| The Hot Corner: KB at batting pratice, Cubs quotes, latest Hot Stove | |
---
| | | |
| --- | --- | --- |
| Wednesday, February 13, 2019, 12:30 PM | | |
Cubs' news and notes
Cubs' Opening Day: 43 days. (March 28 vs Rangers)
First Spring Training game: 10 Days. (Saturday, February 23, Brewers vs. Cubs at Sloan Park)
2019 Cubs' Motto: Out with the old, in with the new, although I personally liked "everybody in." The new motto for the Cubs this season will be, "Own it now."
Day 1 Bullpen:
Day 1 bullpens.

February 13, 2019
Epstein on Russell: "Addison is well aware he's been given a conditional second chance by this organization. He has to continue to put the work in to become a better person, a better citizen, a better teammate, a better member of society, a better father. We'll continue to hold Addison to an incredibly high standard, or he won't play a regular season game as a Chicago Cubs ever again. By the time spring training's over, every single employee in this organization will have gone through enhanced domestic violence training."
Contreras on 2018: "I think we needed that (losing early)." "We tried to do our best, but it didn't work out...This was my first offseason having October off. It was really weird for me. I was really uncomfortable at first."
New arrivals: Although the position players aren't due until the end of the week, they keep tricking in, apparently eager to get started. Kris Bryant showed up to camp this morning, and for those who are wondering, he wasn't accompanied by Bryce Harper.
Sounds of Spring. pic.twitter.com/rIvSeOsx8u

— Chicago Cubs (@Cubs) February 13, 2019
Morrow on rehab: "I'm feeling 100% and I'm getting the itch to pick up a baseball… I won't be ready for the regular season. I don't have a written schedule, I think the first couple of weeks is going to be feeling it out and see how I respond."
Cubs' TV: The Cubs and Sinclair broadcasting have officially announced a partnership to launch their Marquee Sports Network which will be the exclusive home of the Cubs beginning next season.
Other news and rumors from around the league
A's: Oakland has signed outfielder, Robbie Grossman to a one-year, major league deal.
D-Backs: Arizona has signed free-agent catcher, Caleb Joseph to a one-year deal, and had placed RHP Taijuan Walker on the 60-day IL (formerly known as the DL).
Giants: SF has struck a deal with the Nationals for RHP Trevor Gott; no word yet on what the Giants have to give up.
Phillies: The Phillies are in agreement with RHP Aaron Nola on a four-year, $45M extension with a club option worth $16M or a $4.25M buyout. This deal covers three arbitration years for Nola and at least one free-agent year.
Yankees: NY has had extension talks with Luis Severino, but no deal has been reached yet. The team is trying to come to an agreement before Severino's arbitration hearing.