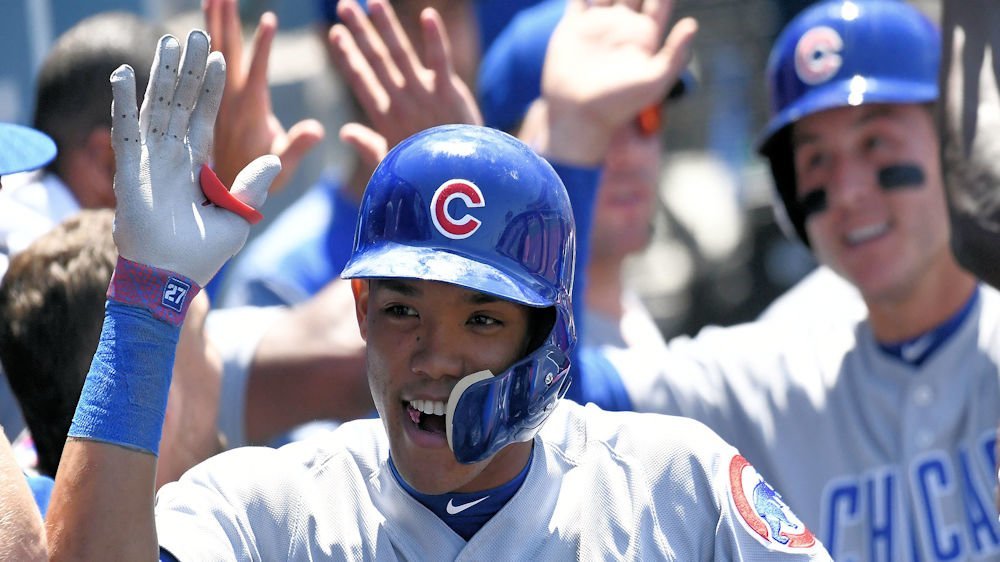 | | |
| --- | --- |
| Three questions that remain unanswered for Cubs | |
---
| | | |
| --- | --- | --- |
| Sunday, November 25, 2018, 10:19 AM | | |
As the off-season wears on, teams are starting to trade, and a few free agents have even been signed already. Rosters were shored up last week in preparation for the Rule 5 Draft, and the winter meetings are now just a couple of weeks away.
For the Cubs, however, it almost seems as though the preparatory work for the hottest part of the Hot Stove season hasn't even really begun. They've made a few waiver claims and traded for a couple of prospects, but except for hiring a new hitting coach and interviewing for Jim Hickey's replacement, everything the Cubs have done remains at the minor-league level.
If you listen to Scott Boras, everything is fine with Addison Russell, and the Cubs will retain him for 2019, but I'm not listening to Boras. Except for Boras' well-timed and carefully worded statement in Carlsbad, California a couple of weeks ago, you've heard nothing about Russell.
There's been no update from the Cubs, and Russell has been conspicuously absent, most likely on the advice of Boras and his attorneys, from social media. No updates on his rehab and counseling, nor have we heard anymore from Theo Epstein on the findings of the Cubs' internal investigation. I don't see how the Cubs could keep Russell, but at the same time, off-loading him may not be easy either.
Depth would allow the Cubs to sit on Russell through the remainder of his forty-game suspension (due to end on May 1, 2019), but I believe they would do so only because it will be hard to trade him. No club can afford to sign a guy who can't play, and while some may be more willing to overlook Russell's issues than others, the Cubs may be stuck with him for a while. If Theo pitches his way out of this jam, he's a genius.
Why has Jesse Chavez not been re-signed?
Jesse Chavez made it clear over a month ago when he stated that either he'd sign with the Cubs, or that he'd retire. Maybe Chavez is testing the market, or perhaps the Cubs are waiting to see how much they spend on free agency, but this seemed to be a no-brainer that is taking much too long to accomplish.
There's little doubt that the Cubs are spending this off-season cautiously, but not re-signing Chavez by this point makes zero sense. Chavez's presence and performance last season were too obvious and to beneficial to ignore, and he has become the go-to guy in the Chicago bullpen. Bullpen turnover from season to season is a regular thing, but guys like Chavez are who you build a pen around.
Although the "Bryce Harper becomes a Cub" talk seems to be dying down a notch, the fact remains that the Cubs, at least for some time, were pursuing him. Even with Harper possibly out of the equation, speculation continues about the Cubs perhaps landing either Michael Brantley or Andrew McCutchen.
Signing any one of the three outfielders is going to make an already packed outfield even more so, and changes would have to be made.
I could see any one of the three being traded for various reasons: Heyward for salary cutting measures, Schwarber to an AL team (as a DH) in exchange for pitching, and Happ for his ability to switch-hit and play multiple positions. Of the three, I still see Happ as being the likely candidate to go first, but underperformance by Heyward may also play a factor.
I've said before that I think the Cubs' off-season moves this year will be a combination of trades and free-agent signings, with the more substantial portion being trades. This team is blessed to have the depth and talent that they do, but there are voids to be filled while other areas have an over-abundance of manpower.
It should only be a matter of time, perhaps a few weeks, until our 2019 Cubs' team starts taking shape, but in the meantime, we're all left with unanswered questions.