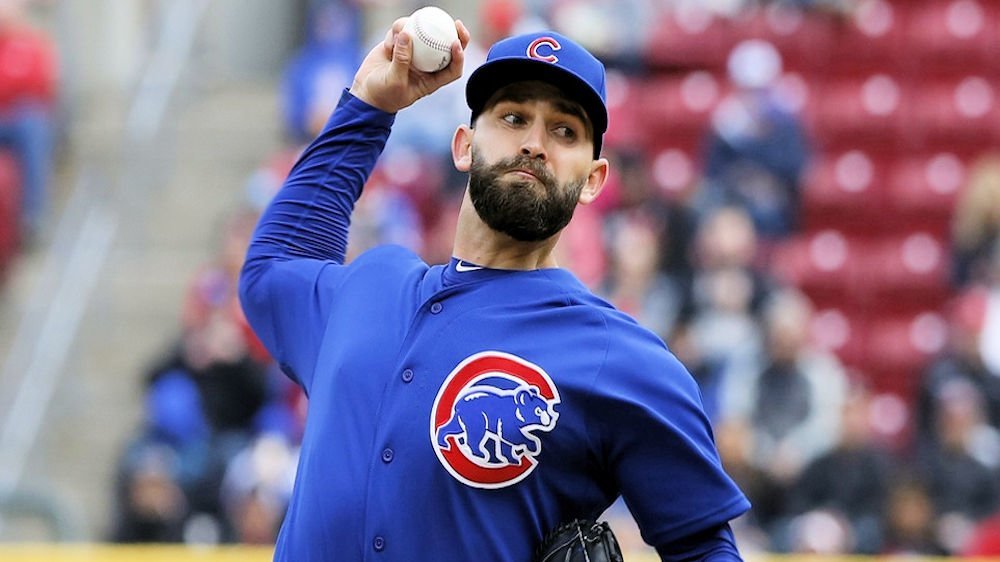 | | |
| --- | --- |
| Tyler Chatwood good, but Cubs tie seesaw battle with Reds | |
---
| | | |
| --- | --- | --- |
| Wednesday, March 4, 2020, 6:29 PM | | |
This afternoon, the Cubs (5-7) traveled to meet their division rivals from Cincinnati. The Reds ((4-5) always seem to give Chicago problems and this year, they look like they'll be even better. The other day, the Cubs got their first look at Joe Maddon in an Angels' uniform, while today they got their first look at Pedro Strop and Nicholas Castellanos wearing another shade of red.
Tyler Chatwood got his third start of the spring as he looks to lock down the final spot in Chicago's rotation. Lining up behind Chatty were Kris Bryant (3B), Anthony Rizzo (1B), Javier Baez (SS), Victor Caratini (C), Albert Almora Jr. (CF), David Bote (2B), Daniel Descalso (LF), Noel Cuevas (RF), Trent Giambrone (DH).
T-1 Cubs get a run early. KB doubles and moves to third on Rizzo's groundout. Javy singles to center, Bryant scores. Caratini hit by a pitch, Almora FO-8, Bote K. Cubs lead 1-0.
B-1 Interesting inning for Chatty: He went to a 3-1 count on Moustakas, Votto, and Dietrich, but got all three K, GO-4, GO-3. Cubs lead 1-0.
T-2 Cubs build their lead: Descalso singles to the right, Cuevas hit by a pitch then Giambrone singled to the left, scoring Descalso and moving Cuevas to third. KB hit by a pitch, then Rizzo grounds into a DP, but run scores. Javy fans to end the inning. Cubs up 3-0.
B-2 Another good inning for Chatwood: Akiyama whiffs, Barnhart fans, Ervin GO-6. T-3 Pedro Strop faced his old teammates. Caratini flew out to the right, Almora fanned on a slider, Bote singled to left, then Descalso flew out to center. Descalso is making consistently good contact. Cubs lead 3-0.
B-3 Chatwood gives up a leadoff homer to VanMeter but then gets a pair of K's and a fly out to Almora. Total of five Ks for Chatwood. Cubs lead 3-1.
Tyler Chatwood brought the ? today. pic.twitter.com/J3G3ixLpjh

— Marquee Sports Network

(@WatchMarquee) March 4, 2020
T-4 Ian Miller replaces Cuevas, Miller walks. Giambrone fans, Miller called out while stealing second (bad call). KB fans to end the inning.
B-4 Craig Kimbrel makes his debut. K, HR, GO-3, groundball (error Bote), K. Reds trail 3-2. Per stadium gun, Kimbrel was sitting at 95-96 mph.
So, 2 Ks and a HR allowed in Kimbrel's spring training debut. Ends the inning striking out Ervin.

— Aldo Soto (@AldoSoto21) March 4, 2020
T-5
Rizz and Javy both flew out to right, Caratini doubled, Almora fanned.
Subs Hernan Perez (SS), Donnie Dewees (RF), PJ Higgins (3B), Corban Joseph (1B), Miller (CF).B-5 Lefty Kyle Ryan had a rough go of it. Single, fielder's choice resulting in an error (everybody safe), force out, K, K. Reds score a pair. Game tied 3-3.
T-6 Bote FO-7, Descalso walks (replaced by Jared Young), Miller singles to the right. Giambrone singles to left (young scores), Perez flies out to center, (Miller tags and takes 3rd). Joseph walks to load the bases. PJ Higgins flies out. Cubs lead 4-3. Subs Jared Young (LF), Zack Short (2B), Josh Phegley (C).
B-6 Righty Trevor Megill starts with a K, then gets a fly out to left and strikes out the third man. Cubs still up by one.
T-7 Cubs go in order: Higgins GO-5, Dewees FO-6, Short GO-5. Cubs lead 4-3.B-7 RHP Brock Stewart: FO-7, BB, single, FO-7, double (two runs score). Foul-out to right to end the inning. Reds lead 5-4.
T-8 Young flies out to left, Miller singles to center, Asuaje (replacing Giambrone) strikes out. Miller steals second, Perez walks. Joseph grounds out.
B-8 RHP Caleb Simpson: BB (stolen base), BB. Both runners advance on a wild pitch, then a run scores on the next WP, Reds lead 6-4. K, BB. Pickoff move catches the runner at third after a rundown. FO-8. Cubs trail 6-4.
T-9 Higgins walks, Phegley singles to the left, Dewees bunts, Higgins forced out at third. Short singles to load the bases. Young reaches on a fielder's choice, and two runs score due to a throwing error. Miguel Amaya (pinch-hitting) Cubs tie it at 6-6.
T-9 Lefty Luis Lugo: Single, FC 5-4, Double play 7-4 on a flyout ends the game.
Final Score Cubs-6; Reds-6 Cubs Offense 11 for 37 (.297); 4 for 17 (.235) with RISP< Next Game: Tomorrow, 2:05 PM: Rangers @ Cubs from Sloan Park.

Tags: Cubs Baseball
,
Pedro Strop
,
Tyler Chatwood
,
Kris Bryant
,
Anthony Rizzo
,
Victor Caratini
,
Albert Almora
,
David Bote
,
Daniel Descalso
,
Noel Cuevas
,
Trent Giambrone
,
Ian Miller
,
Craig Kimbrel
,
Hernan Perez
,
Corban Joseph
,
Kyle Ryan
,
Jared Young
,
Trevor Megill
,
Brock Stewart
,
Miguel Amaya
,
Luis Lugo
,
Joe Maddon