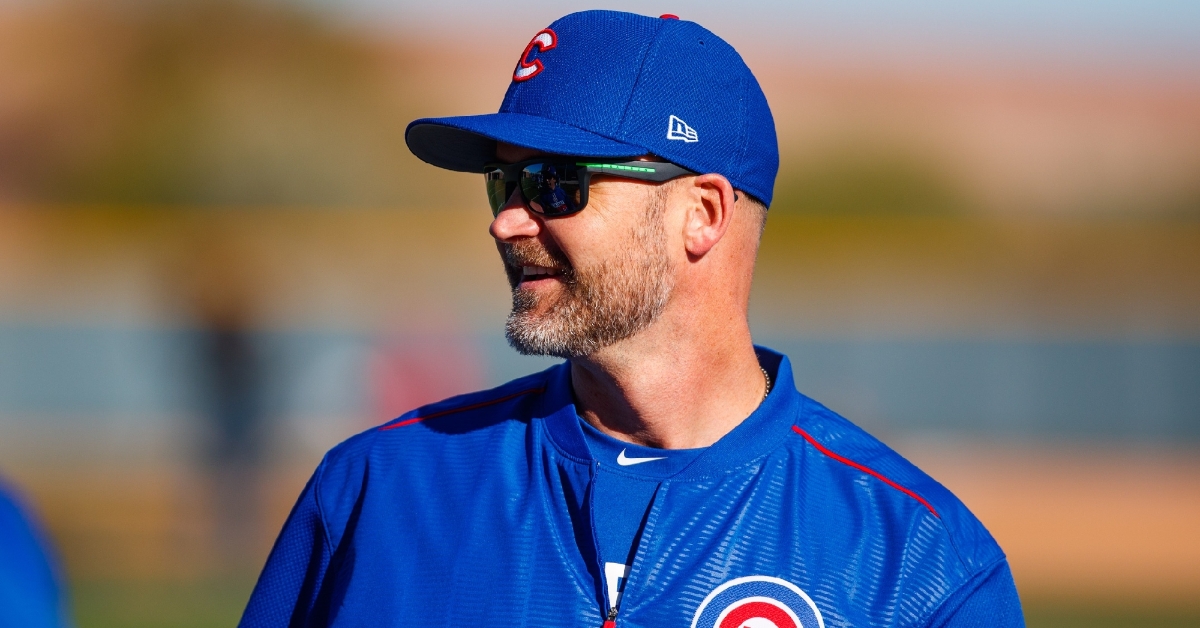 | | |
| --- | --- |
| Cubs News: What to expect from David Ross in 2020 | |
---
| | | |
| --- | --- | --- |
| Monday, November 11, 2019, 3:13 PM | | |
Other than Theo Epstein, Jed Hoyer, and Tom Ricketts, nobody seems to know what's expected from David Ross this season; hell, I'm not even sure Ricketts, Hoyer, or Ross know.
Theo has acknowledged Ross' inexperience. Still, while he's entrusted David to manage the Cubs, it was agreed to and insisted upon that a managerial experienced bench coach was a must, something that they found in new bench coach, Andy Green. Not that Green brings with him any pennants or World Series trophies, as that caliber of the manager is still managing, but Green does at least offer some dugout experience as a skipper.
I think that Ross and his Cubs can compile a winning year in 2020 – that is to say better than .500 – and I've already stuck my neck out, predicting that the Cubs (under Ross' direction) will finish better than Maddon's last record of 84-78. Of course, a lot of that depends on the personnel changes that Theo makes to the roster, but the Cubs will hardly shed enough talent this year to make them unable to compete.
The current Vegas odds have the Cubs at +2000 (the 12th best in MLB), but while it's still early so far as Vegas is concerned, look at how the sportsbooks have the other NL Central teams placed. The Brewers are favored to win the division (currently +1400), ahead of the defending division champion.
The Cardinals are sitting just behind the Cubs at +2500. The Reds are trying like hell to move up to at least third in the division, but currently, at +3300, they have a long way to go to impress the oddsmakers in Vegas. We won't even talk about Pittsburgh and the shambles with that team.
Las Vegas isn't in the business of losing money, so for them to view the Cubs as a second-place team behind Ross' (inexperienced) leadership says volumes. Granted, these are the odds to win a World Series and not the division, but it certainly translates to how the NL Central may wind up looking.
I've maintained for the last two years that Maddon was somehow no longer able to extrude maximum potential out of a very talented roster, something that I believe Rossy can do. Maddon wasn't very good at confrontation, and I wouldn't be surprised to learn that Theo has extensively vetted Ross to ensure that "yelling at his buddies" won't be an issue; then again, I never thought it would be.
Ross has the desire to win, something that almost seemed to escape Joe for the last two seasons, and I think Ross' attitude on the subject will show. Who hungrier to win than a catcher who last won a World Series before hanging up his cleats? A catcher who homered in that Series, nonetheless, and one who never left the team that he won with, even if the next three years were spent in the office rather than in the dugout or clubhouse.
David isn't like some of the other new managers around baseball this season, as he's intimately familiar with the guys who'll remain on this squad after free agency and trades take their toll. He won't be a strange face in the dugout, nor will he be in a position to have to learn from scratch, the talent contained on the roster.
I also think you see Ross implementing some very fundamental differences that will pay huge dividends. The new three-batter minimum will undoubtedly play into his (and everyone else's) bullpen strategy this year, but who better than a seasoned catcher to maximize what can be gotten out of his bullpen selection? With or without the new rule regarding pitchers, I didn't figure on Ross being a guy who was going to ascend the bullpen steps each time the next batter changes sides in the batter's box.
Ross was always more a defender than an offensive threat when he played, but I do think that you'll see a heavy emphasis on leaving the long ball behind while focusing more on hitting for contact. The Cubs can ill-afford to rely on that strategy again, as the all or nothing approach frequently ended in the "nothing," rather than the "all." The team's numbers with runners in scoring position have been pathetic for two years now, and the mindset that players will be allowed to continue to do as they wish while standing at the plate is about to become an extinct ideology.
I do wonder how Ross is going to recondition the players who refuse to buy into Anthony Iapoce's approach to sabermetrics. Still, if Theo deals a couple of select members of the current roster, it should have a significant enough impact that others sit up and take notice. There is no one better than Nicholas Castellanos to exemplify how valuable hitting for contact is, the question is whether or not Theo will do what it takes to have him back in the dugout this year.
As it stands right now, this team has a plethora of talent before any more changes come about, and a monkey could manage them to a .400 record. The presumed willingness for the Cubs to want to play harder for a new manager should buy Ross another 100+ points in winning percentage. Still, from there, it's all on David's ability to translate his philosophy for winning into something tangible for the team.
I said at the beginning that I predicted Ross to outdo Maddon's 84-78 record from 2019, so let me throw this out there now: Cubs go 88-74 (.543) in 2020 before Theo makes any changes to the roster.