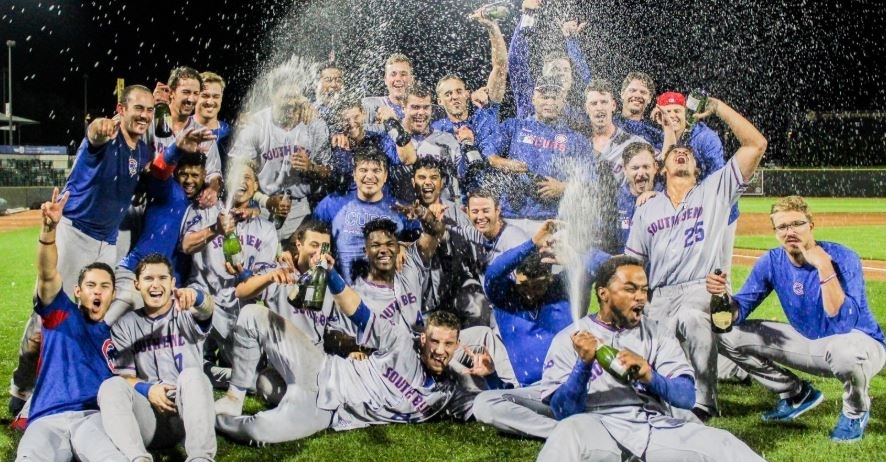 | | |
| --- | --- |
| What to expect from South Bend in 2020 | |
---
| | | |
| --- | --- | --- |
| Sunday, January 26, 2020, 1:45 PM | | |
Last year was a historic season for South Bend in more ways than one. Not only did the Cubs finish an organization best 76-61 to qualify for the Midwest league postseason, but Manager Buddy Bailey earned his 2000th win as a manager late in the season, something not many minor league managers accomplish.
To cap off a season full of accolades and accomplishments, the Cubs ended up bringing home the Midwest League title by sweeping the entire playoffs in the process. That alone is a feat as the Cubs were the true definition of team play.
We saw the emergence of Brailyn Marquez and Brennan Davis last year, along with several other players contributing in a big role with the likes of Cole Roederer, Chase Daniel, Levi Jordan, Jonathan Sierra, Faustino Carerra etc., but 2020 may be a much different story for the Cubs as I expect a lot of change over on this roster. Here is what I am expecting from South Bend in 2020.
Perhaps the most significant change for South Bend next season will be their starting pitching where Marquez (promotion late season) and Carrera (Rule 5 draft) are no longer anchoring the staff. Marquez may have stolen the headlines all season, but it was Carrera who emerged as the teams ace down the stretch, which continued into the postseason. The loss of both will be huge, but the Cubs have plenty of experience returning who can pick up the slack.
Riley Thompson, Cam Sanders, Blake Whitney, Kohl Franklin and Jose Albertos all saw starting action between Eugene and South Bend with Thompson and Sanders starting most of the season with South Bend and in the playoffs. Those two will be the anchors of a young rotation, but the other three will certainly have the inside track to round it out.
Derek Casey is another arm to watch in the starting rotation despite going 5-7 with a 5.02 ERA in 21 starts a season ago. With another year of pro ball under his belt, he may be able to make some drastic improvements to only better South Bend as a whole. Look for Zach Mort to once again fill the swing role this season as he made 12 starts and 15 relief appearances in 2019 across two levels of minor league play.
The bullpen is where South Bend should be set as plenty of fire power will return and be added to this seasons roster. Headlining that group of pitchers will be Riley McCauley who emerged as the closer for Eugene before his promotion to South Bend last season. McCauley will be looked at as the early season favor to continue that role as he looks to build on his 8/9 save chance performance from last year.
Blake Whitney, Casey Ryan, Peyton Remy, Eugenio Palma, Ivan Medina and Brian Glowicki will all be big names that South Bend will count on this season in relief. Brandon Hughes will also be back after missing 2019 with injuries. His role will be undefined early on, but should be able to find his niche sooner rather than later.
Offensively is where things will be a challenge for South Bend as plenty of last year's talent began their promotion process in July. That ended up being a good thing in the long run as several contributors from Eugene saw much-needed experience and will most likely see more prominent roles this year. As of now, the two players that I question about being here or at a higher-level would-be Daniel and Davis. Daniel emerged as a high contact quality leadoff bat last year, while Davis, despite missing most of the season with injuries, proved why he is the third-ranked prospect in the Cubs system.
Let's say both of those men are indeed promoted to higher levels; South Bend will still be in good shape offensively. That all starts with the return of Cole Roederer in center as he will look to build on an up and down first season of pro ball. Despite hitting a dismal 224, Roederer led the team in both homers (9) and RBI's (60), proving that he is indeed ready to make his mark on the Cubs organization.
Late season promotions Darius Hill and Nelson Velazquez will play major roles also, as will Nelson Maldonado who emerged as a key bat during the Cubs postseason run. Moving to the infield, and you will find a bevy of talent that all starts with Levi Jordan. Although he has yet to reach his full power potential, look for Jordan to have a breakout season this year as he will be more comfortable with the pace of the game.
Yonathan Perlaza, Andy Weber, and Christopher Morel will also be players to watch this season especially when it pertains to Morel. A third baseman by trait, the wiry 6-foot 140-pound third baseman is starting to garner trade interest from some teams coming off a 284 six homer 31 RBI season. Depending on what happens with Kris Bryant and his future, the Cubs very easily could dangle him in a package in hopes of finding their long-term option at third.
The biggest X-Factors on offense will be the continued growth of both Jake Slaughter and Chase Strumpf. Both started the season in Eugene but were quickly promoted to South Bend in August as Slaughter led the Emeralds in every significant offensive category. The 2019 second-round pick in Slaughter struggled to find his footing early on, but once he got going proved why he was regarded as one of the best college bats in the draft. The two of them combined for two homers and 15 RBI's in less than 15 games with South Bend. Hopefully, that was the beginning of something great this year.
Season projection: I do not expect the Cubs to be as good as they were last season, but 70 wins and another postseason appearance is very doable. This team will have plenty of holes to fill, but will also have plenty of talent to plug those holes. The only issue remains having potentially too much talent where some guys may not see the field, or some may be promoted or demoted, which could cause some struggles at times.
I don't think this team will be good enough to win the division, but they should be able to battle for a wild card spot once again. Given what they did in the postseason this past year and having that experience, do you think anyone would want to see them come postseason time? Especially if they start clicking like they did the final two months this year.

Tags: Cubs Baseball
,
Brailyn Marquez
,
Cole Roederer
,
Levi Jordan
,
Jonathan Sierra
,
Cam Sanders
,
Jose Albertos
,
Derek Casey
,
Riley McCauley
,
Casey Ryan
,
Peyton Remy
,
Eugenio Palma
,
Ivan Medina
,
Brian Glowicki
,
Nelson Velazquez
,
Yonathan Perlaza
,
Andy Weber
,
Christopher Morel
,