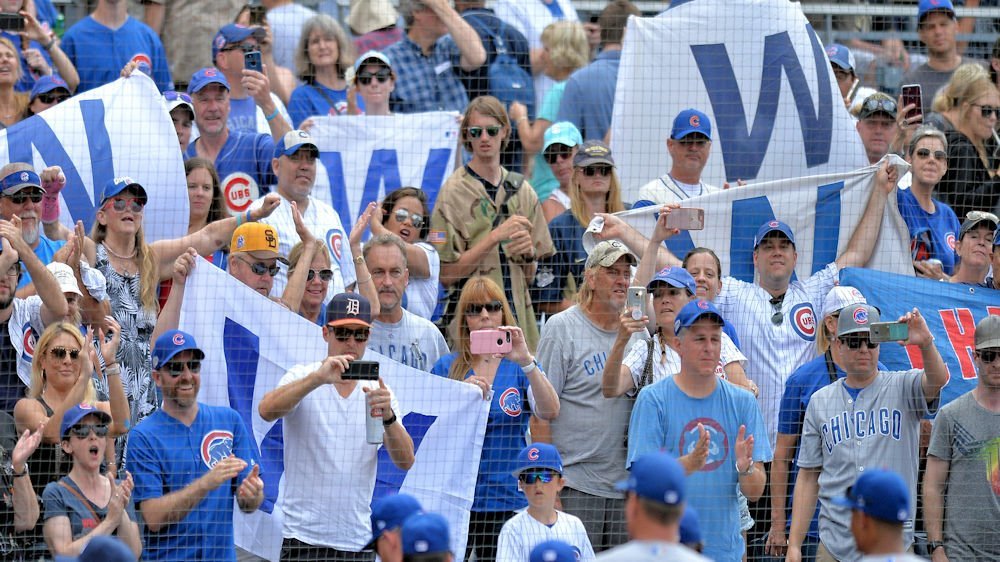 | | |
| --- | --- |
| Who should the Cubs pick at No. 16 overall in MLB draft? | |
---
| | | |
| --- | --- | --- |
| Sunday, May 3, 2020, 8:04 AM | | |
With the NFL draft recently finishing up, I decided to keep the draft spirit going and look ahead to the MLB draft, which is just under a month away. While there are way too many picks to focus on covering all of them, I am going to look at whom the Cubs should look at targeting with the 16th pick in this June's draft.
This years draft will have a different feel for the Cubs as they are in an interesting position at 16. They are just ahead of the ones who made the postseason last year and just behind the teams that finished under .500. Not to mention this will be their highest pick since 2014, and things will be interesting to see what the organization does from here.
Today I will look at six players as to whom the Cubs may take with pick No. 16 overall with three being pitchers and three being hitters. Some are more wishful thinking, but in dream scenarios, we have to dream big, right?
Without further ado, here we go.
High School Prospects:
NICK BITSKO (RHP CENTRAL BUCKS EAST PA): One of the top High school arms in this year's draft is that of Nick Bitsko, who checks in as the 14th best prospect. With the Cubs continuing to hope for starting pitching help in the minor league system drafting another first-round arm wouldn't surprise me.
Bitsko is huge and has all the makings of a solid starter long term. At 6-4 220 lbs, his body doesn't have much filling out to do anymore. While his fastball mostly sits around 92-93 mph, the Virginia commit was seen hitting 96-97 mph consistently, which is why teams are going to come calling. Add that to a breaking ball that sits around 80 mph and an ever-improving change up, and Bitasko has a plus three-pitch mix that will be a potential nightmare for hitters.
ED HOWARD (SS MOUNT CARMEL IL): The last time the Cubs drafted a player out of high school in the first round was Albert Almora back in 2012. The last time the Cubs drafted a SS in the first round was Javy Baez in 2011. Could Illinois native Ed Howard be the one to break that trend this season?
Coming in at the 15th best prospect, there is a good chance he is still around when the Cubs pick at 16. Committed to Oklahoma right now, Howard may decide to sign with an MLB team and what would be better than signing with a team in the same state he grew up in. If this sounds somewhat familiar to you, then your right as he was the starting shortstop on the Jackie Robinson West Little League team from the 2014 Little League World Series. While some things have changed, Howard has continued to be the star he was back then.
He is not going to have as lofty of expectations as some other shortstops in this class, but Howard has solid tools across the board that makes him a solid pick. Not only does he have a calm approach at the plate, but it is straightforward, which allows him to make repeated hard contact. With the impressive bat speed, he shows now, once his 6-2 frame fills out more, he could develop into an above-average power hitter with speed on the bases.
Defensively, not only is Howard smooth but has the potential to stick at that position long term. He can make all the plays as he possesses quick hands, a strong arm, and athletic from all over the diamond. He has a high baseball IQ and, much like Baez, has a knack for being able to slow the game down on both sides.
JUCO PLAYERS
LUKE LITTLE (LHP San Jacinto College): Getting out of the high school ranks, and we shift gears to move to the Junior College circuit or JUCO. While the Cubs don't tend to go this route in the draft, especially early on, Little may have them rethinking that strategy this season as he checks in as the 12th best JUCO prospect.
As a freshman, the massive 6-8 225 lb southpaw began to see some draft attention despite battling through hindering command issues. After showing significant improvement in a lot of areas this season, the COVID 19 scare forced the JUCO season to be canceled, which was tough for Little to improve his draft stock. In nine innings of work this season, Little posted a 2.00 ERA with three walks and 17 punchouts. That followed up a year in which he bounced between starter and reliever, posting a 2.04 ERA, 32 walks, and 65K in 35 innings.
Little is not just big, but hard to hit as he features five pitches. His primary pitch is his fastball, which blows hitters away at 97-99 MPH. Working off that heater, he features a sinking fastball around 91, with a steady dose of off-speed pitches that feature, slider, curve, and change that he can locate all across the strike zone and sit in the mid 80 range for MPH.
RYAN RITTER (SS John A Logan ILL): Sticking with the shortstop theme and you find that of the 10th best JUCO prospect in Ryan Ritter. At 6-1 165 lbs, Ritter still has a lot of growing to do to fill out his body, but he has shown tremendous promise thus far. Much like Howard from above, Ritter also hails from Illinois playing at John a Logan JUCO college.
Ritter, a former Auburn product, has a chance to be a solid pick but isn't graded out to be a middle of the first-round talent. If the name is starting to sound familiar, the Cubs drafted Ritter last season in the 33rd round, but he elected to go back to the JUCO circuit to improve his stock. How ironic would it be for that to happen and for the Cubs to nab him again? I just don't know if he developed enough to move up 32 rounds.
College Prospects:
AARON SABATO (1B UNC): The Cubs have had a continued success of not only drafting hitters in the first round, but power hitters to say the least. North Carolina 1B Aaron Sabato would undoubtedly fall in line with that trend despite falling to the 41st best prospect as of late. The 6-2 230 lb Sabato received very little hype coming out of high school and struggled during his first season with the Tar Heels. After hitting just .186 through the team's first 14 games, Sabato caught fire afterwards, hitting a .380 the rest of the way and 17 homers over the team's final 44 games to set the freshman record.
With Anthony Rizzo approaching the final year of his contract next season and no real long-term replacement in line, the Cubs need to start looking at that, and Sabato could be the man. The right-handed Sabato is quickly becoming one of the best power-hitting prospects in this year's draft class as incredible strength mixed with bat speed and launch angle give him great raw power.
While he falls in line with so many of the Cubs hitters with a power over hitting approach first, he is patient enough to take some walks, so pitchers tend not to challenge him if they fall behind with a base open. Sabato has drawn some Pete Alonso comparisons, though all his value is going to come from his bat, so he needs to hit. The glove is not anywhere near what Rizzo brings, and he isn't athletic to make up for that. If the NL had a DH, he would be a perfect selection for that position. However, I still like his chances to play first at least adequately enough to have the Cubs trust him as Rizzo's future replacement.
GAVIN WILLIAMS (RHP EAST CAROLINA): The Cubs have invested a ton of talent in college arms, especially in last year's draft. This year is no exception, as the Cubs will certainly have their eyes on some top arms once again. Ideally, I would love to see Max Mayer from the University of Minnesota fall to the Cubs, but that doesn't seem possible given he is most likely a top 10 selection.
With that being said, some under the radar arms may not look like first-round picks, but I wouldn't mind seeing the Cubs reach and take a chance. One name that came to mind was Jake Eder from Vanderbilt University, who entered this season as the nation's 34th best prospect. Suddenly, he has fallen to No. 59, leaving more questions than answers.
A pitcher that wasn't even on the top 150 a few weeks ago and is suddenly up to No. 91 is Gavin Williams of ECU, and I only expect his stock to continue to rise. It may not rise enough to be first-round worthy, but if it continues to go up, the Cubs may see upside in him. Originally a 30th round draft pick for Tampa Bay in 2017, Williams returned to school to significantly improve his stock.
The monstrous 6-6 240-pound right-hander is intimidating on the mound and reminds scouts of a young Colin Rea before came to the bigs. Williams may not be a big name now, but he could be soon. He has always been known for his heater, which touched 95 during his senior year of high school, but that has now reached 99 as he sits consistently at the 94-96 MPH range still. While that fastball is lethal with some nasty running action on it, Williams still struggles to develop a secondary pitch, although his 76 MPH curve has gotten much better.
He has started to use his change more frequently to keep hitters off-balance as that has been in the 87 MPH range but can slow it down to 84 MPH if altering the grip. Williams has a durable athletic frame and has even cleaned up his delivery since being drafted to make him a better pitcher. He has yet to consistently throw strikes, which is why he is graded where he is at this point, but the Cubs may take a chance on him in the early rounds to use him as a reliever.