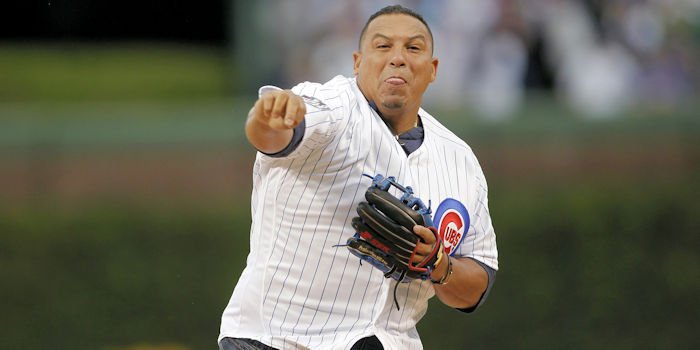 | | |
| --- | --- |
| Will Zambrano's comeback lead to Cubs camp invite? | |
---
| | | |
| --- | --- | --- |
| Sunday, November 11, 2018, 12:16 PM | | |
Rumors and speculation started flying around over the summer about former, Cubs' right-hander, Carlos Zambrano attempting to make a comeback. Now at age 37, Zambrano appears to be on his comeback trail, as the switch-hitting pitcher is now hurling in the Venezuelan Winter League.
Zambrano spent ten full seasons (2002-2011) with the Cubs, and spent his final season with the Marlins, before announcing retirement in 2012. During his tenure on the mound, Zambrano earned a record of 132-91 (.592) with a career ERA of 3.66.
Cubs' fans went insane when the rumors of a comeback started, but we may be putting the cart before the horse.
I don't think age is so much an issue for Zambrano, after all, Jon Lester and Cole Hamels will both be turning thirty-five before the start of the 2019 season, and Bartolo Colon is still tossing at age ninety-three (OK, OK, Colon is only forty-five, but that's like ninety-three is baseball years.)
The one thing I do potentially see hindering Zambrano's return, are his six seasons of retirement. For guys that like, six years of downtime is an incredibly long period, and while a successful comeback isn't impossible, it won't be easy.
In six appearances so far in the winter-league, Zambrano's numbers have been far from impressive. In twelve-and-a-third innings, Zambrano has ponied up 25 hits, given up 16 runs, walked two and struck out four.
The question I have is whether Cubs' fans want to see Zambrano return, or whether they specifically want to see him return to the Cubs. I suppose while any return would carry a one-in-a-million chance, if he makes it, the odds of rejoining the Cubs again, then become just one in thirty; but would Chicago want him?
Zambrano had a definite presence in both the clubhouse and on the field, and his resume is impressive; three-time All-Star, three-time Cy Young Award winner, three Silver Slugger awards and an MVP nomination in 2004 (he finished 28th in the MVP voting). As we've all heard on those investment commercials, though, "past results are not indicative of future performance."
Even if the Cubs wanted Zambrano back, is there even a place for him on the roster? If he blazes through the winter-league and gets an invite to spring training, the fact remains that the Cubs are (thus far) banking on Lester, Hamels, Hendricks, Quinta and Darvish to man the rotation. If Darvish falters again this year, as I, unfortunately, predict he will, Zambrano could feasibly slide his way into the rotation, and pick up that second right-handed starter's spot, but he won't even get a look if those numbers in Venezuela don't get turned around.
When Zambrano left the league after 2012, he was earning $16.45M. There's no question that a six-year absence will considerably lessen what he's offered if he makes a triumphant return, but what might a team even be willing to pay him? Zambrano is free to negotiate a minor league contract for whatever he can get for 2019, with his service time then picking back up the following year.
I'm sure a variety of teams could find a spot for Zambrano if he gets over the bumps and bruises that he's currently suffering in South America, but let's face it, all most of us are worried about is how he'd fit in with Chicago. A reliever maybe? A Darvish replacement? Perhaps a guy who could chew up some innings in 2019, allowing the Cubs to bide their time until next year's non-waiver trade season or free-agency market comes alive? The possibilities are endless, but the likelihood looks bleak.
Personally, whether in Chicago, Oakland, Boston or wherever, I hope the guy comes back, even if for just a season. He's a great guy and was a exciting ball-player, and any story of a return like that is one worth reading.