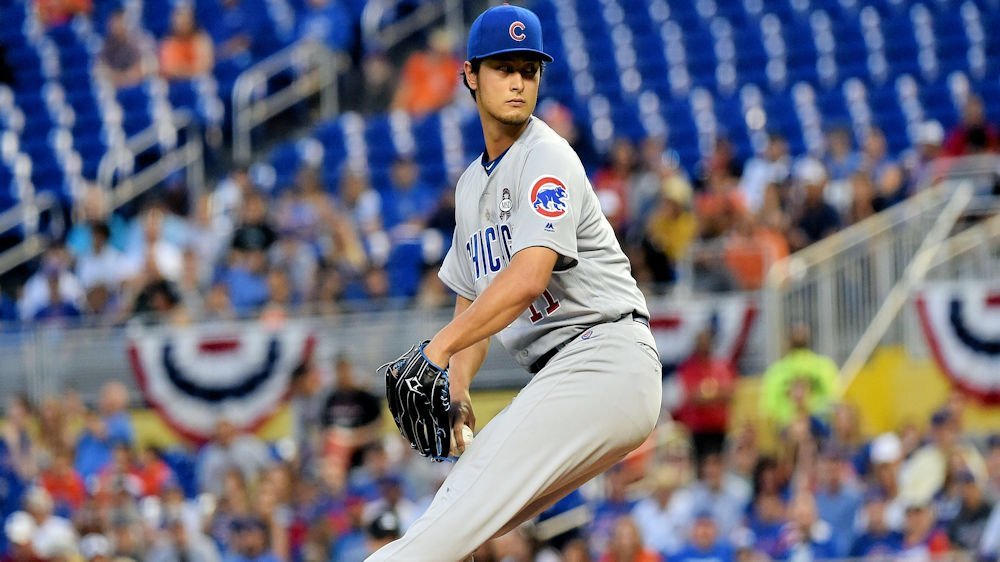 | | |
| --- | --- |
| Chicago Cubs: Yu Darvish isn't scared of batters, he's terrified of failure | |
---
| | | |
| --- | --- | --- |
| Wednesday, October 31, 2018, 11:59 AM | | |
It's easy to be critical when you're sitting behind your word processor. The subject of your ire is hundreds of miles away, and unaware you are spraying the page with criticism. Add to that how unlikely it is that Sefat Farid Yu Darvish (his actual full name) browses the internet for articles about himself, he won't know afterwards either. No Cubs player in recent memory has been criticized more than Darvish. Cubs insider David Kaplan took a few swings. Alex Rodriguez went all-in throwing Darvish under the bus, and fans have been less than impressed to put it politely.
I wasn't a fan of the signing when it happened, and made no secret of it. I joined the chorus of fans and writers who questioned his mental toughness, and his ability to pitch long into a game without melting down at the first sign of trouble. Were we – was I – unfair? I'll let you decide. Here we go. First, some history…
When the Rangers discovered him, he was 25 years old. They wrote a check for $51 million just to talk to him. One scouting report, which you can read in full here, said, among other things, that "Darvish's repertoire is diverse, with six distinct pitches he throws with excellent movement." Here he is showcasing his stuff while still in Japan.
The Rangers promptly signed him for $60 million over six years, then traded him to the Dodgers after five. In Texas, Darvish pitched a total of 100 games, 644-1/2 innings. His best year was 2013, where he posted an ERA of 2.83 for the season. He struck out 812 batters as a Ranger, but he was injury-prone, so unloading him was a priority.
In his one year in L.A., he pitched 31 games (including the now-infamous pitch-tipping WS game 7), struck out 209 of the batters he faced, and posted a 3.86 ERA. But when it counted, he collapsed in the postseason with a 6.14 ERA and an anemic 14 strikeouts. The rest, as they say, is Cubs history. I didn't know why Theo Epstein couldn't resist moving on from Arrieta in favor of the Japanese hurler for the life of me. Roll tape on gushing presser.
The Cubs believed they were getting an ace to complement their starting rotation of Lester, Hendricks, Quintana, and (*cough*) also new-to-us Tyler Chatwood.
Darvish pitched 40 innings for the Cubs in 2018, with a disheartening debut of a 102 pitch, 4-1/3 innings outing. However, who can forget his dismantling of the Brewers?
The train, as they say, began coming off the rails soon after, and in the end, he starred on the DL for a paltry $25,000,000.00. He was signed for $126,000,000 and expected that he would be an instant contributor, a starting pitcher with "nasty stuff" and ace-level performances. Ah, but alas, 'twas not to be. Instead, he pitched in only eight games, 40 innings, and racked up a 4.95 ERA on his way to mercifully landing on the DL. He did make room for Cole Hamels and even Jesse Chavez in a way though, so there was a silver lining.
His stats, his salary, his displacing the much-loved Jake Arrieta, all of that could be forgiven (albeit begrudgingly on that last point) if he had just managed to get through the season without embarrassing himself. When fans teed off on him early, Epstein, Maddon, and various players (not to mention a bevy of writers) defended him, practically scoffing at his critics. "Just wait" they would say, "you'll see." Then Los Angeles happened, and all bets were off; the hounds were released.
Imagine a world where Jon Lester tells the press that he hid in the dugout because he was afraid of being booed by Red Sox fans his first time back at Fenway as a Cub. No. Lester would be more the type to start beaning batters as his way of flipping off the crowd. Not Yu Darvish; he had even apologized to Dodgers fans for his collapse in game 7. Then, when the Cubs visited the Dodgers, he told the press he hid during the game for fear of being booed. It was that stunning – and self-incriminating revelation that lost him a lot more most fans, and writers crucified him. In my opinion, it was revelatory. Darvish isn't scared of batters; he's terrified of failure. He takes it personally. No athlete in any sport can thrive with that mentality.
Darvish has an image problem, but worse, he has a confidence problem. He may have a "diverse repertoire…with excellent movement", but after this last season, it will take more than that for him to win fans over. To win himself over. 2018 was the worst season of his entire baseball career, and to begin the road back, he'll have to dig deeper within himself than he ever has before. Pitching in the show is not for the faint of heart. I imagine the Cubs are working hard to get him on his feet, but they didn't pay $126 million for a reclamation project with fissures in their mental makeup. Darvish owes the team a great 2019, and the fans a tougher player.
He's got the talent, but does he have the guts?