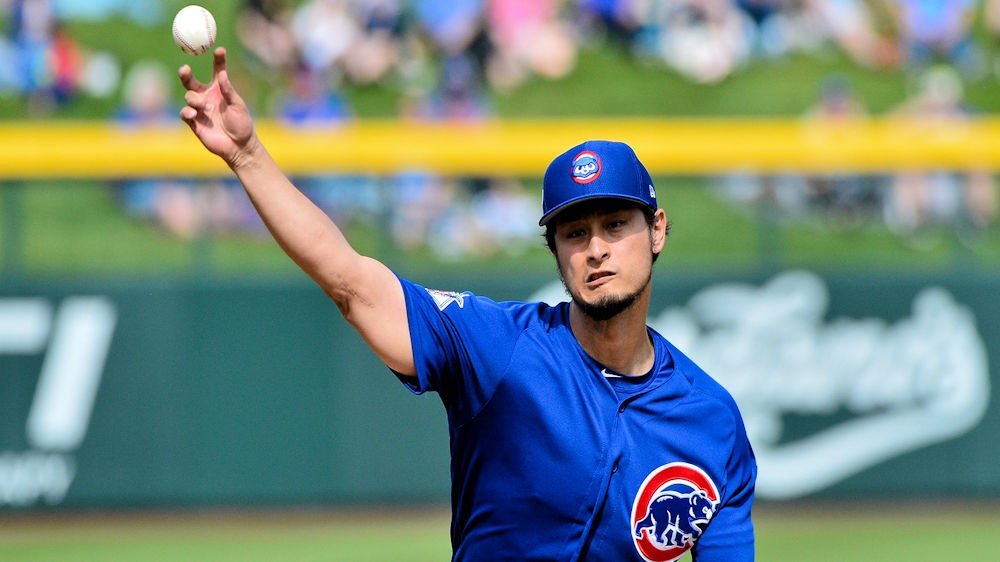 | | |
| --- | --- |
| Cubs News: Yu Darvish's spring debut, Bote injury update, Monty's progress, Heyward scratched, more | |
---
| | | |
| --- | --- | --- |
| Wednesday, February 27, 2019, 7:50 AM | | |
Cubs' Opening Day: 29 days. (March 28 @ Rangers)
Next Game: Today; Cubs @ Rangers. (3:05 PM)
Thursday: Athletics @ Cubs (3:05 PM)
Jason Heyward: Although no reason other than "a personal matter" was given, Heyward became a scratch just before the first pitch of Tuesday's 5-4 loss.
Yu Darvish line: 1 1/3 IP 0 H 2 R 1 ER 4 BB 0 Ks. 36 pitches. The radar gun registered 96 mph a few times, and he was consistently throwing 93-95 mph.
Darvish did say that he ended the day free of pain, which is excellent news, and said he felt like today's game was his first start ever.
David Bote: Great news out of Mesa on Tuesday, as David Bote returned to regular activity after Madison Bumgarner beaned in the helmet on Sunday. If all goes well, Bote may see the lineup again on Wednesday. Bote says that Bumgarner was thoughtful enough to call and text him following the incident, to make sure Bote was OK.
David Bote taking BP... pic.twitter.com/mVamhYIdkQ

— Jordan Bastian (@MLBastian) February 26, 2019
Mike Montgomery: According to the Cubs, Monty threw 30 pitches from the mound on Tuesday, testing all of his pitches. He was pleased with his curveball and said that he felt great. The next step is live BP in three days. The Cubs say that they are not worried about Opening Day availability.
Kris Bryant: In an interview with The Athletic's Sahadev Sharma (subscription required), KB talked about the manipulation of player's service time: "They're finding a loophole in the system. It doesn't make it right." Kris Bryant, who had his service time manipulated years ago, is seeing it happen again to other young stars and he refuses to stay quiet about it.
Yu Darvish: Darvish's comeback plan includes tactics not related entirely to baseball. Part of Darvish's plan is to continue to do interviews in English, as opposed to his native Japanese language. Darvish says that by doing away with his interpreter, he brings himself one layer closer to the fans, as they are hearing his words, and not those of a translator. Following his first major interview in English, Darvish said to ESPN, "I want to speak better English. I understand what you guys are asking, but when I get nervous -- like now -- my English gets stuck a little."
BOX SCORE: Tuesday- ARI- 5; CUBS- 4

Tuesday's Scoreboard: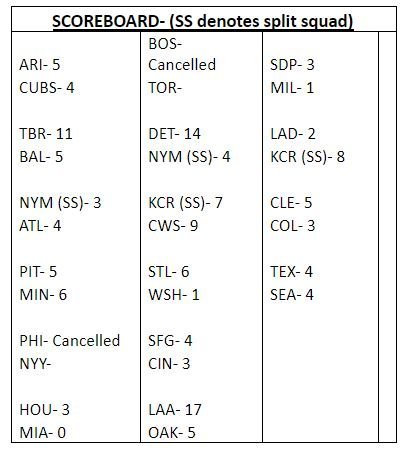 Wednesday's Games (all times Eastern): 1:05 PM: BAL @ BOS (SS), HOU @ WSH, NYY @ DET, TOR @ PIT, ATL @ STL, MIN @ PHI, BOS (SS) @ TBR. 1;10 PM: MIA @ NYM. 3:05 pm: CUBS @ TEX, KCR @ SFG, CIN @ CWS, CLE (SS) @ MIL, LAD @ OAK, SEA @ CLE (SS), ARI @ SDP, LAA @ COL.
Thursday's Games (all times Eastern): 1:05 PM: WSH @ BOS, DET @ ATL, PIT @ NYY, MIA @ HOU, NYM @ STL, BAL @ PHI (SS). 1:07 PM: PHI (SS) @ TOR. 3:05 PM: OAK @ CUBS, MIL (SS) @ CIN, SDP @ KCR, COL @ LAD, SFG @ MIL (SS), TEX @ LAA, CWS @ SEA, CLE @ ARI, MIN @ TBR.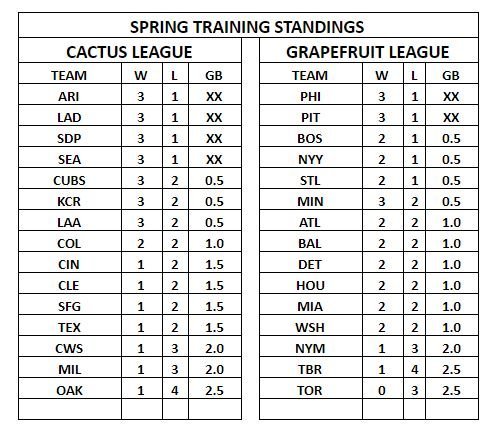 Latest news from around MLB:
Bryce Harper: According to the buzz among the sport's circles, Bryce Harper is expected to make his decision within the next week finally. Then again, we heard that at the end of December, then in the middle of January, the beginning of February… See a pattern forming here?
According to MLB Network's Jon Heyman, "Phillies have offered Bryce Harper over $300M, but word is others are over $300M, too. They believe they may have high bid, but their confidence to win was dented a tad by the emergence of LA (a desired Harper spot). Philly has to decide whether to keep faith or dip into the stupid $."
Retirement: At only age 25, Seattle right-hander, Rob Whalen, has announced his retirement, stating "God has other plans in store."
Indians: The Tribe has signed veteran infielder, Hanley Ramirez, to a minor league deal.
Mets: Third baseman, Todd Frazier, has been diagnosed with a strained, left oblique. Frazier will be leaving camp to return to NY for a steroid shot. No immediate timetable for his return.
Rangers: Texas has signed free-agent, veteran infielder, Logan Forsythe, to a minor league deal. Forsythe will compete in spring training for an MLB roster spot.
Rockies: 3B Nolan Arenado has agreed to a record-breaking extension worth $260M over eight years. (AAV- $32.5M).