| | |
| --- | --- |
| Bote apologizes for bat-flip during walk-off grand slam | |
---
| | |
| --- | --- |
| Monday, August 13, 2018 5:28 PM | |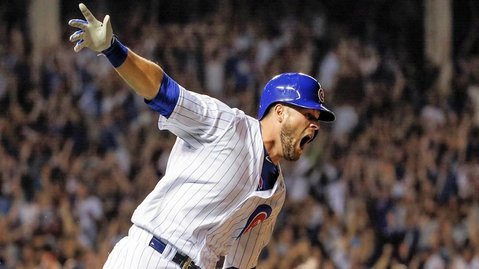 Chicago rookie third baseman David Bote is becoming an overnight sensation after his walk-off grand slam in the Cubs 4-3 win on Sunday night.
Bote celebrated with his teammates after the game then and spoke with Bernstein & McKnight Show on Monday morning.
"Sometimes baseball can just give you a moment to enjoy," Bote said about the walk-off. "Just enjoy this time, this moment, this minute."
Bote had to explain to his daughter about all the excitement as his teammates mobbed him during the celebration and ripped his jersey off.
"I was running the bases and I knew my arm was up and I was like, 'Put your arm down, put your arm down,'" Bote said. "I just couldn't. I couldn't put it down. And then getting to home (plate) and getting my jersey ripped off. This morning my daughter was like, 'They ripped your sweater off, they ripped your sweater off. You get a new one?' She was super nervous that they were hurting me. I was like, 'It's OK, it's OK.'"
Ship it. ??#EverybodyIn pic.twitter.com/uZFLJ2WtOK

— Chicago Cubs (@Cubs) August 13, 2018
Bote apologized to the Nationals because he didn't mean to show up anyone with this impressive bat flip moments after he made contact.
"It just kind of happened," Bote said. "I didn't even realize I did it until I saw it on the replay. I thought, 'Oh man, I did bat flip it.' Obviously, I meant no disrespect by any means. It was just the heat of the moment, I got it good and I was wishing it out."