| | |
| --- | --- |
| Epstein defends Darvish over Rick Sutcliffe's character comments | |
---
| | |
| --- | --- |
| Sunday, August 5, 2018 10:18 AM | |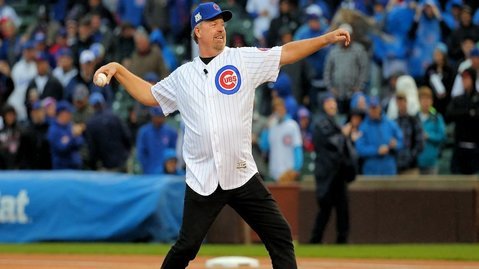 The 'Red Baron' didn't hold back with all things Chicago Cubs.
The former Cub Rick Sutcliffe was on 'Waddle and Silvy' show on ESPN 100 this week and had some interesting comments about Yu Darvish's rehab from his shoulder inflammation.
"I totally agree with you, I just don't know, I mean, I just don't get the urgency that this guy has that maybe everybody else does," he said.
Sutcliffe believes that Darvish won't be a huge factor for the Cubs the rest of the season.
"There's just a lot of things that go into that to where in my mind right now, the signing of Cole Hamels, we're not even counting on Darvish. He can go home right now. We know what we've got to do, we don't count on him for anything over the course of this year. I don't know; maybe he can come back and pitch out of the bullpen late in the year, I just don't know any of that."
Sutcliffe even went after Darvish's character about a spring training incident when he didn't sign two autographs.
"You guys know that I told you the last time what happened in spring training just kind of put a wedge between Darvish and me when he wouldn't sign the autograph for the two kids in the wheelchair because he had to go throw two innings in a spring training game," he said. "I didn't get that. I still don't get that; I never will get that."
Cubs President of Operations Theo Epstein disagreed with Sutcliffe's comments recently on the Mully & Haugh Show on 670 The Score.
"All I can say is I've been around Yu Darvish a lot more than Rick Sutcliffe has," Epstein said. "And I've seen repeated acts of kindness to strangers, fans, kids, people he doesn't even know who have GoFundMes to get medical treatment. He's a very empathetic, kind person, period."