| | |
| --- | --- |
| Kris Bryant could be only Cubs player at 2017 All-Star game | |
---
| | |
| --- | --- |
| Tuesday, June 27, 2017 11:00 AM | |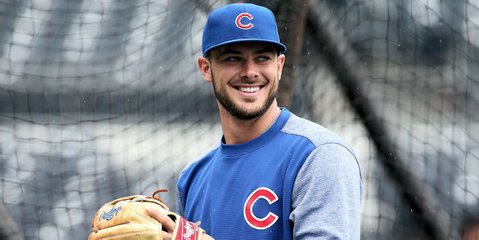 The Cubs are not winning at a blistering pace in 2017, and consequently, their fans are not voting as much like last season when they helped elect seven Cubs players into the 2016 All-Star game. As of Monday afternoon, third baseman Kris Bryant will be the only Cubs starter at the 2017 All-Star game in Miami on July 11.
In 2017, Bryant is batting .259 with 16 homers, 31 RBI, and .393 on-base percentage.
However, remember that Cubs manager Joe Maddon will be managing the game and can make a decision on some of the bench players to be added to the summer classic like Anthony Rizzo and others.
Willson Contreras is currently second in voting with catchers, Anthony Rizzo is second vote-getter at first base, Javier Baez is second-best vote-getter at second base, and Addison Russell is getting the third highest votes for the shortstop category.
In the outfield, Jason Heyward is fourth overall for votes, Ben Zobrist is fifth overall and Kyle Schwarber is voted eighth highest despite currently being demoted in Triple-A Iowa.
The starting roster for the All-Star game will be announced at 6 p.m. Sunday.
National League vote totals:
Catcher
1. Buster Posey, Giants, 2,530,713
2. Willson Contreras, Cubs, 1,216,513
3. Yadier Molina, Cardinals, 1,068,485
4. Yasmani Grandal, Dodgers, 749,923
5. Matt Wieters, Nationals, 680,644
First Basemen
1. Ryan Zimmerman, Nationals, 1,728,607
2. Anthony Rizzo, Cubs, 1,601,245
3. Paul Goldschmidt, D-backs, 1,200,995
4. Freddie Freeman, Braves, 767,375
5. Joey Votto, Reds, 703,832
Second Basemen
1. Daniel Murphy, Nationals, 3,057,360
2. Javier Baez, Cubs, 1,654,829
3. DJ LeMahieu, Rockies, 621,188
4. Brandon Phillips, Braves, 475,916
5. Logan Forsythe, Dodgers, 393,238
Third Basemen
1. Kris Bryant, Cubs, 1,978,692
2. Nolan Arenado, Rockies, 1,920,610
3. Justin Turner, Dodgers, 1,075,524
4. Anthony Rendon, Nationals, 779,468
5. Jake Lamb, D-backs, 726,560
Shortstop
1. Zack Cozart, Reds, 1,915,806
2. Corey Seager, Dodgers, 1,657,732
3. Addison Russell, Cubs, 1,204,204
4. Trea Turner, Nationals, 804,703
5. Chris Owings, D-backs, 676,666
Outfield
1. Bryce Harper, Nationals, 3,617,444
2. Charlie Blackmon, Rockies, 3,115,730
3. Marcell Ozuna, Marlins, 1,270,464
4. Jason Heyward, Cubs, 1,241,194
5. Ben Zobrist, Cubs, 1,122,946
6. Giancarlo Stanton, Marlins, 1,069,313
7. Matt Kemp, Braves, 1,058,050
8. Kyle Schwarber, Cubs, 949,780
9. Yoenis Cespedes, Mets, 785,178
10. Adam Duvall, Reds, 664,379