| | |
| --- | --- |
| Lester with a historically awful performance vs. Pirates | |
---
| | |
| --- | --- |
| Sunday, July 9, 2017 2:49 PM | |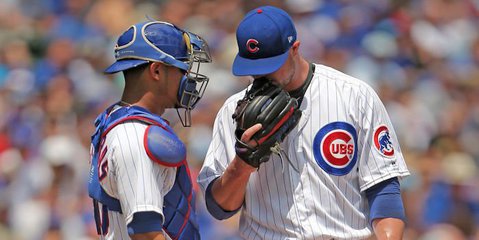 Chicago Cubs were hoping to get a solid performance from their ace Jon Lester against their NL Central foe Pittsburgh Pirates on Sunday afternoon as they headed into the All-Star break. However, they got one of the worst performances in major league history statistically.
The veteran lefty only got out two batters out in his start giving up six hits on 53 pitches, 10 runs including four earned, three walks, and two homers against him. Mike Montgomery came into the game with two outs in the first inning.
Lester is the 4th pitcher in major league history to give up ten runs and not make it out of the 1st inning according to ESPN Stats and Info. The Cubs pitching staff continues a trend of having horrible first innings as they have given up 80 runs total in the first inning through 88 games. It is the highest amount for the Cubs since 1897.
The last time the Cubs gave up 10 runs in the first inning was 1998 against the St. Louis Cardinals.
Let's check on Jon Lester... ??

Cubs down 10-0 after the first inning! pic.twitter.com/Atj6GcC46f

— Stadium (@watchstadium) July 9, 2017
Here is the breakdown of the inning for the Pirates' hitters against the Cubs.
Single
Out
BB
Error
RBI Single
2-run Double
2-run Single
BB
Sac Bunt
BB
Grand Slam
HR
BB
Single
Out