| | |
| --- | --- |
| Chicago Cubs: Rizzo's reaction to Marte's PED suspension | |
---
| | |
| --- | --- |
| Tuesday, April 18, 2017 4:32 PM | |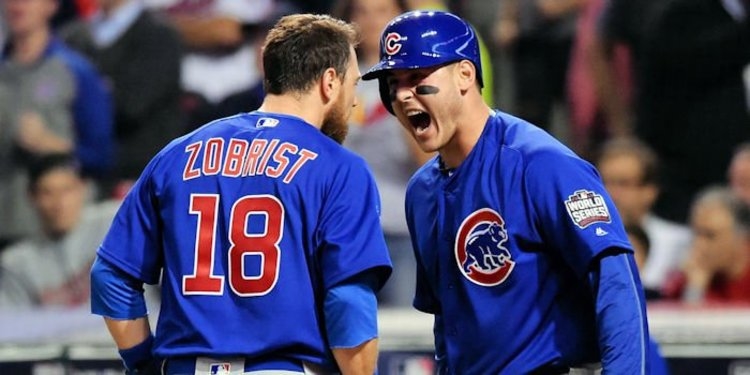 Cubs slugging first baseman Anthony Rizzo was interviewed by Big League Stew on Tuesday afternoon and was asked about his thoughts on the recent news of the 80-game PED suspension of Pittsburgh outfielder Sterlin Marte.
"It kinda makes you angry as a player, because you know there are still flaws in the system, you know there are still guys getting away with it," Rizzo said. "For me, I've been drug tested zero times this year. Not one since the beginning of spring training drug test. Guy are going to get away with it as long as they can and obviously everybody's going to say they didn't know they were doing it."
Rizzo knows Marte well from playing against him in the National League Central yearly.
"Playing against Starling, I think he's a great guy," Rizzo said. "Me and him always mess around. But when it comes down to it, it's good that we're still catching guys that are trying to cheat the system. Any system that's in place, no matter what it is in life, there are going to be people trying to beat it. It's good that we're still catching guys, but at the same time you know it's still out there."
Marte released a statement on Tuesday afternoon after hearing about his suspension.
"I have been informed that I have tested positive in one of the tests that are regularly done in my job," Marte stated. "In this very difficult moment, I apologize to my family, the Pittsburgh Pirates, my teammates, my fans, and baseball in general. Neglect and lack of knowledge have led me to this mistake with the high price to pay of being away from the field that I enjoy and love so much. With much embarrassment and helplessness, I ask for forgiveness for unintentionally disrespecting so many people who have trusted in my work and have supported me so much. I promise to learn the lesson that this ordeal has left me. God bless you."
Marte and the Pirates just finished a three-game sweep of the Cubs at Wrigley Field over the weekend in which he was 3 for 13 with a homer.