| | |
| --- | --- |
| WATCH: Bote crushes amazing walk-off grand slam | |
---
| | |
| --- | --- |
| Sunday, August 12, 2018 11:08 PM | |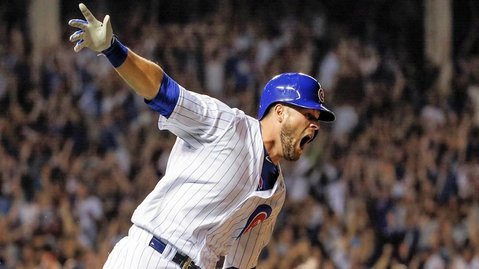 The legend grows for David Bote.
The Cubs third baseman hit a walk-off grand slam on his final strike to give the Cubs a 4-3 win on Sunday night.
The 25-year old smacked the ball on the roof in dead center field. It was the first walk-off grand slam down to the last strike for the Cubs since Ellie Burton in 1963. He was the first MLB player to hit a walk-off homer with his team down to his last strike and down three runs since Alan Trammell in 1988.
This is the first time that the Cubs have had multiple walk-off grand slams (Heyward) in one since 1980. It was the second pinch-hit grand slam in the majors this season.
"I got a good pitch to hit it and I hit it," Bote told SportsCenter.
Check out the video below:
Ship it. ??#EverybodyIn pic.twitter.com/uZFLJ2WtOK

— Chicago Cubs (@Cubs) August 13, 2018
#EverybodyIn#EveryBoteIn pic.twitter.com/1OWzcFJVR6

— Chicago Cubs (@Cubs) August 13, 2018
David Bote bat flip ?????? pic.twitter.com/DsJsK35dSh

— Aldo Soto (@AldoSoto21) August 13, 2018
BEST way to end the summer @Cubs grand slam by BOTE pic.twitter.com/4cnwyXJz7D

— hannah (@hahahannah6412) August 13, 2018
Safe to say I and thousands of others lost their minds after David Bote crushed a walk-off grand slam. Wrigley Field was deafening and absolutely electric! Fly The W!#Cubs #EverybodyIn@Cubs @BleacherNation @LMBFSports pic.twitter.com/1I1Z8K8M7q

— Nicholas Austin (@CallMeNAP33) August 13, 2018
August 13, 2018
Nobody knew who this guy was four months ago. Now, he's a cult hero with the Cubs faithful. Safe to say David Bote can kiss the minor-league demotions goodbye. #Cubs #EverybodyIn pic.twitter.com/fwZLO4qW5C

— CubsHQ (@ChicagoCubsHQ) August 13, 2018
Cubs win! Cubs win!
*Extremely Harry Caray voice* pic.twitter.com/9BxnHi9aqf

— MLB (@MLB) August 13, 2018
A chill Sunday night at home. #EverybodyIn pic.twitter.com/l1wXcjk8ro

— Chicago Cubs (@Cubs) August 13, 2018
Magic at the Confines. #EverybodyIn pic.twitter.com/NZa9jNZk0j

— Chicago Cubs (@Cubs) August 13, 2018